Tottenham Hotspur: Is Andre Villas-Boas the Right Man for the Job?
July 3, 2012

Paolo Bruno/Getty Images
An emotional roller-coaster ride for Tottenham fans last season led to a lot of uncertainty this offseason. With star midfielder Modric voicing his intentions to leave White Hart Lane, head coach Harry Redknapp was dismissed.
Tottenham found themselves in prime position last season to finally over take Arsenal for the first time in a long time, but once again they came up short as the Gunners edged them out for third place. With a lot of question marks on whose coming and going, Spurs management just officially locked in the former Chelsea head coach.
What will the signing of AVB mean for Tottenham as a club? Well, when he made his move from Porto to Chelsea, I was a firm believer that he had the potential to turn Chelsea into the team they once were when Jose Mourinho was there. Unfortunately, Villas-Boas was not given the necessary time to turn things around. Chelsea's owner has the funds needed to make any moves he wants, and his hunger to win now didn't allow AVB anymore time.
Villas-Boas will only be presented to the media next week, but has been officially appointed as the new Tottenham manager. If we look at last season, Spurs may well have been one of the best footballing sides in the Premier League for a significant amount of time. Their style could certainly be compared to that of Arsenal, but with more urgency. With AVB on the hot seat, he may find himself with more time to make any necessary adjustments.
Will Joao Moutinho be his first signing?
Having spent time together at Porto, AVB and Joao Moutinho could be reunited very soon. The Portuguese midfielder had a great Euro 2012, adding to his consistent season at Porto.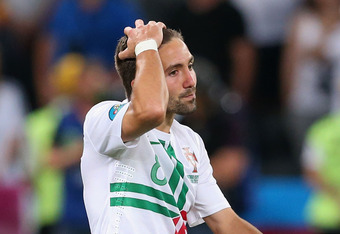 Alex Livesey/Getty Images
While it has been rumored that Manchester United could have turned their attention to Moutinho, AVB could be an important factor for Moutinho's decision if this transfer rumor is true.
Moutinho would fit in perfectly alongside Scott Parker, taking a significant amount of pressure off the English International. Moutinho showed at Euro 2012 that he can be a box to box midfielder when needed, and has the ability to sit along side the holding midfielder.
With Modric's future still up in the air, it would be uncertain if Moutinho would replace the Croatian, or play along side him in the Spurs midfield. If Modric was to stay, and Spurs signed Moutinho, White Hart Lane could certainly look forward to an impressive starting 11.
AVB could get his career back in the right 'lane'
As I said when he signed for Chelsea, AVB has what it takes to be a top coach. One of his mistakes was taking the big jump so early considering he had only really enjoyed one stand out season at Porto. Yes, he won everything he had to win, but that one season was very much his only season of significant success.
Joining Chelsea may have added much more pressure than the Portuguese tactician may have expected. White Hart Lane will be a great place for him to work and add to his resume. Spurs played great football under Redknapp, and there is no reason they can't continue to do that with AVB.
He will have to tighten things up in his back-line, starting with Essou-Ekotto. The left-back will need to have someone good enough pressuring him for that starting spot. A new center-back will be important, considering the uncertainty of Ledley King.
One of the things I will be looking forward to is seeing Kyle Walker flourish under AVB. His passion for the game along with his ambition to win anything and everything will be fundamental to Walker's development. Walker has all the ingredients to be a top-notch outside back, and AVB has what it takes to get him to the top.
If Tottenham's management and directors can bring in a some credible options for AVB to work with, along with securing Modric, Spurs fans could be in for a hell of a ride this coming season.
What is your take on this situation? Can AVB top Redknapp's season last year?
Follow Me: @MikeGoncalves10