Georgia Football: What You Need to Know About the RB Corps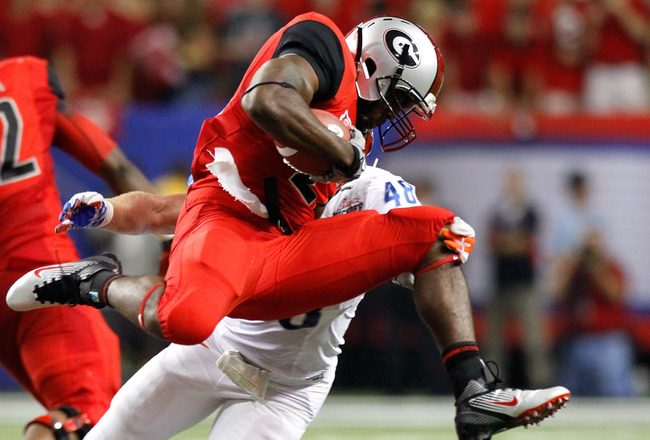 Kevin C. Cox/Getty Images
All throughout the offseason, the running back position for the Bulldogs has been talked about a lot. Fans were wondering if Isaiah Crowell would be able to have a better season than last year. They were also wondering if Keith Marshall and Todd Gurley will make an impact this year.
Now that Crowell is off the team, those running back discussions have heated up. Fans are wondering who will be the starter? Who will take Crowell's spot? Will the offense be okay without him?
What needs to be done now is take a closer look at the running backs and what each player brings to the table.
Ken Malcome Will Start When the Season Begins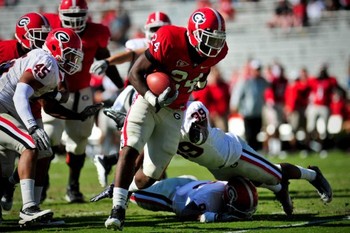 During spring practice Crowell and Ken Malcome were battling out for the No. 1 spot. Both players played well during the spring game and now that Crowell is gone, it looks like it's Malcome's job to lose.
Malcome played in six games last year and rushed for 174 yards on 42 carries. His best game was the Outback Bowl against Michigan State when he carried the ball 12 times for 51 yards.
Malcome is a power back and does not have the same explosion as Crowell or the rest of the running backs on the roster. But Malcome is a steady hand that rarely makes mistakes. He will be the starter when the season begins to give the Bulldogs consistency in the running game.
PHOTO CREDIT: Athens Banner-Herald
Keith Marshall Provides Explosion
If for some reason Malcome is struggling or the coaching staff is looking to change things up, they will look to go to Marshall because he provides the offense a better chance for explosive plays.
Marshall has lightning speed that can break away from defenders on any given moment. He also has great vision and can hit the hole quickly. The one thing that he has to work on is getting bigger and that will take some extra time in the weight room. Other than that, Marshall has all the tools to be an elite SEC running back.
PHOTO CREDIT: Theblawghouse.com
Todd Gurley Is Balanced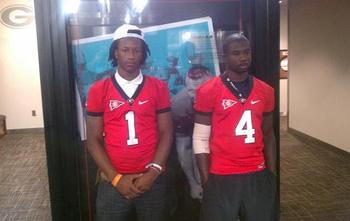 Gurley doesn't have the speed like Marshall or the size like Malcome. But because of his balance and instincts, Gurley has a great chance to see a lot of action early in the season.
Gurley has the patience to find the hole even when they have not opened up yet. Gurley is a bigger back, but will need to add a little more size to be a elite player.
Some experts have said that Gurley could be just as good as Marshall, despite Marshall being a higher recruited player.
PHOTO CREDIT: Atlanta-Journal Constitution
Richard Samuel Provides Toughness and Leadership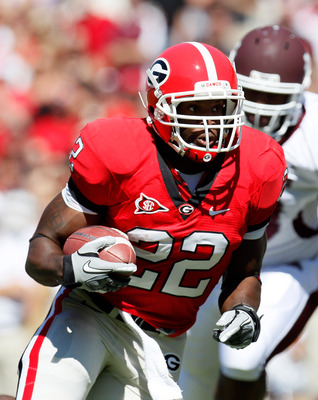 Kevin C. Cox/Getty Images
Richard Samuel will not likely start for the Bulldogs this upcoming season. But he does provide a certain toughness that the running game needs. It was shown against Florida last year where he carried the Bulldogs on his back to lead them to an important win.
Samuel will also see time at fullback so he will be on the field constantly, which will help because he can help a very talented, but young backfield.
Will the Running Game Be Okay Without Crowell?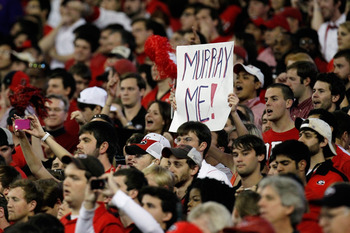 Kevin C. Cox/Getty Images
Crowell played well last year, but fans and coaches were getting tired of him not putting in the work to be a better player and a better man.
Will Marshall and Gurley be better players than Crowell? Will Malcome have a breakout season? There is no telling what will happen with the running game this season. But if the players are doing all the right things on and off the field, the Bulldogs will have a chance to have a very successful 2012 season and Crowell will become an afterthought.
Keep Reading

Georgia Bulldogs Football: Like this team?