Italy vs. Spain: Mario Balotelli and More Azzurri Stars on Rise After Euro 2012
July 3, 2012

Shaun Botterill/Getty Images
Italy wasn't able to complete its surprising Euro 2012 run, losing to Spain in the championship match. That being said, the tournament shouldn't be viewed as a complete loss. The Azzurri exceeded expectations and several players gained valuable experience.
Let's take a look at three players who will benefit the most from their playing time at the event. All of them should still have their best football years ahead of them and Euro 2012 should give them the boost they need to take the next step forward.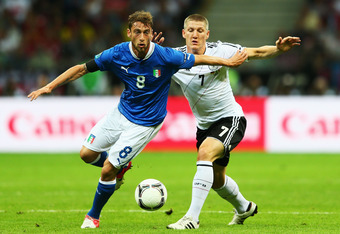 Michael Steele/Getty Images
Claudio Marchisio
After enjoying the best campaign of his club career with Juventus, Marchisio was able to carry over that momentum into the European Championships. He didn't score, but he played a vital role in the Italian midfield and was usually one of the most dangerous players on the pitch.
He lined up behind Mario Balotelli and the tandem worked almost perfectly together. It was often Marchisio's relentless play in the midfield that allowed Italy to gain possession, especially against Germany in the semifinals.
Most importantly, it seemed like he gained confidence every step of the way playing against elite competition, which should greatly benefit him next season.
Mario Balotelli
Balotelli has always had the talent to become one of the game's elite players, but his temperament has held him back early in his career. Euro 2012 should be the learning experience he needs to start turning the corner.
Even though he wasn't able to keep his team close in the final, Italy wouldn't have reached that point without him. Balotelli scored three goals, including two against previously unstoppable Germany to lead the upset charge.
The tournament appeared to help Balotelli focus more on helping the team win than his own antics. He didn't pick up any crazy red cards and played terrific throughout. A definite improvement.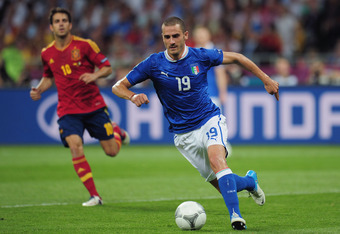 Shaun Botterill/Getty Images
Leonardo Bonucci
Things got out of hand in the final against Spain, but that was a team-wide failure. Prior to that match, Bonucci was one of Italy's most important players as he held up strong in the center of defense, particularly in the knockout stages.
The 25-year-old rising star started five games and entered the other one as a sub. Leading up to the title game, Italy had only allowed three goals in five games and Bonucci was a main reason why. His combination of physical play and smart decisions was evident.
Bonucci was right on the brink of reaching star status and his performance for Italy should be enough to get him over that hump. He's quietly developing into one of the most reliable defenders in Europe.