MLB Trade Deadline: 5 Pitchers Who Need to Be Dealt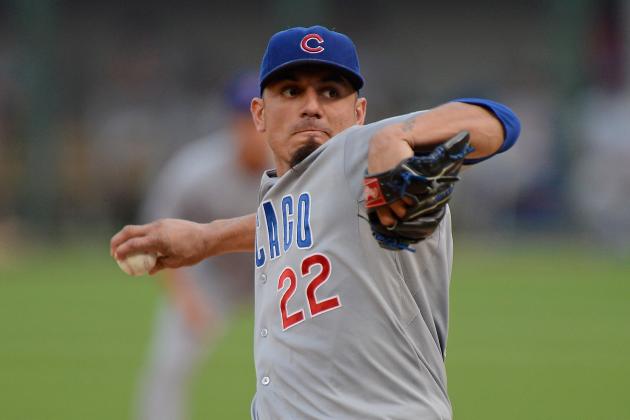 Jonathan Daniel/Getty Images

July is here again. With the addition of another Wild Card berth, this means even more teams will be making midseason trades to bolster their roster for a playoff push.
For some teams, though, 2012 is looking like a year to be quickly forgotten. Not every team can be good, but that does not mean the cellar-dwellers are prevented from having good players. Here is a look into five players whose teams would benefit more from the prospects they would receive in a trade rather than that player's performance on the pitcher's mound.
Begin Slideshow

»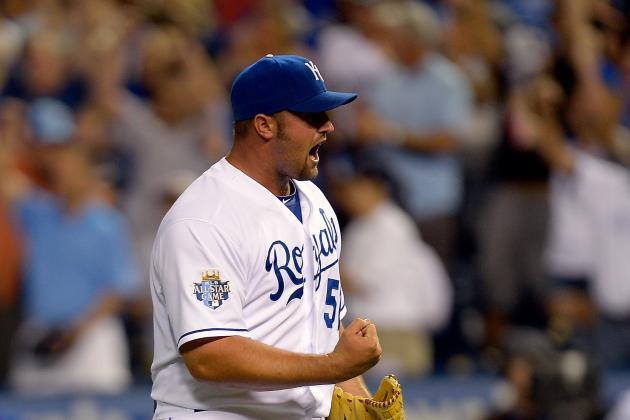 Jamie Squire/Getty Images

Broxton has been a surprise this year in Kansas City. After washing out from the Dodgers, he has 20 saves and an ERA of 2.05 as the closer.
Unfortunately for him, his future as the Royals closer is not long-term. Two-time All-Star Joakim Soria will be returning from Tommy John surgery in 2013, while Aaron Crow is a viable, and much cheaper, option at closer if Soria struggles when coming back.
The Royals are in contention by their standards, only five-and-a-half games out in July. Still, the starting pitching is as anemic as ever and will not allow the team to compete for a playoff berth come September.
Broxton has faced injuries again, but has put up a respectable year so far despite his dubious historical feat. His contract is affordable at $4 million, so the Royals would be wise to gain some future value and deal him to a team looking for an instant boost in their relief pitching.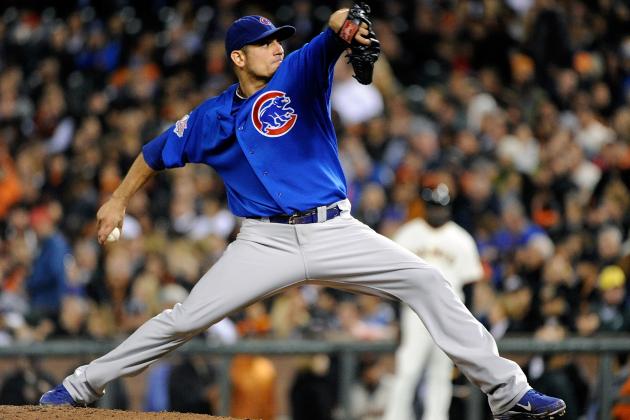 Thearon W. Henderson/Getty Images

Garza has not wowed anyone this year (4-6 record, 4.01 ERA), but who on the Cubs really has? The team wanted to re-sign Garza to a long-term deal after trading for him from the Rays in January 2011, but this year's downward spiral means that new general manager Jed Hoyer might be better off boosting the farm system when Garza's value is at its peak.
Garza is no ace, yet teams are lining up like it's Black Friday in order to acquire the 28-year-old. Plus, he is signed through next year as well.
Rather than the usual three-month rental, Garza's value should be high because the team that trades for him will have 2013 as well to kick the tires on the hurler.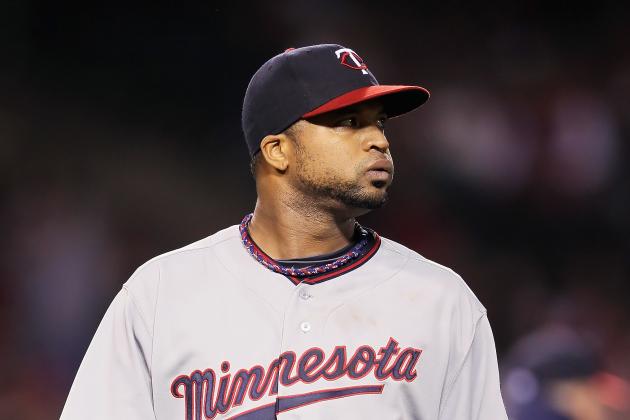 Jeff Gross/Getty Images

The AL Central has no juggernaut at the top, yet the Twins are still eight games out of first, a number that was even larger before their current four-game winning streak.
Liriano has shown flashes of being an ace. Unfortunately for the Twins, these flashes are usually sandwiched by a lack of control and overall struggles.
However, the veteran pitcher appears to be turning a corner after an 0-5 start that saw him end up in the bullpen. He has a 2.98 ERA in his last eight starts with an impressive 1.01 WHIP (walks plus hits per inning pitched).
Liriano will not attract a treasure trove of prospects like possible trade targets such as Cole Hamels and Zach Greinke. His upward trend, however, should attract attention. A couple more impressive starts means the Twins can, and should strive to, get a solid prospect or two out of the 28-year-old before he hits the open market in the winter.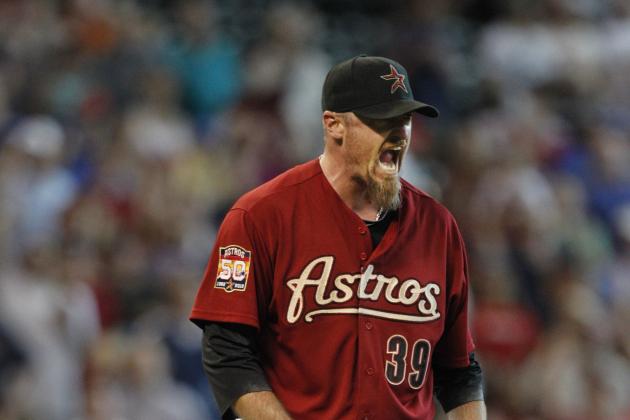 Bob Levey/Getty Images

Despite not pitching in a saving role since 2007, Myers has 17 saves so far. Outside of two blowups, he has allowed just one run in his past 16 appearances. Myers is doubtful to keep his closer role if traded to a contender, but offers versatility as either a middle-relief man or as a fourth or fifth starter.
The Astros are near the NL Central cellar, and their current five-game losing streak does not portend that they will be shooting up the standings any time soon. Young star Jose Altuve and a rejuvenated Jed Lowrie are more valuable, but the Astros need to keep what hitting assets they have as they prepare to move to the AL West in 2013.
Myers has a vesting option for $10 million in 2013 if he pitches in 45 games and finish this season off the disabled list. He's at 30 games pitched so far with the season not even halfway complete, so the Astros would be wise to save themselves some serious change and acquire a long-term prospect or two in the process.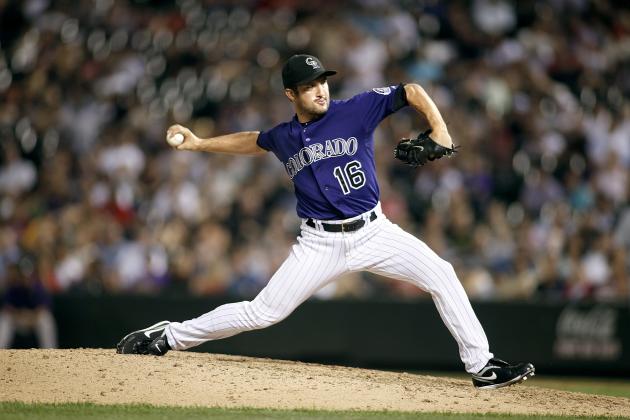 Marc Piscotty/Getty Images

In the final stretch of a three-year deal, Street is bouncing back from a trying 2011 to becoming the Padres' sole All-Star with a 1.29 ERA.
He has only pitched 21 innings, partially due to injury and partially due to the fact that the Padres are awful to the point where his closing services are rarely needed. The Padres have the same chance as your local Class-A affiliate does in making the MLB playoffs this fall, so they have no need to keep Street past the trading deadline.
The Mets, Reds and other teams are sure to need relief help and pursue Street, so the Padres would be wise to flip an (unfortunately) unnecessary top closer into minor leaguers for down the road.