Colorado Rockies: 5 Advantages of Using a 4-Man Pitching Rotation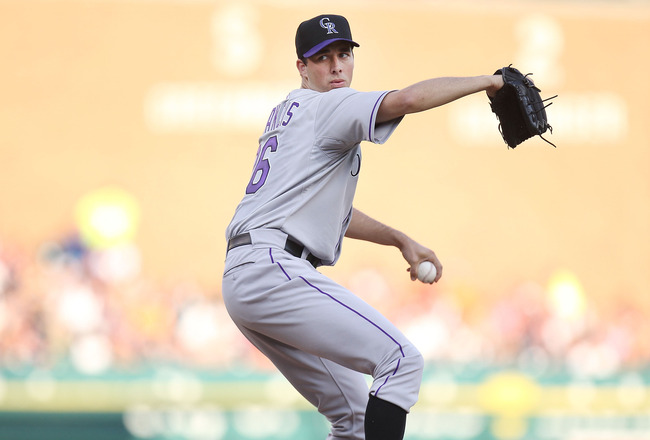 Gregory Shamus/Getty Images
If you had to re-read the title before clicking the link, you're most likely in the majority.
The Colorado Rockies made headlines for all the wrong reasons when they announced a four-man rotation would be used. Many analysts scoffed at Colorado's unusual attempt to think outside the box, including our own Ian Casselberry.
I have written a handful of pieces ragging on the coaching and front office. The pitching is undeniably bad, and Troy Tulowitzki's absence just makes the Rox seem even more hopeless.
So the time for a glass-half-full kind of article seems necessary. I'll agree with anybody who claims the shortened rotation is laughable, but it doesn't hurt to look at the positive side of things, for a change.
1. Experience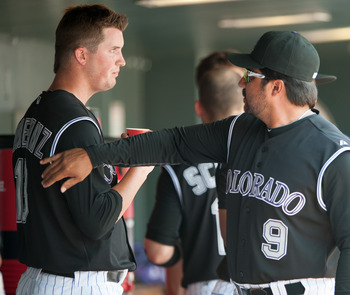 Drew Pomeranz was solid in his return to the Rox on Saturday
Dustin Bradford/Getty Images
Colorado has a very young pitching staff. The flaws in the starting rotation has urged the Rockies to dig into the Minor League system and let prospects get a taste of baseball's highest level.
They have really kicked the pitching youth movement into another gear after announcing the refined rotation. After all, the best way to season your players for the Major League level is to throw them into the flames.
Top Triple-A arms Drew Pomeranz and Tyler Chatwood received promotions. Edwar Cabrera made the leap from Double-A and didn't fare well in his debut, but must be anxious to get another crack at Major League bats.
The Rox recently switched Josh Outman from reliever to starter, and the capped pitch count will make his transition much smoother.
The myriad of pitchers Colorado uses on a nightly basis may allow more prospects to potentially get a couple innings of action. Tulsa's Joe Gardner is likely at the top of the list.
2. Keeping Batters off Guard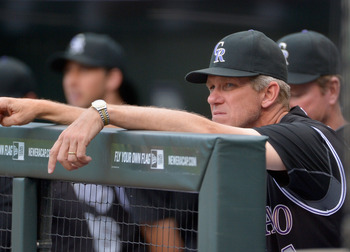 Doug Pensinger/Getty Images
Maybe there's something going on under Jim Tracy's cap after all.
Batters generally gain a better feel for pitchers as the game moves along. The starters are already so mediocre that many batters don't need the advantage of a second go-round before teeing off on Colorado's arms. The new pitching system subjects almost every batter to face at least three pitchers per night.
Based on Colorado's basement-dwelling pitching stats, this method hasn't been too effective. Maybe the Rox have just accepted that their starters won't last past the fifth inning most nights, and limiting their pitch counts makes that a simple fix.
3. Injury Prevention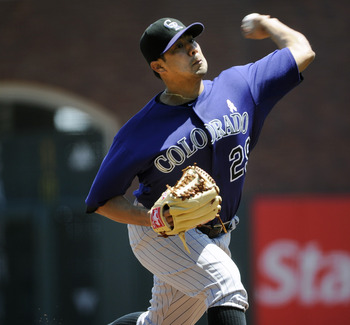 Jorge de la Rosa most likely won't return til September
Thearon W. Henderson/Getty Images
A limited pitch count can also cut back on injuries, especially ones that manifest from fatigue and overuse. Colorado's best pitcher, Jorge de la Rosa, has been on the shelf for over a year due to Tommy John surgery, and the team is desperate for his return.
The Rox possess a number of decent prospects, and a devastating injury could permanently stunt their growth. Of course, the odds of being injured playing any kind of sport are present, but less stress on the kids' arms is never a bad move.
Dan O'Dowd backed the sentiments.
"It should eliminate almost 25 percent of the pitches thrown through the course of the entire season," he said. "We hope this will prevent the injury factor that seems to exist here greater than at any other place in the game."
4. Something New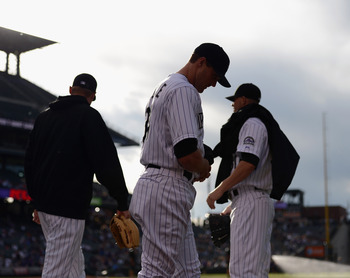 Doug Pensinger/Getty Images
You have to give the Rockies credit for attempting to fix the troublesome pitching situation. Instead of going through the same sad routine, they're experimenting with ways to ease the dire setup.
"The definition of insanity is to keep doing the same thing over and over again and thinking you'll get a different result,'' Rockies manager Jim Tracy said. "We're trying to tackle this monster.''
Frankly, there may be no way to truly mend the situation, but management is at least showing some effort. The system may carry a bit of a learning curve, so Colorado's current pitchers are likely still adjusting to the four-man system.
5. Innovation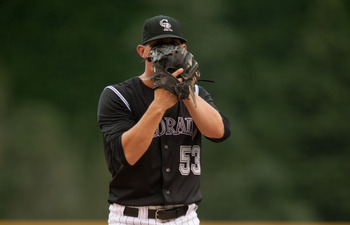 Dustin Bradford/Getty Images
Management has grown to lament the label "four-man rotation," and instead calls it a "paired pitching system."
In a conference call with season ticket holders, O'Dowd claimed the system was something he'd had in mind when he first started with the franchise.
"The key is that we have to find the right seven (pitchers), and perhaps at this point and time we don't have the right seven," he continued. "I have no idea what this is going to morph into. It could change, it could evolve, it could turn into something else or it could turn into the traditional concept we already had."
Finding an ideal seven seems almost impossible, but admitting the system could improve is a strange acknowledgement from O'Dowd. As fans, we've heard many times from the front office how the Rox aren't broken, but these comments paint the franchise in a different light.
Keep Reading

Colorado Rockies: Like this team?