Predicting Trade Partners for Each Rumored Oakland A's Trade Candidate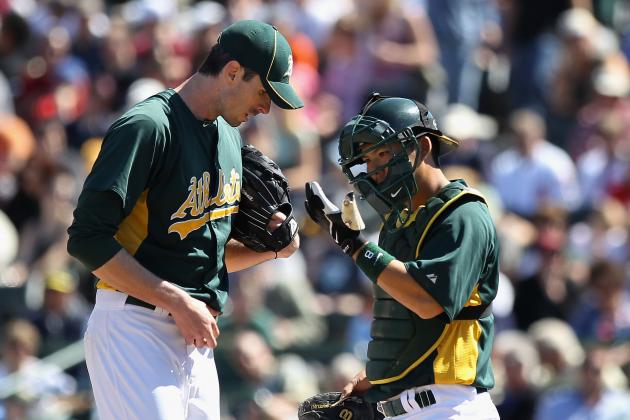 Christian Petersen/Getty Images

The Oakland Athletics have yet to indicate whether they'll be buyers, sellers or stand pat at this year's trade deadline, but already several players are starting to be linked with other teams.
A few players—like Brian Fuentes—are speculated to be on the move no matter what the A's decide to do.
With all the various rumors swirling, it's hard to know exactly where a player will land. Here's a prediction for where each Oakland trade candidate will end up.
More than two trades at one deadline is rare. This article isn't suggesting all six of these will absolutely take place (that would have to be a heckuva fire sale.) Merely, IF these six players are in fact traded, these are the places they could go.
Begin Slideshow

»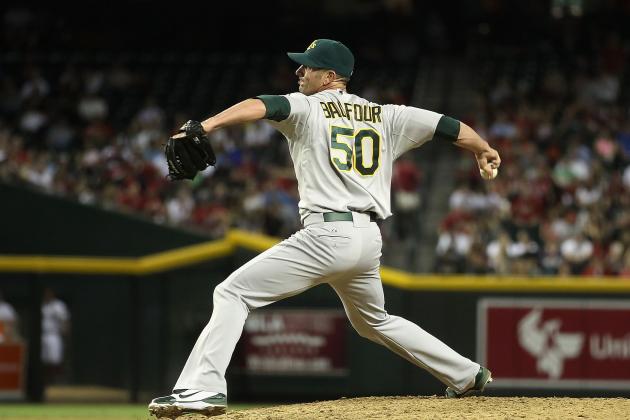 Christian Petersen/Getty Images

Predicted Destination: St. Louis Cardinals
Grant Balfour has most recently been linked with the New York Mets who currently have the league's worst bullpen ERA.
Though Balfour is up there in age, he maintains a career 3.55 ERA while remaining healthy. Even better for interested clubs, he's relatively cheap ($4.5 million option of $350K buyout.)
The Mets don't have an overwhelming farm league at this point, so it may be hard to satisfy Oakland GM Billy Beane's asking price which is said to be very high.
They're only 3.5 games out of first in the NL East as of this writing, but there are about eight teams vying for one of the five playoff spots, so they'll need to bolster their roster to solidify a berth.
I think the Mets will avoid giving up top prospects for a 34-year-old reliever because they must ensure this season is not a flash in the pan.
The Cardinals on the other hand will be more desperate to prove they can make it to playoffs without Albert Pujols. They also have a deeper system and thus can afford to give up more.
St. Louis' bullpen ERA is the fourth lowest in the majors at 4.56.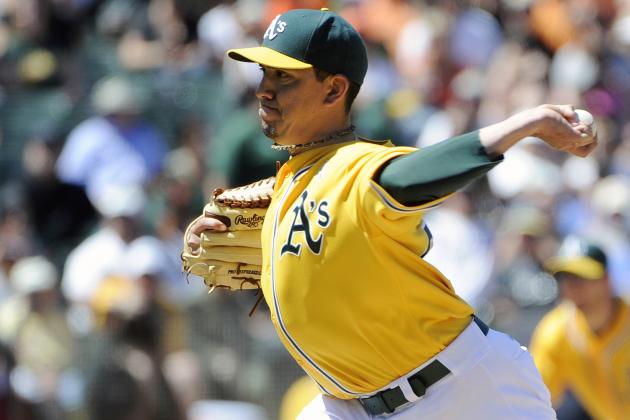 Thearon W. Henderson/Getty Images

Predicted Destination: New York Mets
Brian Fuentes is three years older and is owed $1 million more than Grant Balfour. Fuentes' option next year is worth $6.5 million ($2 million more than Balfour) and his buyout costs $500K ($150K more than Balfour.)
That might actually play into the New York Mets' favor.
As stated on the slide prior, the Mets have the worst bullpen ERA in the league.
Because of Fuentes' age, price and 2012 consistency he won't require the type of prospects Balfour would.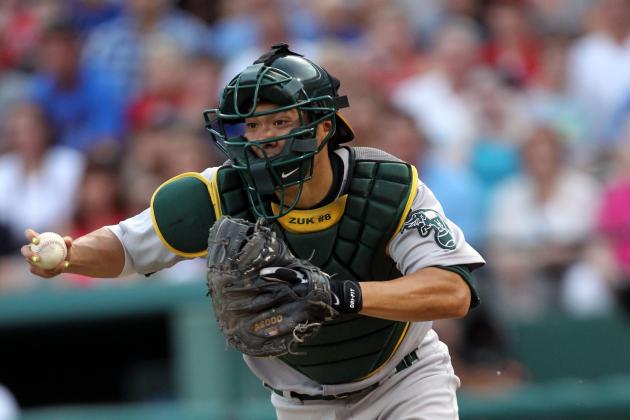 Layne Murdoch/Getty Images

Predicted Destination: Remains in Oakland
Derek Norris is off to a hot start hitting .333 with nine hits in seven games. He's also plated six runs and put two balls over the fence.
Incumbent Kurt Suzuki on the other hand, is hitting an abysmal .208 with 16 RBI and no home runs.
If Norris' production continues, Suzuki's days as Oakland's starter are limited. But does that mean he'll be traded?
No. Here's why.
He's making $5 million this year and $6.45 million next year. Not many teams will be desperate enough for a catcher turning 29 this season who makes as much money as Suzuki while hitting as poorly.
Peter Gammons of the MLB Network listed the New York Mets, Miami Marlins and Tampa Bay Rays as ideal trade partners.
None of these teams will be willing to send top-quality talent to Oakland for Suzuki.
Miami and Tampa Bay are both in fourth place in their respective divisions. They need game-changers and Suzuki is not one.
The Mets' primary concern remains in the bullpen.
On Oakland's side, Suzuki's major talent is handling the young pitching staff. The A's aren't going to give that up for cheap.
Suzuki likely will lose playing time rather than be traded.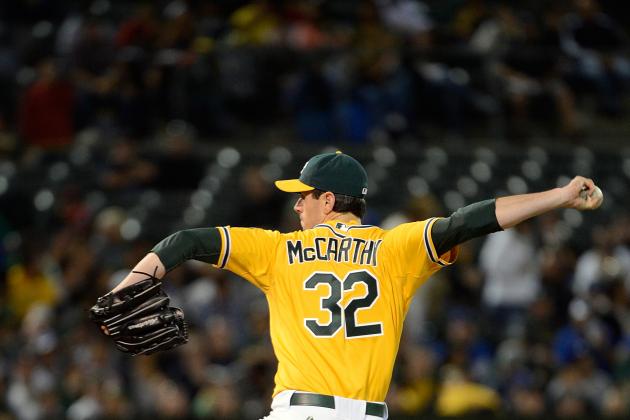 Thearon W. Henderson/Getty Images

Predicted Destination: Boston Red Sox
Nearly one year ago, the Red Sox attempted to trade first base prospect Lars Anderson to the Oakland Athletics for Rich Harden.
The deal fell through because the A's wanted more than just Anderson.
Fast forward to 2012 and the A's are still in need of a first baseman for the future, while Boston seeks help for the rotation.
At 4.61, Boston's starting pitching has the sixth worst ERA in baseball.
Chasing six games for the AL East crown, the Red Sox may be inclined this year to sweeten the deal for a Harden-like pitcher (effective when healthy.)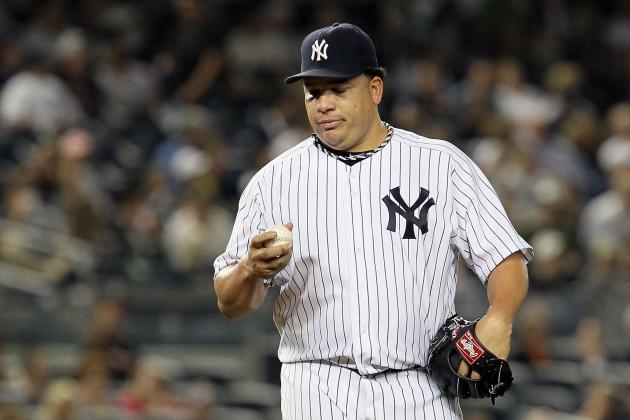 Jim McIsaac/Getty Images

Predicted Destination: New York Yankees
The Yankees may have the second best record in baseball, but when do teams really set that as a goal?
For the Yankees, it's win the World Series or bust each season.
They haven't won it all since 2009 and with aging veterans like Derek Jeter and Alex Rodriguez—not to mention a slew of others in their 30s—the window for this roster could be drawing to a close.
The 2012 Yankees don't have too many holes, but starting pitching is an area plagued by injuries.
CC Sabathia and Andy Pettitte—already signed to be a stopgap—are on the disabled list. Freddy Garcia isn't contributing much either.
Insert Bartolo Colon.
The Bronx Bombers simply need someone to be effective in the back of the rotation until everyone else is healthy.
Colon was that guy last year for the Yankees.
After an effective enough 8-10 season with a 4.00 ERA, the Yankees let him walk. One year older, he's the same pitcher still.
It's a comfortable and affordable move.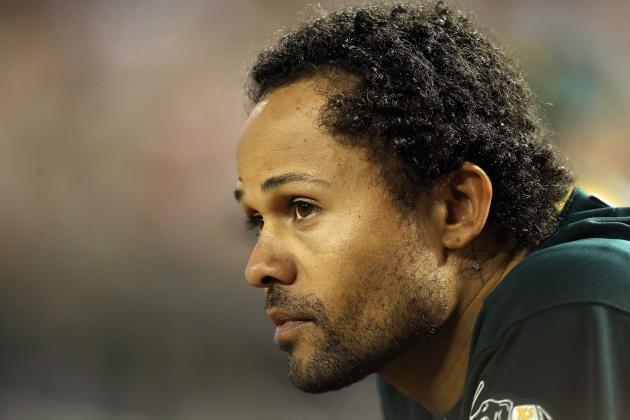 Christian Petersen/Getty Images

Predicted Destination: Cincinnati Reds
There won't be many teams interested in a $6.5 million, 32-year-old center fielder with an average arm who hits .221. Still, Coco Crisp is one of those guys who could easily rebound in a moment's notice.
He may ultimately stay with the Oakland Athletics.
But the A's annually go younger and have plenty of guys to roam the outfield—Collin Cowgill, Johnny Gomes, Seth Smith and Michael Taylor, to name a few.
A move to the Reds is one of the few that could make sense.
The Reds are in the bottom third of the league in production from left and center fielders. Center fielder Drew Stubbs is only hitting .227 at this point
Let's be clear though, Crisp wouldn't be moving to be an everyday player.
Instead, he'd spell Stubbs and left fielder Chris Heisey. The move will reduce the power in the lineup, but greatly add speed on the base paths.
If the Cleveland Indians decide to designate Johnny Damon—hitting .201—Crisp could be an option there too. He hits better, he's faster and he's younger.