USA Track Gets What It Deserves as Jeneba Tarmoh Concedes in Olympic 100M Runoff
July 3, 2012

Christian Petersen/Getty Images
As resolutions go, Jeneba Tarmoh's decision to withdraw from her scheduled runoff against Allyson Felix was about as anticlimactic as it gets.
Tarmoh sent an e-mail to USA Track and Field president Stephanie Hightower saying she would not compete against Felix for the final spot on the U.S. women's 100-meter team at the London 2012 Olympics.
Thus ended one of the most captivating episodes in U.S. track history, with a note sent via the same electronic medium most people use to circulate knock-knock jokes and pictures of dogs in suits.
So why am I typing today with a smile on my face?
Wasn't this a major letdown? Didn't the common man lose?
He did. But I've found solace in the fact that the only entity screwed harder by this whole affair than the common man was USA Track and Field.
And it, unlike the common man, really earned said screwing.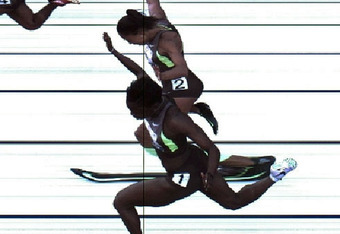 Handout/Getty Images
Let's start by recalling that this sorry charade could have been avoided from the outset if USATF had tie-breaking procedures in place. I mean they had some tie-breaking procedures in place, but not for this specific type of tie. Whatever that means.
Also remember that Tarmoh wouldn't have felt disillusioned to the point of concession—or as she put it, "robbed"—if race officials hadn't mistakenly declared her the winner and sent her on a victory lap.
Even more unconscionable, USATF arbitrated the matter by having Felix and Tarboh decide between a coin flip and a runoff. Instead of showing real resolve and living with fan reaction, USATF put that burden on the athletes.
And for this dereliction of duty, what was USATF getting?
A prime-time spot on NBC (smack dab in the middle of swimming trials, no less) to stage what would have been one of the most intriguing races in American track history.
All because of its own blatant mismanagement!
So yeah, I can't help but smile a little at the thought of Tarmoh pulling the rug out from under these panjandrums.
It's a small bit of justice.
And considering the repeated farces of the last 10 days, I'm not sure we can ask for much more.