Erin Andrews Will Reportedly Grace Fox with Presence at MLB All-Star Game
July 2, 2012

Al Messerschmidt/Getty Images
Erin Andrews will not waste any time making her presence at Fox known as she is set to feature at the 2012 MLB All-Star game. 
Newsday's sports business and media columnist Neil Best reports we will see the first of Andrews working outside ESPN as early as next week, via his Twitter feed.
Fox will unveil @ErinAndrews at All-Star Game July 10. She will be assigned to one of the dugouts.

— Neil Best (@sportswatch) July 2, 2012
Hooray for incessant cutaways to a predetermined dugout. 
That makes sense considering her reported role at Fox Sports. USA Today reported on word received from spokesman Dan Bell. 
Andrews, whose ESPN contract expired Saturday, will host a new Fox Saturday prime-time college football show that will debut Sept. 1.

Her other Fox roles, says spokesman Dan Bell, will include "significant" roles on Fox MLB and NFL coverage. In a statement, Andrews calls the Fox job "a once in a lifetime opportunity."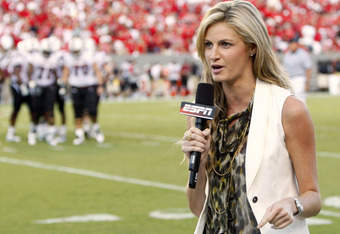 Streeter Lecka/Getty Images
It remains to be seen if this "once in a lifetime" opportunity is actually just more of the same. Significant roles is a little cloudy and may mean cut-aways to Andrews on, wait for it, the sidelines of NFL games. 
I doubt this is the case if she is getting her own primetime show. 
So, it would seem, we are about to get a heavy dose of the blonde bombshell who saw her popularity wane towards the end of her time with ESPN. 
This comes as tremendous news if you consider yourself an Erin Andrews fan, because it looks like a great deal more exposure is on its way. 
Fox Sports is ramping up its college coverage, making her their go-to personality. For those that scoff at all the hype surrounding the sideline reporter, I submit the obvious piece of good news here. 
This just means there will be far more cut-aways from Tim McCarver to Andrews tending to one of the dugouts. 
That's a win in my book. 
Follow me on Twitter for more updated awesome.