Los Angeles Dodgers: Midseason Report Cards for All 25 Players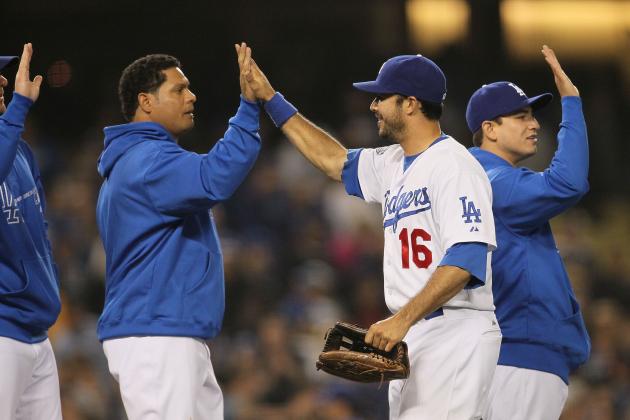 Victor Decolongon/Getty Images

The 2012 Los Angeles Dodgers have seen some highs and lows through the first 81 games of the season.
From watching Matt Kemp light up the league during the first couple weeks of the season, to enjoying a pleasant surprise season out of A.J. Ellis behind the plate, things have looked really good for the blue.
Then, as of late, the team began to slump. The rival San Francisco Giants gained ground and ultimately took over the lead in the NL West.
All things being equal, it is time to hand out the midseason report cards for all 25 members of the Dodgers.
These numbers and configurations are based upon the active roster listed on the Los Angeles Dodgers official website as of July 3, 2012.
Begin Slideshow

»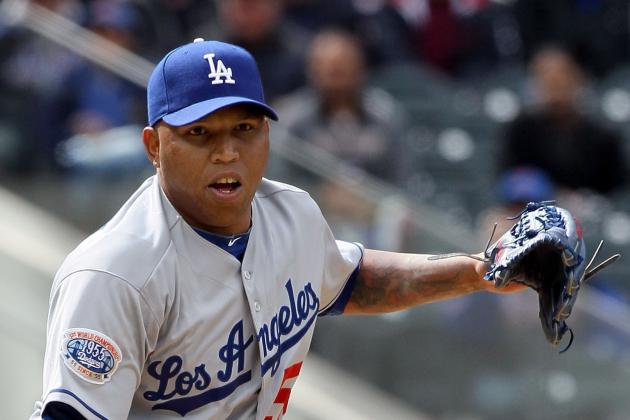 Jim McIsaac/Getty Images

The 29-year-old righty has been a steadfast member of the Los Angeles Dodger bullpen. While appearing in 25 games, he is 3-0 with a 1.07 ERA and .908 WHIP.
He has seven holds on the season with 17 strikeouts in just 25.1 innings of work in 2012.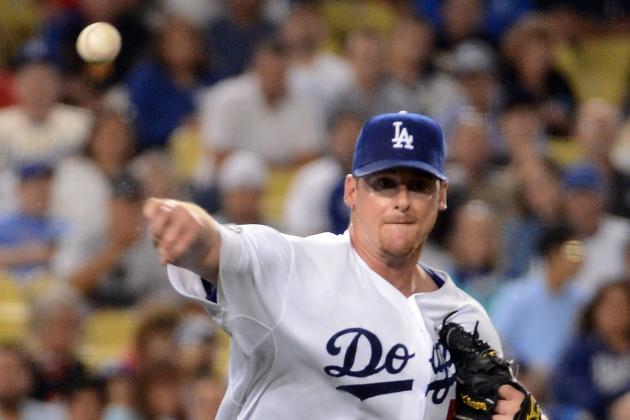 Harry How/Getty Images

Bills has seen better days in L.A.
While typically hovering around a .500 win/loss percentage, Chad Billingsley is having a hard time racking up the wins this season, posting just a 4-8 record in 17 starts.
His ERA is 4.20, about half a point higher than his career average.
Though his WHIP (1.429) is on par with his 2011 numbers, he just hasn't been the pitcher the Dodgers need him to be in 2012.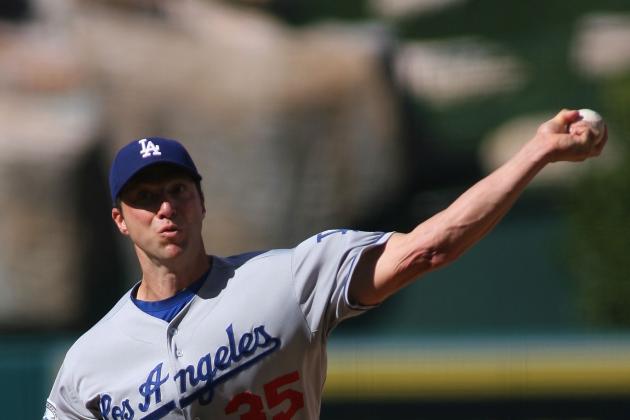 Jeff Golden/Getty Images

If you told me that heading into the All-Star break, Chris Capuano would be the winning-est pitcher on the Dodgers staff, I would have thought you were crazy.
Here we stand though, with Capuano owning a 9-3 record with a 2.69 ERA and a 1.096 WHIP.
To say Capuano is over-achieving through the first half of the season may just be an understatement. He is literally having the best overall season of his career.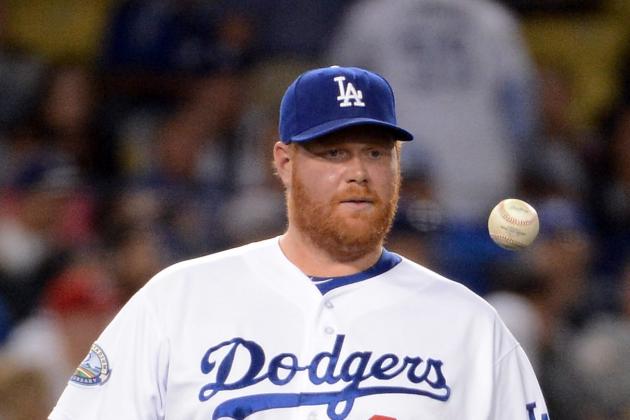 Harry How/Getty Images

Though Todd Coffey has allowed some runs to score on his watch, he has provided two holds for the Dodgers this season.
That seems to balance out his 4.66 ERA to some degree.
The hard number facing him is the 10 earned runs he's given up over just 19.1 innings pitched this season.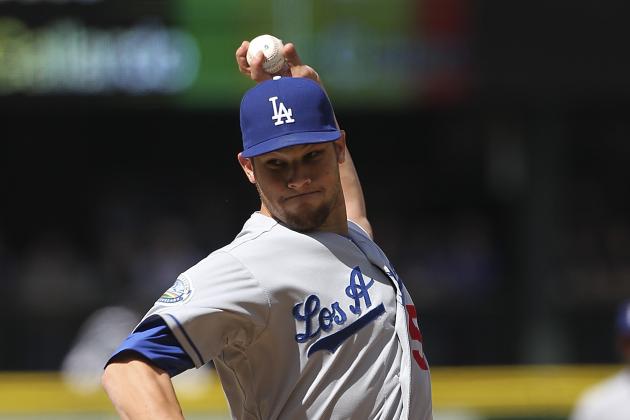 Otto Greule Jr/Getty Images

Scott Elbert has impressed me this season.
For the first time in his career he is seeing significant playing time and responding well to it. He has already put in 25 innings of work in 33 games and has a 2.88 to show for it.
What's more, he has seven holds with 26 strikeouts.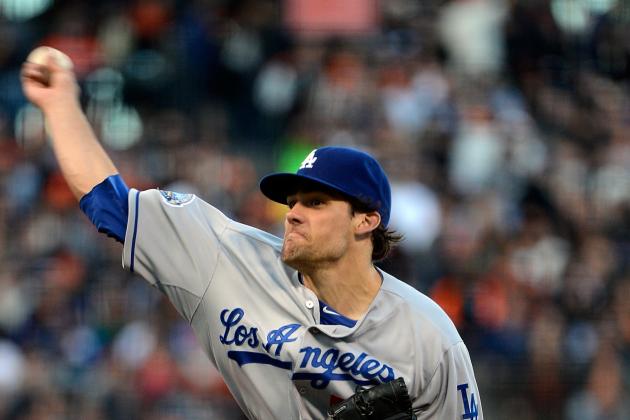 Thearon W. Henderson/Getty Images

It is hard to grade starting pitchers, especially ones like Eovaldi, who have only pitched in seven games this season.
That said, he owns a 0-5 record.
More so, his ERA is 4.61 during that time.
A further indictment is that he gave up eight runs to the Giants on June 25th.
Eight earned runs.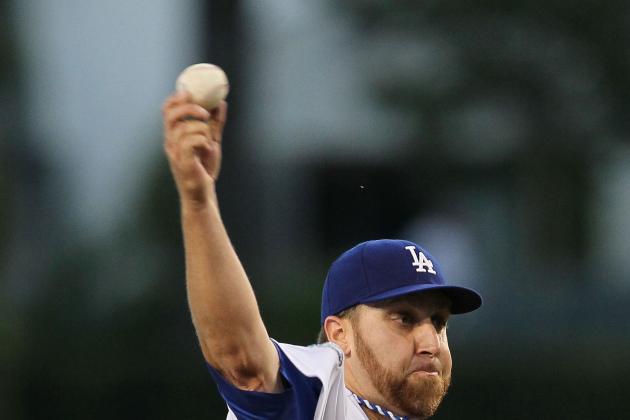 Victor Decolongon/Getty Images

Unlike Chris Capuano, Aaron Harang has come exactly as billed: a .500 pitcher with an ERA in the 4.00 neighborhood.
That said, Harang is 5-5 so far this season with a 3.68 ERA.
It is worth noting that Harang has allowed the fewest home runs of the starting staff (seven) if you exclude Ted Lilly and Nathan Eovaldi.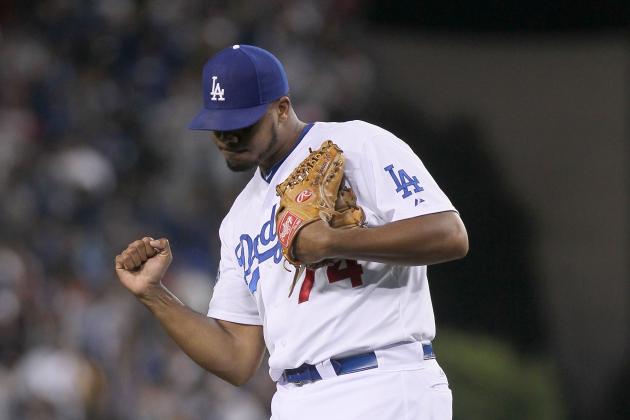 Stephen Dunn/Getty Images

The position of closer is a tough one, especially in a major market like Los Angeles.
Young Kenley Jansen has done a solid job for the blue, but there is room for improvement. He is 12 for 15 in save opportunities with a 4-2 record and 2.29 ERA.
His ERA is down from last season and has 56 strikeouts in 35.1 innings. It'd be nice to see more actual saves, though.
He has added seven holds of his own this season as well.
Harry How/Getty Images

Here's the thing about Clayton Kershaw, he's just been okay in 2012.
Don't get me wrong—he still has the second best record among the starting pitching staff, but truth be told, he should own the best record on the team, dare say the best record in the NL.
He has thrown the most innings (115.1) and has the most strikeouts on the staff (112) but the fans now expect more after his 2011 season.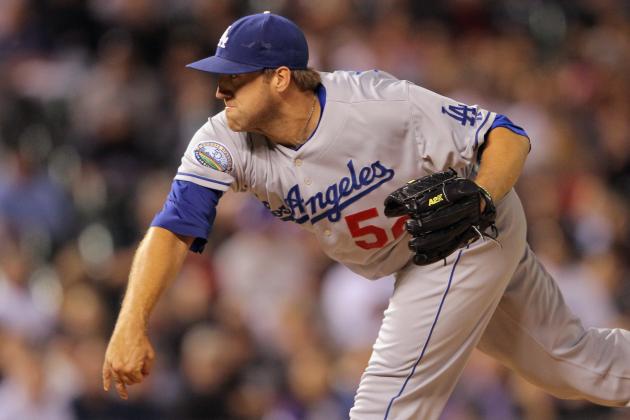 Doug Pensinger/Getty Images

The Dodgers bullpen has been incredibly solid this season.
Thanks in large part to Josh Lindblom. He leads the team in holds with 13, while posting a 2-2 record with a 3.05 ERA/1.096 WHIP in 37 games and 38.1 innings pitched.
The only negative on Lindblom is his 0-for-2 in save opportunities this season.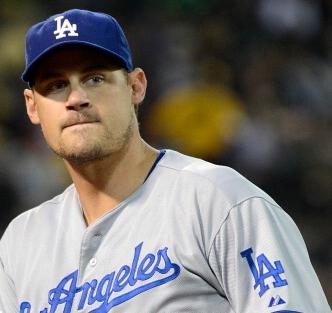 Thearon W. Henderson/Getty Images

While Jamey Wright owns a 3.86 ERA, it is seemingly a misrepresentation of what he's done for the Dodgers in 2012.
He has inherited 19 runners this season while allowing only four of them to score. That is the lowest percentage of all Dodgers relievers at 21 percent.
His two holds is also an injustice. Wright has been a solid contributor to this ballclub in 2012.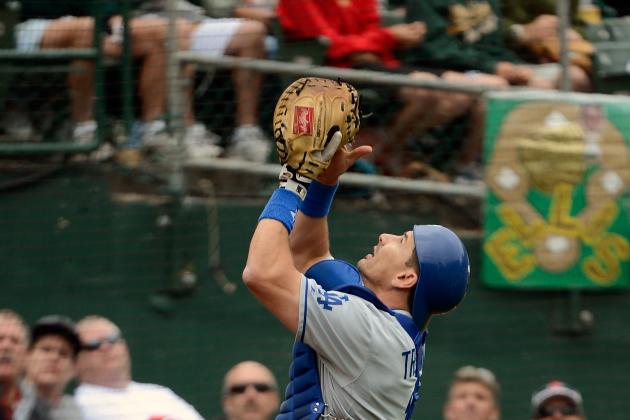 Thearon W. Henderson/Getty Images

Career highs in batting across the board are the obvious highlight when it comes to A.J. Ellis.
Not one Dodger fan can tell you that he or she honestly thought that Ellis would be this solid and reliable for the blue in 2012. To say he's performed above expectations is an understatement.
Ellis has more hits this season (58) than he has put together in all 87 games he's appeared in previously in the majors: 54.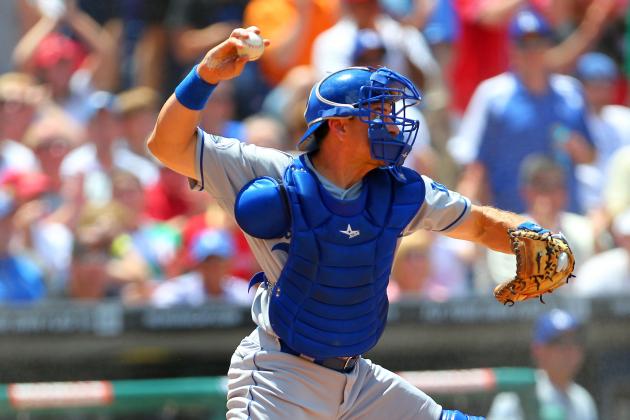 Rich Schultz/Getty Images

Playing roughly every fifth day to spell A.J. Ellis a rest, Matt Treanor has been a serviceable backup catcher.
His .250 batting average and seven RBI aren't exactly going to blow away the competition. However, he's not been a liability either.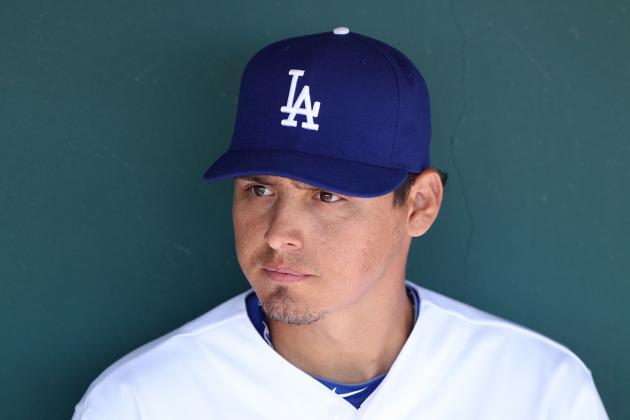 Christian Petersen/Getty Images

Luis Cruz has played in exactly one game as of this writing for the Dodgers. I'll give the man a pass for now.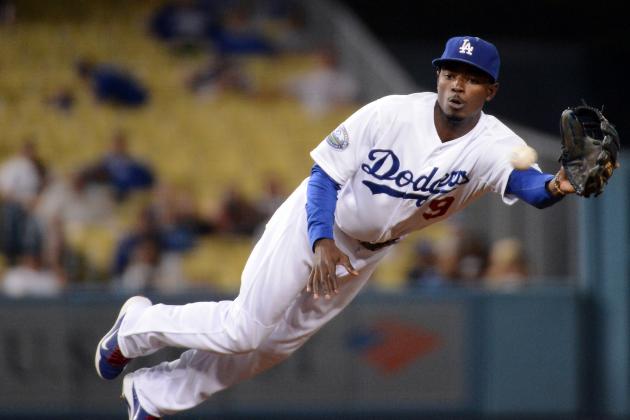 Harry How/Getty Images

Dee Gordon is lightning fast on the base paths.
As it stands, his 28 stolen bases leads the league.
The issue with Gordon is his inability to get on base. Many Dodger fans are just waiting for him to figure things out, but Gordon has a long way to go before he can be considered a worthy every day starter.
Credit where credit is due however, his 35 runs scored is second best on the Dodgers to date.
Harry How/Getty Images

Jerry Hairston has appeared in 53 games this season, during which time he has maintained a nice .296 average in 159 at-bats.
His .370 OBP is good enough for fourth on the team.
While his RBI and Run totals are not through the roof, Hairston gives his teammates the opportunity to score him by consistently getting on base.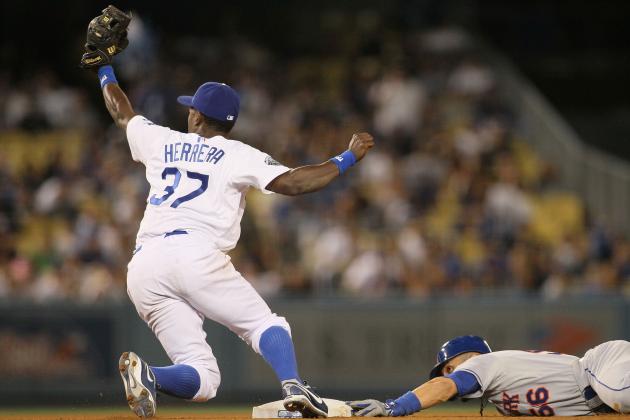 Victor Decolongon/Getty Images

Twenty-Seven-year-old rookie Elian Herrera has provided decent production as a backup every-man for the Dodgers.
His biggest asset may be the fact that he has and can play essentially every position that the team needs. His bat may be lacking, but this is his first run at major league pitching.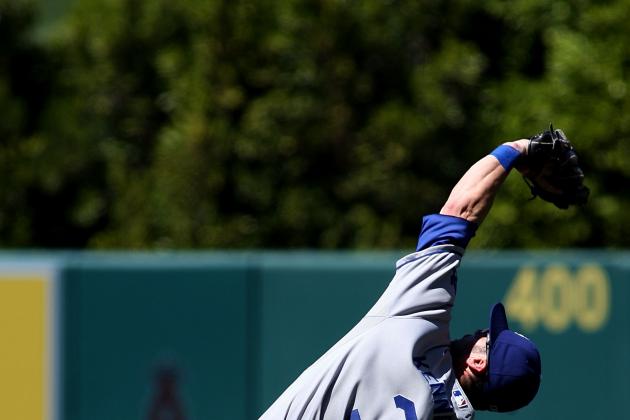 Jeff Golden/Getty Images

Veteran journeyman, Adam Kennedy, has been a warm body for the Dodgers in 2012.
In his 57 games he has mustered a .227 batting average in 110 at-bats.
While he is obviously not an everyday player for the blue, he hasn't provided a whole lot to the team. He's struck out 23 times this season as compared to his 25 hits.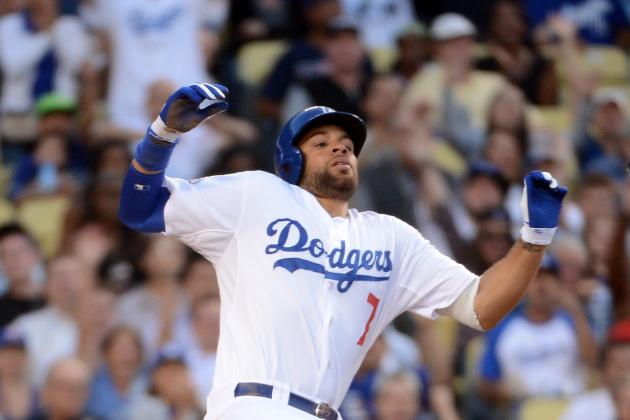 Harry How/Getty Images

James Loney has been consistent in 2012.
He has provided 23 RBI and 19 runs so far, while batting .242.
Statistically, he falls in the middle of the pack of the team, which could certainly be improved upon. However, at this point, Dodger fans are well aware of what to expect from Loney.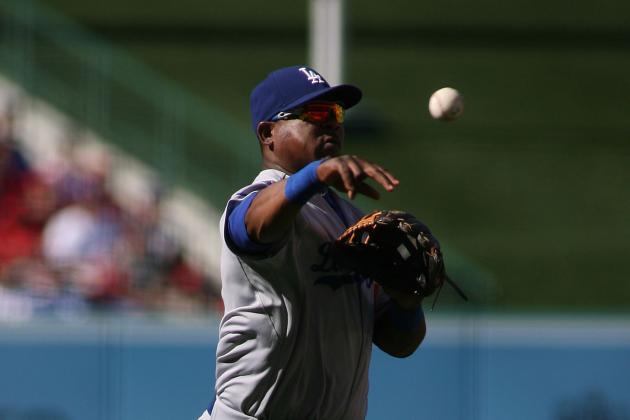 Jeff Golden/Getty Images

Of all third basemen who have played in 40 or more games in 2012, Juan Uribe ranks 23rd overall in batting average in the NL at the position.
In other words, he's been terrible.
This is one area the Dodgers need upgrade by the end of July if at all possible.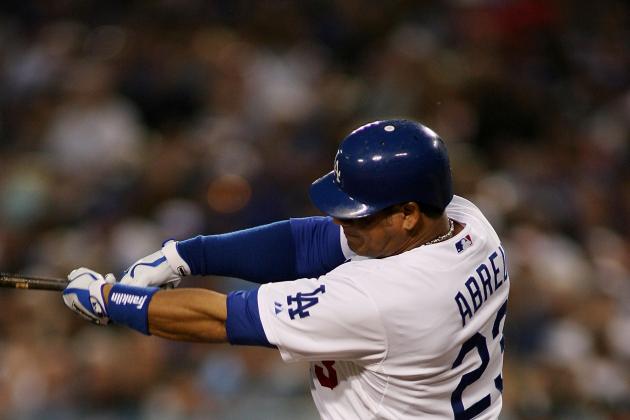 Jeff Golden/Getty Images

Bobby Abreau is playing solid baseball for the Dodgers.
No, this is not the same Abreau that tormented the team earlier in his career. It is, however, a very useful piece to their offense.
He is an as-advertised .250 hitter with potential to add some pop to the lineup, with 13 of his 39 hits coming in the form of extra-base hits.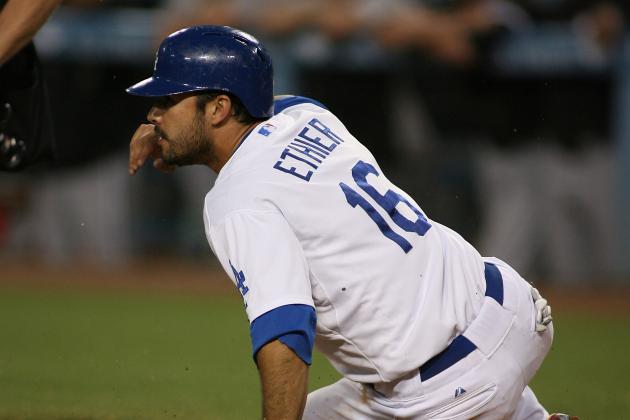 Jeff Golden/Getty Images

Given the amount of time Matt Kemp has been on the DL, the Dodgers needed Andre Ethier to step up and be the player he's capable of being.
He has certainly answered the bell.
Ethier leads the Dodgers in RBI with 55 and is fourth in the NL, behind only Ryan Braun, Carlos Beltran and Carlos Gonzalez. He is tied for eighth overall in MLB.
More than that, Ethier has 23 doubles with 36 runs scored while adding a .291 average.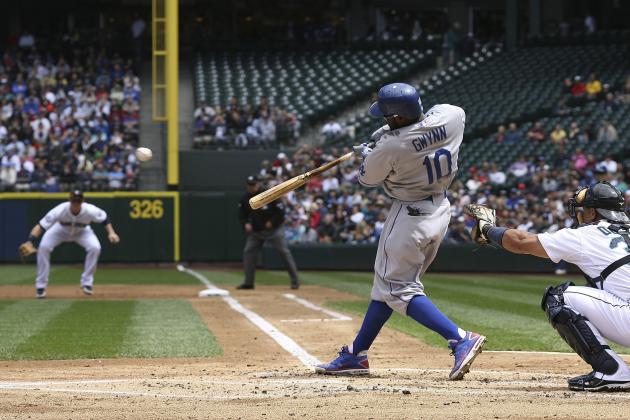 Otto Greule Jr/Getty Images

Being called upon to fill in for Matt Kemp is no easy task, just ask Tony Gwynn.
Having said that, Gwynn has performed well for the Dodgers. Purely a singles hitter, Gwynn does not offer the same deep threat that Kemp can.
He has shown the ability to drive in runs from time to time.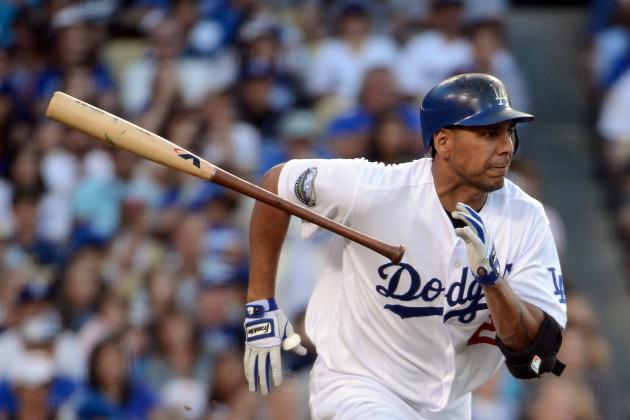 Harry How/Getty Images

Juan Rivera has proven to be one of the better run-producers for the Dodgers this season.
Rivera has provided 25 RBI for the team in his 49 games this season.
His .263 batting average is one of the teams better averages as well.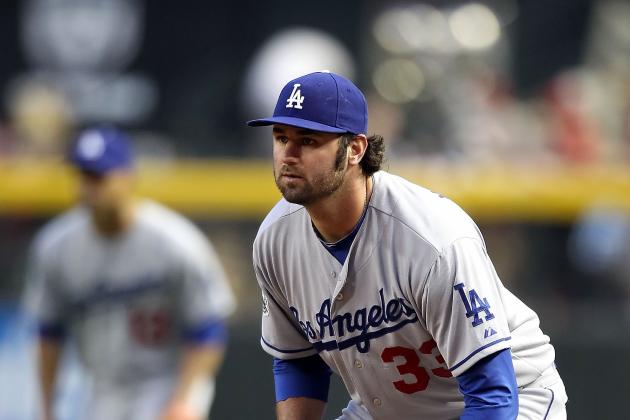 Christian Petersen/Getty Images

At just 25-years-old, Scott Van Slyke is still very wet behind the ears in terms of his major league career.
For that reason, I'll give him a pass for now, after having only played in 22 games this season.