The End of an Era: Steve Prefontaine's Last Major Record Falls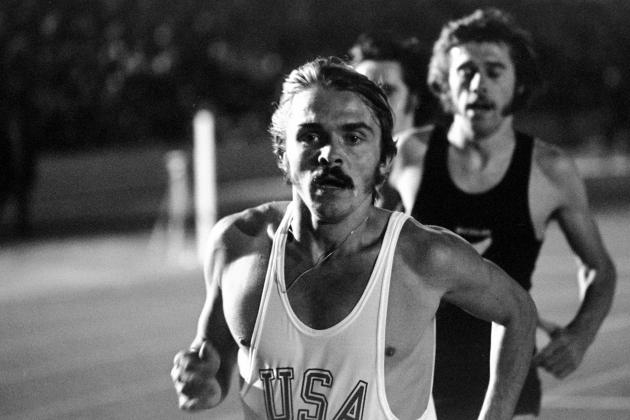 Tony Duffy/Getty Images
USA Track and Field distance running legend Steve Prefontaine's last standing record fell Thursday.
Upon his death, the Eugene Register-Guard famously dubbed the time as the "end of an era." After last Thursday's Olympic Trial meet, the running world has now come upon another end.
26-year-old Galen Rupp took the 5,000 meters in a time of 13:22.67, eclipsing Pre's 40-year-old Olympic Trials record as well as the rest of the field. Excluding his collegiate 3-mile and 6-mile times, the time was the final standing record of Pre's to fall.
"I really just told myself, 'Keep your head down, keep your form good and keep driving to the finish," Rupp told reporters after the race.
Prefontaine held every American record from the 2,000 to the 10,000 meters at the time of his death in 1975 at the age of 24. Since then, it's been a long process for American distance runners in breaking those records. In that way, Rupp's record-breaking performance is also the beginning of a new era for USA Track and Field as more and more record begin to be broken.
Ahead is a breakdown of the many records of Steve Prefontaine.
Begin Slideshow

»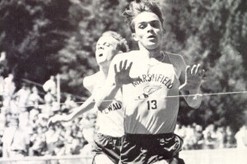 Marshfield High's Steve Prefontaine.
8:41.5 on April 25, 1969
Spartan Field, Corvallis, OR
How Pre Did It: It was the first record set by the boy from Coos Bay. The atmosphere was electric at the annual Corvallis Invitational, which that year pitted a young prodigy named Pre and his close friend Doug Crooks, who had run a 1969 national best 9:03 earlier that year. Pre however had the Rick Riley record of 8:48 on his mind, despite never running better than a 9:01 himself. But in true Pre fashion, Steve left any sense of competition in the dust en route to shattering the record by seven seconds.
How It Was Broken: Four years after Pre ran his way into the record books, Illinois native Craig Virgin broke it by a second in a season that would win him High School Athlete of the Year honors by Track and Field News. Virgin would go on to win Gold at the World Cross-Country Championships in 1980 and 1981 before finishing second at the '81 Boston Marathon.
Who Owns It Now: Lukas Verzbicas ran his 8:29.46 at the Prefontaine Classic in Eugene shortly before winning Gold at the ITU Triathlon World Championships in Beijing.
13:22.8 on July 6, 1972
Hayward Field, Eugene, OR (Olympic Trials)
How Pre Did It: The one that just went down. The one that lasted 40 years. It was the first time Pre broke one of his own records–and he broke it by eight seconds. In doing so, he not only solidified his spot on the 1972 Olympic Team, but he blew by one of the great veterans at the time in Arizona's George Young.
How It Was Broken: Pre broke this record once again a year later by 0.04 seconds, but nobody ever ran it faster at an Olympic Trials meet than he did until Rupp did last week.
Who Owns It Now: Bernard Lagat owns the 5,000 Meter American record with a 12:53.6, but Rupp was able to outlast Lagat and the rest of the field last week to claim the Trials mark as his own.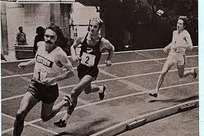 Pre leading the pack in San Diego.
8:20.4 on March 11, 1974
San Diego, CA
How Pre Did It: This one was satisfying for Pre, as he was thereafter able to say he had broken one of Frank Shorter's records. In a race that featured New Zealander Dick Taylor and Brit Chris Stewart, Pre led all of the way to cement a record that would last for eight years.
How It Was Broken: Back in San Diego, BYU's Doug Padilla broke Prefontaine's record by four seconds.
Who Owns It Now: Earlier this year, Rupp came out of the wordwork to claim another one of Pre's former records as his own. This time, he did it by running a by running his second mile in 4:02 for an 8:09.72 to beat Lagat's old record by .35 seconds at the USATF Classic.
27:43.8 on April 27, 1974
Hayward Field, Eugene, OR
How Pre Did It: Pre loved to run and break records in Eugene. This one was no different, as he also set the American six-mile record in doing so.
How It Was Broken: Craig Virgin was the culprit again in this one, brushing by Pre's record with a time of 27:39.04. Not only was it good enough for the American record, but it was the second fastest ever run in the world at the time.
Who Owns It Now: Rupp took this one too. At last years Memorial van Damme in Brussels, Rupp cruised into third place and the record books with a 26:48.00.
7:42.6 on July 2, 1974
Milan, Italy
How Pre Did It: He finished behind New Zealander Rod Dixon but ahead of Italian Franco Fava. It was at this race in northern Italy that Pre would acquire his famous black "Norditalia" tank that he would go on to where in his final race and be buried in.
How It Was Broken: Indiana's Rudy Chapa joined Dellinger's Oregon Track and Field team shortly after Pre's death. In 1979, Chapa went on to break Pre's 3,000 meter record by five seconds with a time of 7:37.07. The time was also the fastest in the world that year.
Who Owns It Now: Lagat became the first American to run a sub-7:30 three-mile in 2010 when he broke Bob Kennedy's 12-year-old record. The very fast time of 7:29.00 came in Rieti, Italy when Lagat finished second to Ethiopia's Tariku Bekele.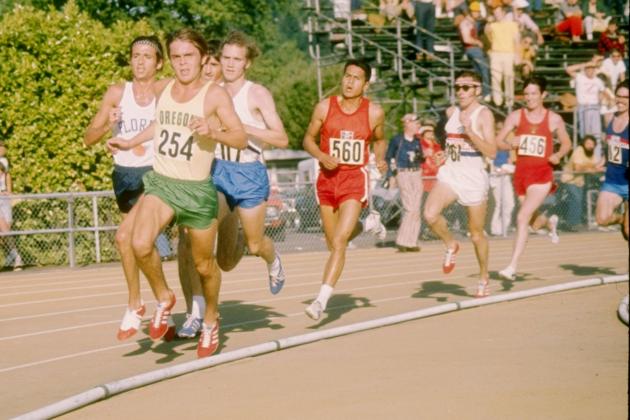 Tony Duffy/Getty Images
Prefontaine set his last American record in his hometown of Coos Bay, OR.
5:01.4 on May 9, 1975
Coos Bay, Oregon
How Pre Did It: It was the second slated meet on the Finland Tour, which brought handfuls of great runners to America to compete, which Prefontaine had helped establish. It was also the last American record that Pre would set, as he finished nearly 13 seconds ahead of second place Rune Holmen.
How It Was Broken: The now barely-run race was broken many, many times before the current record holder.
Who Owns It Now: Illinois native Jim Spivey has seen his record of 4:52.44 set in Switzerland stand since he set it in 1987.