London 2012: Can Allyson Felix Match the Star Power of Lolo Jones?
July 2, 2012

Christian Petersen/Getty Images
Lolo Jones is the most popular female track athlete in the world right now, but can fellow U.S. teammate Allyson Felix rival her stardom at the 2012 Summer Olympic Games in London?
These two are both hot topics of conversation right now. With Felix being given the spot in the 100-meter dash after a dead tie and Jones' revelation that she is still a virgin, the two will be given the brightest spotlights during the London Games.
The question as of now is whether Felix can top Jones in terms of popularity. For the purposes of this argument, popularity is weighed equally upon both success on the track and the demand in pop culture.
Both Felix and Jones will be seen during the Olympics, but Felix will be competing in both the 100 and 200, while Jones will only be seen in the 100-meter hurdles.
This is the second Games for both women, as the two were in the Beijing Games as well. However, their finishes in China could not have been more different.
Felix was part of the 4x400-meter team that won gold, while Jones infamously knocked over the ninth of 10 hurdles after leading in the 100-meter hurdles, and finished in seventh.
While Felix was more successful, this started the trend of Jones receiving more press.
Felix was on a team, and because of that, she was not a well-known Olympian. Jones, however, was by herself, and because we remember failure more than success (proof: Which Red Sox first baseman let a ball roll through his legs to lose the 1986 World Series? Who hit that ball?), she became more well-known.
During this year's Olympics, Felix has a much better chance of winning a gold medal than Jones. Felix ran the fastest 200 in the world this year with a time of 21.69 seconds during trials. While she may not take home gold in the 100, she should do so in the 200.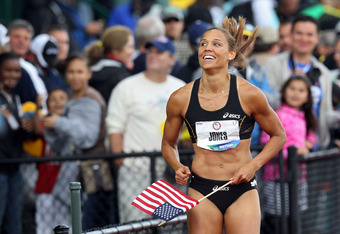 Christian Petersen/Getty Images
Jones, on the other hand, will not win a gold this year. She is not even the best hurdler on the U.S. team, let alone in the world, and she will not take home a medal this year.
While Felix will be the more successful athlete, they are both Olympians, and Jones has dominated Felix in the press.
The revelation that Jones remains a virgin inspired a wave of press that still remains popular today. Felix has not received anywhere close to a comparable amount of press, and her star power therefore pales in comparison to that of Jones.
While being given the run-off definitely helps her, she is still missing that wow factor that would make her a star.
As of now, Felix will never be anywhere close to Jones in terms of popularity. However, if some revelation about her comes to light that is comparable to Jones' virginity in terms of interest, then she would surpass her because she is the better athlete.