Nathan's Hot Dog Eating Contest 2012: The Best Moments in the Event's History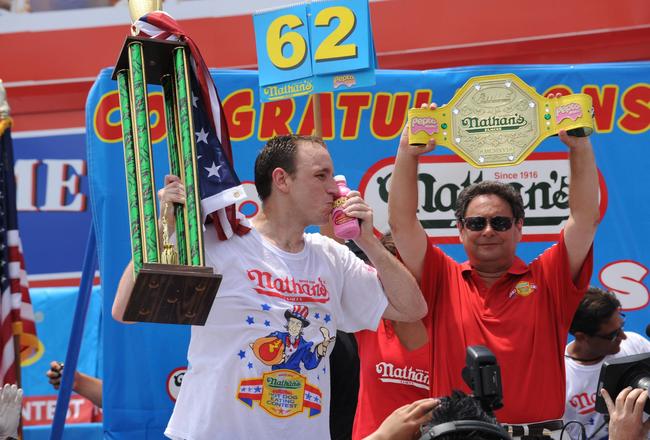 Image via middletownpress.com

There are few acts more courageous than shoving five dozen greasy hot dogs into your mouth in a matter of ten minutes. Thankfully, the illustrious Hot Dog Eating Contest is once again upon us, and more popular than ever.
As the world prepares for another year of Nathan's beloved July 4th competition, set to take place at its usual Coney Island crevice, fans are wondering who will take the cake (pun slightly intended).
But we're less concerned with the odds as we are with reliving the past. From the dynamic Takeru Kobayashi to the ferocious Joey Chestnut, we've seen it all.
Let's retrace a mustard-covered past and ketchup on the greatest moments in hot dog eating history.
Start flexing those stomach muscles.
15. A New Competition Is Sparked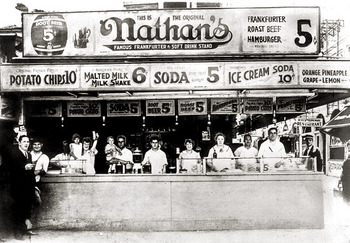 Image via forum.skyscraperpage.com
Word has it that 1916 was the year a tradition was started.
It's believed that four immigrants attempted to settle a dispute over who was the most patriotic on the Fourth of July. A hot dog eating contest was the only solution.
Jim Mullen became the first winner, and a permanent legend with 13 dogs in 12 minutes.
14. The First Eat-off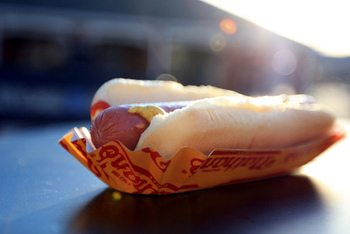 Image via f-word.tumblr.com
Paul Siederman and Joe Baldini finished nine hot dogs in ten minutes each, and were prepared to battle for hard-fought victory in 1980.
In the overtime period, Siederman and Baldini each ate 3.5 hot dogs before being declared co-winners. Early signs of clutch play.
13. Frank Dellarosa Makes a New Record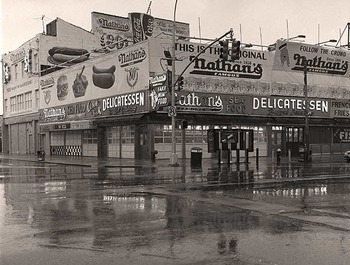 Image via bonnibenrubi.com
In 1991, a magical peak had finally been reached.
Thomas Stash's 19 in 1979 and Luis Llamas' unconfirmed 19.5 in '83 were the largest amounts to date before mighty Frank Dellarosa came into the '91 contest ready to tarnish all records (21.5 hot dogs in 12 minutes).
He would spark quite the movement, as the numbers would only increase in the years following his massive intake.
12. Return of the Mustard-Yellow International Belt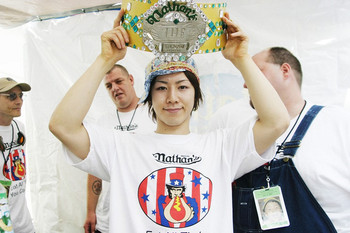 Image via edgarmata.photoshelter.com
In November of 1993, Nathan's great Mike Devito would bring the International belt back to the States in historic fashion.
A one-on-one contest between Devito and Japan's Orio Ito ended in victory for the United States. The belt had been in Japan for seven years before being returned.
11. First Japanese Contestant Wins in 1997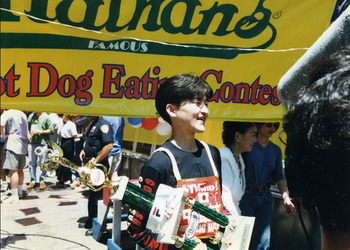 Image via globalturnstile.com
After Ed Krachie totaled 22.25 hot dogs in 1996, most fans were in shock and awe from what they'd seen.
But Hirofumi Nakajima's 24.5 dogs secured his spot among the greats, and gave him the title of first Japanese hot dog eating winner. All 5'8", 130 pounds of him.
10. Hot Dog Wall of Fame Constructed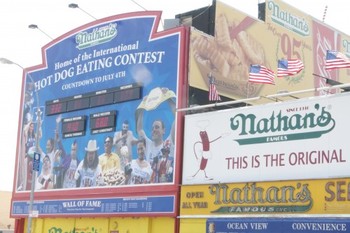 Image via amandasnotebook.com
It was June of 2004 when Nathan's brass decided to build a three-story "Hot Dog Eating Wall of Fame" at the contest's main Coney Island spot.
The wall has records tracing back to 1984, as well as a clock counting down to the next contest. A necessary element to any legitimate sports venue.
9. Money Prizes Added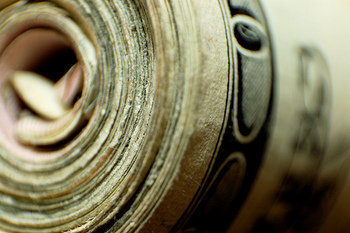 Image via photographytips.net
The illustrious Mustard Yellow Belt was once the sought-after prize, but in 2007 that all changed.
Nathan's finally decided to put some crisp quiche (a.k.a. cash money) on the table. $20,000 to be exact.
Now it's a party.
8. ESPN Begins Airing the Competition Live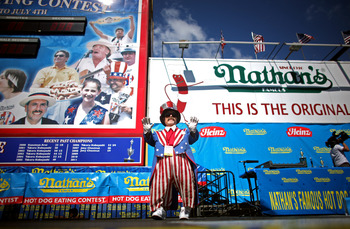 Yana Paskova/Getty Images
It was 2004 when ESPN decided to air the competition live, with the usual colorful color commentating.
And now, nine years later, it seems like they're ready to approach tape-delay broadcasting again. Just in case, right?
7. Amos Wengler Defines a Community
Football has cheerleaders, basketball has dancers, hot dog eating has one folk singer...and his name is Amos Wengler.
Since emigrating from Israel as a 17-year-old in '62, Wengler has become the heart of Coney Island with his quirky songwriting.
And he's given Nathan's hot dog contest another intriguing show to offer guests.
6. Sonya Thomas Breaks the Barrier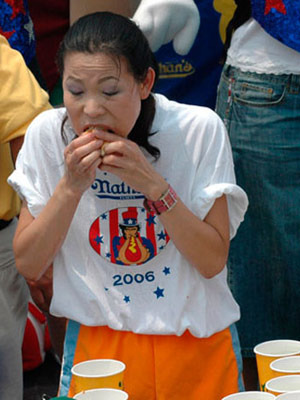 Image via marieclaire.com
The first female champion of Nathan's Hot Dog Eating Contest, Sonya "The Black Widow" Thomas is remembered for eating 40 hot dogs in 10 minutes.
With 2011 being the first year that women and men competed in separate events, Thomas finally earned the pink Pepto Bismol Belt and cashed in on $10,000.
History was made.
5. Takeru Kobayashi Becomes a Legend in 2001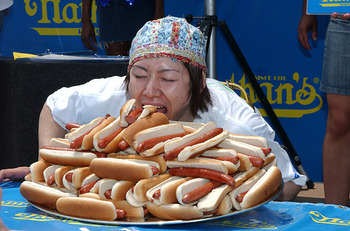 Image via loop48.com
Over 25 hot dogs once seemed untouchable, considering Japan's Kazutoyo Arai barely scraped the number in 2000 with 25 (and an eighth), flying by his competition.
But in 2001, records were shattered, hearts were frozen and jaws were dropped. New sensation Takeru Kobayashi had just digested 50 hot dogs in 12 minutes to shock the world.
And he still had room for a hefty dinner.
4. Joey Chestnut Changes the Game in 2007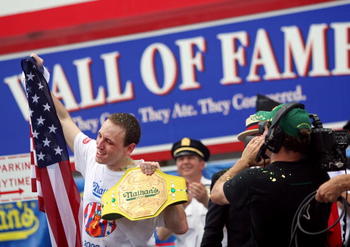 Yana Paskova/Getty Images
While Kobayashi would dominate six straight competitions (2001-06), his prowess would soon be matched by an unlikely engineering student with a legendary esophagus.
Joey "Jaws" Chestnut would soar past his Japanese counterpart with 66 wieners, three more than Kobayashi. It was a total we'd never imagined possible.
Only a man called Jaws seemed able.
3. Viewing Reaches an All-Time High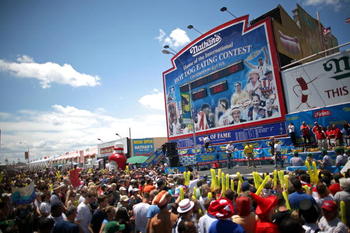 Yana Paskova/Getty Images
From 1.340 million viewers on ESPN in 2009 to 1.949 million last year, we can only imagine how many people this year's contest will engage.
And that's not even counting the thousands of passionate Coney Island dwellers making the trip to Nathan's.
2. Joey Chestnut Breaks Records in 2009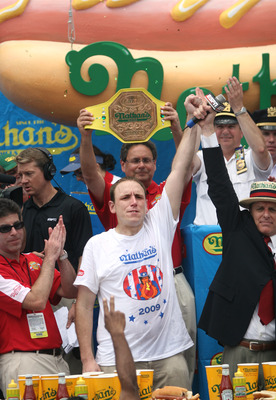 Yana Paskova/Getty Images
68 dogs in '09 to roar past the competition was the highlight of Jaws' career thus far.
He now finds himself competing for a sixth consecutive title. Brilliant.
1. The Fridge Can Only Down Four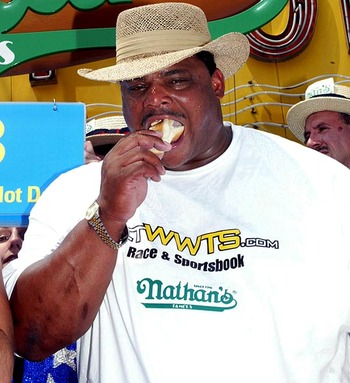 Image via sportsillustrated.cnn.com
As a celebrity contestant in the 2003 competition, William "335-pound" Perry was expected to shock the competition and dominate a new field of play.
But the former defensive tackle couldn't quite keep up with defending champ Takeru Kobayashi, who downed 44.5 dogs in 12 minutes.
The man once dubbed "The Fridge" took down a surprising four wieners. The contest naturally gained new respect.
Keep Reading