Notre Dame Football 2012: 7 Things That Will Be Different from Last Year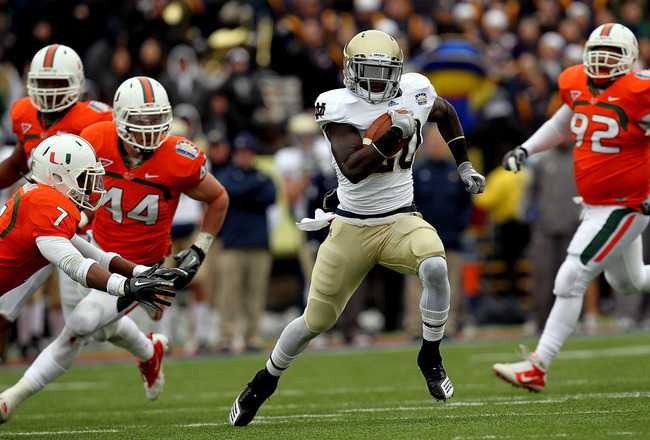 Now that star receiver Michael Floyd is gone, running back Cierre Wood will be Notre Dame's new main offensive weapon in 2012
Ronald Martinez/Getty Images
Notre Dame's 10-win campaign and Sugar Bowl appearance back in 2006 seems like a lifetime ago, given all the mediocrity and the crushed hopes that Irish fans have had to deal with in the five years since.
After two less-than-thrilling eight-win seasons, the Irish will now enter year three of coach Brian Kelly's tenure, and they'll do so without a clear-cut starting quarterback.
When Kelly first arrived in South Bend before the 2010 season, many fans thought that he would be able to bring Notre Dame back to national relevancy again, but that has yet to come close to happening.
After an offseason that included arrests, transfers and plenty of unwanted headlines, the Irish are in need of a few personnel changes and a few attitude changes if they truly want to become a consistent contender again, and it will be interesting to see if Notre Dame will be able to implement the changes they need to find more success in 2012.
The players and coaches would both like to put last year's disappointing effort in the rear-view mirror and focus on the upcoming season
As with every college football team, there are sure to be some major differences between this year's season and last year's, so here's a look at seven major differences that are to be expected in 2012.
1. Tommy Rees Will Not Be the Starting Quarterback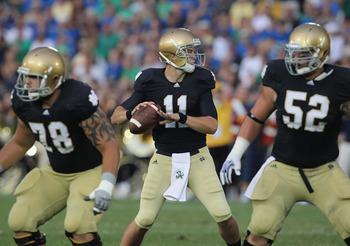 Tommy Rees
Jonathan Daniel/Getty Images
Notre Dame's quarterback battle will be one of the most intriguing offseason storylines to follow this August.
The race for the starting signal-caller job will feature four players—last year's starter Tommy Rees, along with Andrew Hendrix, Everett Golson and true freshman Gunner Kiel.
After a mediocre campaign in 2011, it was questionable whether Rees would be able to hold onto his job for the upcoming season, but then he sabotaged himself even further by getting arrested back in early May.
After ending up in Brian Kelly's dog house, Rees now seems like he needs to have an unbelievably strong camp to hold onto his job, and it's doubtful that the marginally talented junior has it in him.
Instead, it's expected that either Hendrix or Golson, who both possess more physical ability than Rees, will likely end up leading the Irish when they head over to Ireland to battle Navy in the season-opener.
My money's on Golson, but Hendrix could definitely snatch up the job as well.
2. The Schedule Will Be Insanely Difficult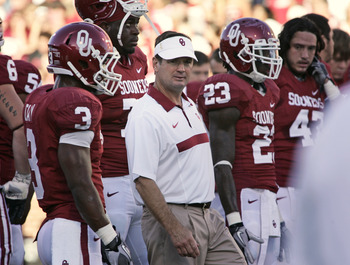 Bob Stoops
Brett Deering/Getty Images
If you're making a list of the toughest schedules for the 2012 season, then you better put Notre Dame right at the top or close to it, as the Irish have an absolutely brutal slate.
With home dates against the likes of Michigan, Stanford, BYU and Pitt, and road trips scheduled to Michigan State, Oklahoma and USC, as well as a neutral site game in Chicago against Miami, there is simply no room for Notre Dame to catch a breath this season.
Last year's schedule included just three teams that were ranked at the time the Irish played them.
This year's schedule includes nine teams that played in a bowl game last season and five teams—USC, Oklahoma, Michigan, Michigan State and Stanford—that will all be ranked in the preseason top 25.
Needless to say, Brian Kelly is going to have his work cut out for him in 2012.
3. Cierre Wood Will Finally Receive the Respect He Deserves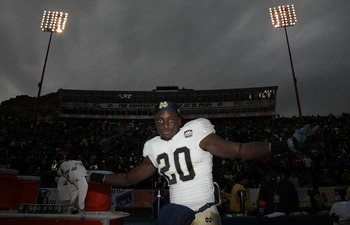 Cierre Wood
Ronald Martinez/Getty Images
Cierre Wood might just be the most underrated running back in all of college football.
Last year, Wood rushed for over 1,100 yards on just 217 carries and scored nine touchdowns, yet he received very little national attention for his performance.
This season, the 6'0'', 215-pound junior will now be counted on to be Notre Dame's top offensive playmaker, and the former 4-star recruit from California should be ready to really light things up.
Wood has the size, strength, speed, vision and instincts that you look for in an elite back, and if he has the type of season he's capable of in 2012, it will likely be his last year in South Bend, as NFL teams will certainly be craving for his services.
4. Tyler Eifert Will Be the Team's Leading Receiver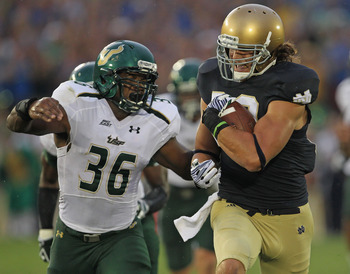 Tyler Eifert
Jonathan Daniel/Getty Images
Notre Dame is obviously going to miss star wide receiver Michael Floyd, who caught 100 passes for 1,147 yards and nine touchdowns last season.
Floyd, who was selected by the Arizona Cardinals with the 13th pick in the 2012 NFL draft, was one of the most talented offensive players in Notre Dame history, and he certainly won't be easy to replace.
The Irish do have some intriguing wide receivers such as DaVaris Daniels, Theo Riddick and Robby Toma returning to the fold, but the player who will likely be the team's most dangerous pass-catcher this season is tight end Tyler Eifert.
Eifert, who hauled in 63 passes for 803 yards and five touchdowns in 2011, is arguably the best overall tight end in the country, and he'll once again be a valuable weapon in the passing game this year.
This will likely be the 6'6'', 251-pound junior's last season in a Notre Dame uniform before he heads off to the NFL, so he'll definitely be looking to wow onlookers with his performance in 2012.
5. The Secondary Will Feature a Ton of New Faces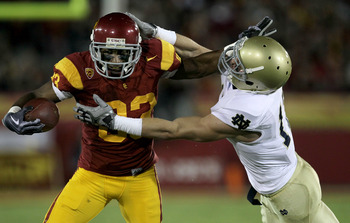 Zeke Motta
Stephen Dunn/Getty Images
Notre Dame is going to have to replace three starting defensive backs from last season—safety Harrison Smith and cornerbacks Gary Gray and Robert Blanton.
Smith, who was a four-year starter and one of the true "heart and soul" players of the Notre Dame defense throughout his collegiate career, was a first-round pick in this year's NFL draft, and he's clearly going to be difficult to replace.
Senior safeties Jamoris Slaughter and Zeke Motta are going to have to really step up their play in 2012, as will new starting corners Bennett Jackson and Lo Wood.
Last year, Notre Dame's pass defense ranked 38th in the country in pass defense, allowing an average of 205 yards through the air per game. However, with so many new faces in the secondary, opponents will likely be looking to air it out much more often on the Irish in 2012.
6. Aaron Lynch Will Not Be Causing Havoc in the Trenches
Aaron Lynch
John Gress/Getty Images
Notre Dame received some unexpected bad news this offseason when last year's breakout star freshman, DE Aaron Lynch, announced that he would be leaving South Bend and transferring closer to home.
Lynch, who was one of the true prizes of the team's 2011 recruiting class, made an instant impact as a starter for the Irish defense last season, racking up 5.5 sacks and 33 tackles.
The former 4-star recruit appeared like he was on track to develop into a star pass-rusher, but now he's simply left Irish fans wondering what could have been.
Luckily, the team has another former highly touted high school prospect in Stephon Tuitt who should be able to step right in and contribute on the other side of veteran senior defensive end Kapron Lewis-Moore.
If Tuitt reaches his full potential and plays the way he's capable of this season, it will really help the Irish get over the loss of Lynch.
7. The Irish Will Win More Than Eight Games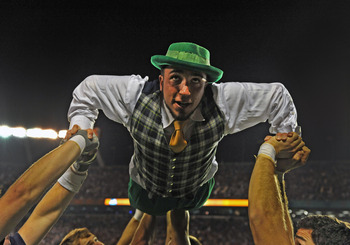 Notre Dame mascot
Al Messerschmidt/Getty Images
Given the type of demanding schedule that Notre Dame will have to get through this season, most analysts probably won't predict big things for the Irish in 2012.
This is a team that's won just eight games in each of Brian Kelly's first two seasons, and that's likely what many will expect from them this year.
The key for Kelly's crew will be to start off strong early and ride the momentum into the later part of the season, which is something they've failed to do in each of the past two years.
Beating Michigan State, Michigan, Miami, Stanford and BYU in a row certainly won't be easy, but if Notre Dame plays the way they capable of and gets a couple of lucky bounces, the Irish could very well be 7-0 going into the showdown at Oklahoma.
The Irish are a team that certainly knows how to dash their fan's hopes season after season, but this year's squad has the chance to finally get things moving back in the right direction.
The slate may be challenging, but this Notre Dame team seems like it could be ready to step up and face those tough tests head on in 2012.
Keep Reading

Notre Dame Football: Like this team?