Premier League Guide: 10 Things to Expect from Arsenal Next Season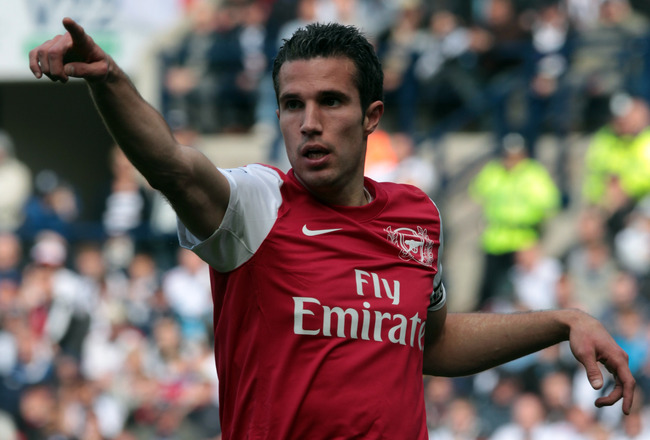 Ross Kinnaird/Getty Images
Arsenal have been one of the first sides to make moves in the transfer market this close season after mixed fortunes throughout the 2011-12 campaign means they'll have to make changes to both personnel and game approach to break their long trophy-less run, which stretches now over seven years.
With Germany's Lukas Podolski and France's Olivier Giroud already signed up—both were on Euro 2012 duty last month—is Arsene Wenger planning on a full-on attack assault on the Premier League with them playing alongside Robin van Persie, or preparing for life without the Dutch forward?
Will changes to Arsenal's playing style or a different mental attitude be the way forward?
Here are 10 things to expect from Arsenal next season.
Sorry Gunners Fans: Robin Van Persie to Play Elsewhere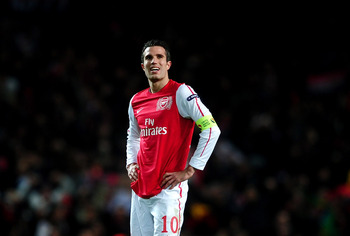 Laurence Griffiths/Getty Images
This first slide won't please too many Gunners, but the 2012-13 season could see Arsenal playing without their talismanic forward.
With just one year left on his contract, forward cover aplenty having come in and Arsenal as far from challenging for the title last season as they have been for over half a decade, expect the man from Holland to say enough is enough—and follow the nearest big cheque out of the Emirates.
van Persie has been Arsenal's saving grace for some time, none more so than last season, but if he signs a new contract, the forward will be committing himself to the Gunners into his 30's—and the chance of a big contract in the prime of his career, along with the chance to challenge for major honours immediately, would be gone.
Arsenal to Score More Goals, from More Areas of the Pitch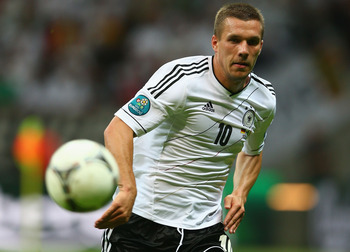 Michael Steele/Getty Images
Thirty goals a season is difficult to replace, no doubt about it.
But what Arsene Wenger has managed to do over the past few transfer windows is pull into the squad several players who have an eye for goal.
None may be as prolific as van Persie on his own, but much in the same way that Thierry Henry's departure allowed several other members of the squad to flourish in front of goal, so might be the case with van Persie.
Gervinho will be all the better for his one season in the Premier League so far. Lukas Podolski will add goals from the left side, and Olivier Giroud knows where the net is too.
England duo Theo Walcott and Alex Oxlade-Chamberlain are also capable of getting amongst the goals, while three or four midfielders are capable of netting half a dozen over the league campaign.
The consistency and reliability of van Persie is something that no other Gunner might be able to match next season—but as long as one or two of those five names are constantly finding the net at once, the Gunners will cope just fine.
Jack Wilshere to Suffer More Injury Woe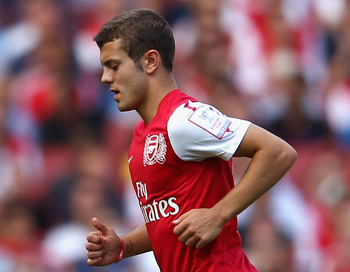 Richard Heathcote/Getty Images
Arsenal fans waited impatiently for the entire season to see midfield prodigy Jack Wilshere back on the pitch, though it was to be in vain, as he spent the whole campaign sidelined with injury.
The Gunners won't unnecessarily rush Wilshere back, but having been out for so long, there is only one way that his rehabilitation will go initially—the starlet is almost guaranteed to pick up another knock, niggle or muscle strain along the way.
Hopefully for Wilshere and Gunners fans, he will bounce back stronger each time until he is able to string a run of games together—but don't hope for it any time soon.
A Better Start to the Campaign Than 2011-12 Season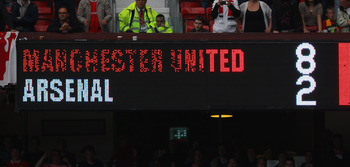 Alex Livesey/Getty Images
It was midway through October of last season, and the Gunners, having played seven matches, had taken just seven points.
They languished in 15th place in the Premier League—just two points above the relegation zone at the time.
Of course, that was never a real likelihood but Arsenal suffered some poor, poor results early on last season, which ultimately might have cost them a shot at the title.
This season they don't have a particularly easy opening set of fixtures, with Liverpool and Manchester City to play away from home and Chelsea at the Emirates, in the first two months, but they should rack up enough points at home to ensure that they don't have to come from quite so far back this time to secure at the very least a top four spot.
Arsenal to Reach the Semifinals of at Least One Domestic Cup...and Lose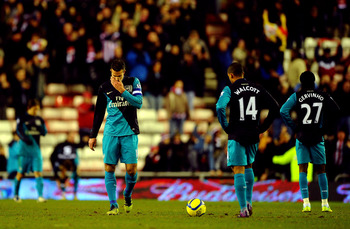 Laurence Griffiths/Getty Images
When it has been such a long time since a club like Arsenal won any kind of trophy, some see it as madness that Arsene Wenger refuses to throw everything he's got into winning even the League Cup or FA Cup just to get that particular monkey off their back.
Some, on the other hand, see it is admirable and even necessary that the Gunners don't change their game plan, mentality or approach just to win a trophy.
Either way, it cannot be denied that Arsenal have had real chances in the recent past to finally end their silverware hoodoo which have not been taken.
It'll be deja vu for Wenger and his men next season as they reach the semifinals of one of the cups...only to go crashing out again.
Arsenal to Better Their Run from 2011-12 and Win Eight Games in a Row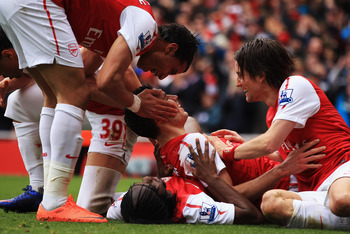 Bryn Lennon/Getty Images
From early February until the end of March, Arsenal embarked on their best Premier League run of the season, winning seven games in a row, which arguably had the biggest impact on them actually clinching third place in the table.
Blackburn Rovers, Sunderland, Tottenham Hotspur, Liverpool, Newcastle United, Everton and Aston Villa were all dispatched before QPR ended the run with a shock 2-1 win.
Arsenal have the technical ability throughout their squad to go on such a run at any time; this year, they'll go at least one better and win eight matches or more in a row.
Arsenal Will Make an Impact in the Champions League, Beating a Favourite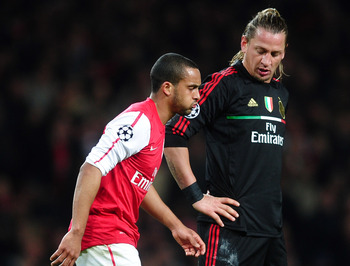 Laurence Griffiths/Getty Images
Real Madrid, Barcelona, Paris St. Germain, Borussia Dortmund, Juventus...plenty of big European names will be competing alongside Arsenal in the 2012-13 edition of the UEFA Champions League next season.
Arsenal have always had the capability to do well in the competition, but perhaps not the squad depth or mentality to see a two-legged tie through at times.
This season, they'll be a force to be reckoned with as usual and can dump out of the competition one of the favourites in the knock-out stages.
Who knows, it could even be the reigning champions, Chelsea.
There Will Be Another Big Signing Still to Arrive This Summer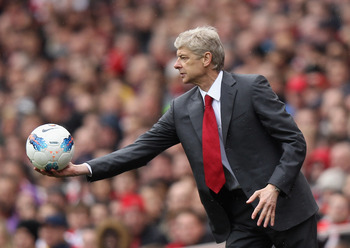 Bryn Lennon/Getty Images
Unlike last season, where Arsene Wenger had to rush, panic and splurge out millions on the last day or two of the transfer window to bring in the likes of Mikel Arteta, Yossi Benayoun, Andre Santos and Per Mertesacker—plus Park Chu-Young only a day or two earlier—the Gunners boss has gotten his chequebook out nice and early this summer.
Podolski and Giroud represent the first forays into the transfer market for Arsenal, but more arrivals are yet expected.
A big name signing to come in and play central midfield is almost a certainty despite rumours circulating that Yann M'Vila is not going to be that player.
Arsenal Will Make the Top Four, but End the Season Without a Trophy Again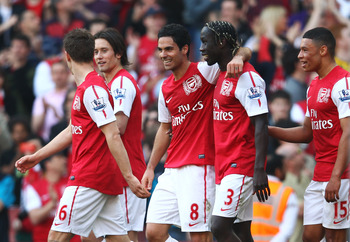 Julian Finney/Getty Images
Is it enough for players or fans?
Arsenal will reach the top four again this season; squad and coach quality will see to that. But they will also fail to win a trophy again.
The Premier League is way out of their reach at present unless they go on a spectacular run of form while others—namely Manchesters City and United—stumble considerably.
Arsenal also need at least four more players to really be capable of winning the league.
And so, another season of good football and woeful mentality beckons.
Third place, more Champions League football and no trophies. Same as last year then!
Arsene Wenger to Leave the Club at the End of the Season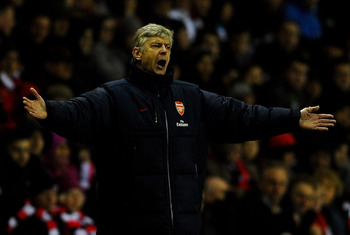 Laurence Griffiths/Getty Images
And there the journey will end for arguably Arsenal's greatest ever manager.
Arsene Wenger will by this point be 63 years old, have been at the club for 17 seasons and will not have won anything in eight years—an incomprehensible length of time for such a talented and generally well-run club to go without winning anything.
It won't be a sacking, nor as such a resignation from Wenger, but more an acceptance that things have gone on for too long—and Arsenal and Arsene Wenger will part ways.
He'll have another job in him elsewhere, not in the Premier League most likely.
But how will Arsenal fare without him? That will be a story for next season.
Keep Reading

Arsenal: Like this team?