Counting Down the 10 Early Favorites to Win World Cup 2014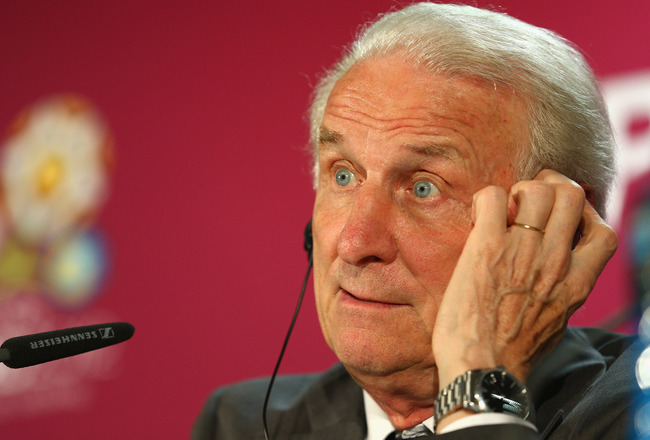 Handout/Getty Images
Spain are the favourites to win the World Cup in 2014 held in Brazil.
Giovanni Trapattoni is arguably one of the greatest managers in the football world. In 2014, he will be 75 and despite having had his contract renewed for two years, Ireland will not qualify for Brazil.
It's a romantic notion and there is a history of courage and conviction, including Jack Charlton's pragmatically effective team in 1990 and 1994. In 2002, they were only beaten on penalties by the emerging Spain and of course in 2010, they were controversially beaten by the French in qualifying.
It's equally probible that the likes of Norway, Serbia and Hungary won't be there among the 32 finalists.
Before we consider the 10 early favourites for the tournament, lets briefly look at the teams that didn't quite make the elite list.
The Near Misses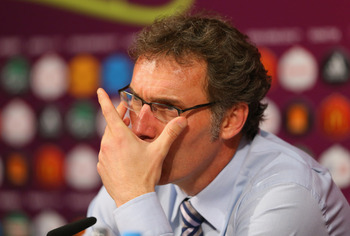 Handout/Getty Images
Between them, Laurent Blanc, Sami Nasri and the rest of his French colleagues once again contrived to self-destruct at a major championships.
Although Didier Deschamps is likely to take over, the French are beginning to resemble Holland in their capacity to disappoint.
Didier Drogba will be 36 at the next World Cup—if he makes it. His team, Ivory Coast, surely will, but after a leisurely couple of years in China, he may not.
Chile are currently ranked 11 in the World but despite having Alexis Sanchez and a number of emerging players, they don't make our list.
Paraguay have qualified for the last four World Cups and were runners-up in the Copa America last year, but are unlikely to even qualify for 2014.
Ghana however will qualify and are sure to be good for entertainment, but in fact, none of the African nations make our list.
10. England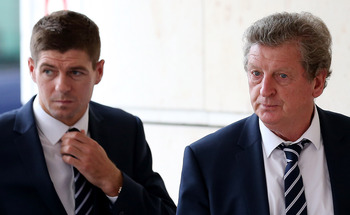 Scott Heavey/Getty Images
This is the team that could take England to the 2014 World Cup. If there is a doubt, it would be whether Steven Gerrard's body will hold out until his 34th birthday.
If he doesn't make it, we should not be surprised to see Wayne Rooney installed as captain.
England do not have a difficult qualifying group, including Montenegro, Ukraine, Poland, Moldova and San Marino. They have made heavy weather of some straightforward matches in the past, such as Graham Taylor and the fastest goal in World Cup history by San Marino—although the English won the match 7-1.
Roy Hodgson has good qualifying records with worse teams than England. He will surely also have a much better, younger and fitter squad than last month's scratch team and an opportunity to mould them into an effective unit.
The major dismay at the Euros was the lack of flair and technical skill. The players looked tired all the time and Hodgson clearly didn't have much confidence in his second strings.
Although they were disappointed to go out to Italy in the quarter-finals and acquitted themselves much better than France, most England supporters had no expectations of qualifying from the group stages.
In two years' time, they will have some emerging players but other older ones may have retired.
It is hard to see Terry, Lampard, Parker, Barry or Ferdinand being there and if Hodgson decides to move on to the next generation, Gerrard could indeed be excluded.
Smalling, Cleverley, Cahill, Richards, Walker, Rodwell, Wilshire and Sturridge didn't make the squad for various reasons, but will surely be part of the bedrock in 2014, as will Oxlade-Chamberlain and Jones.
Hodgson will have plenty of chance to try other young players such as Mancienne and Will Keane.
But while England seem likely to qualify and there are some talented young players coming through, it may be a tournament too early in 2014.
Many people would agree that their FIFA ranking at six flatters them, but they just scrape into our 10 favourites.
9. Mexico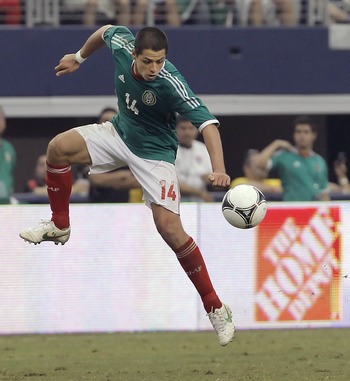 Brandon Wade/Getty Images
"Chicharito" is one of the main reasons that Mexico makes our list. He scored in the recent defeat of Brazil and, with Dos Santos, represents a powerful goal threat.
Hernandez has already scored 25 goals in only 38 appearances. Next season will be key for him at Manchester United. He will get many more games in arguably the toughest league.
If Salcido, Marquez, Rodriguez and Perez can remain fit, Mexico could be the Uruguay of 2014.
They have reached the Round of 16 in the last five World Cups and were third in the Copa America in 2007. They might have matched that in 2011 but for a scandal involving eight of their Under-22 players.
However, they have qualified for the Olympics and should win their Group. That should be a useful preparation for two years' time.
8. Netherlands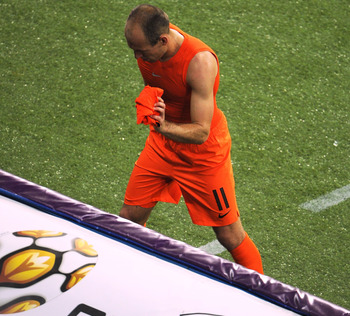 Christopher Lee/Getty Images
Arjen Robben's attitude just about capped Holland's dismal showing at Euro 2012.
Having made the World Cup Final in 2010, they should theoretically be ranked higher, but their capacity to self-destruct works against them.
Luckily Bert van Marwijk won't be in charge anymore. The Euro failure came on top of their disgraceful attempt to kick lumps out of Spain in South Africa.
Its a pity, because they have a number of young and talented players, some of whom didn't get a showing at the Euros.
Van Persie and Huntelaar will surely lead the line again in Brazil, although Bouma, Van Bommel, Mathijsen and possibly Kuyt will surely be too old by then.
Stekelenburg, Van der Wiel, Heitinga, Boulahrouz, De Jong, Sneijder, Robben, Afellay and Van der Vaart give them strength in depth and experience.
Meanwhile, exciting young talents like Strootman, Willems, Luuk de Jong, Krul, Bruma and Pieters mean they cannot possibly be ignored.
But who will take on the poison chalice of trying to mould them into a team? If they can and Van Persie is on fire, our ranking of eight is too pessimistic.
7. Portugal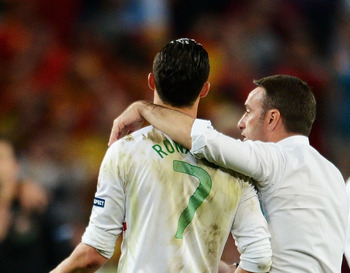 Jasper Juinen/Getty Images
These two might just fabricate a serious challenge by Portugal in 2014. Although ranked only 10th by FIFA, their performance in Ukraine and Poland and the bright young stars that are beginning to emerge mean they cannot be ignored.
A Northern hemisphere team doesn't usually win a South American World Cup, but any of Italy, Spain and Portugal are used to the sort of temperatures they could face and play the style of football that can win.
Ronaldo took too much upon himself in Euro 2012. However, if he had been more fortunate, it might have been Portugal beating Italy in the Final.
Nani emerged as the world-class player he has promised to be, as did Fabio Coentrao.
What Portugal were missing was a convincing striker. Nelson Oliveira has a real chance of filling that particular gap.
Towards the end, it was other players like Moutinho, Pereira and Veloso who were catching the eye.
With a settled defence of Rui Patricio, Perreira, Pepe, Alves and Coentrao and the world class talent at their disposal, together with players emerging from the underage teams, Portugal should be taken seriously for 2014.
6. Italy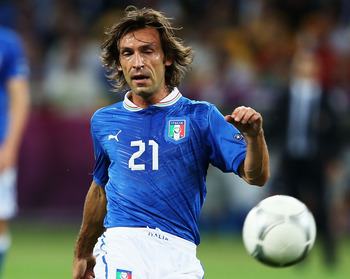 Alex Grimm/Getty Images
Andrea Pirlo was one of the standout players at Euro 2012, but can his legs hold out as long as Paul Scholes?
Many people would have picked Scholes for the England team, even at 37.
The heat of Brazil and the South American style might just suit Pirlo if he can remain fit. He would be key to a successful showing in 2014 if Italy qualify as they should.
No doubt he will have to be used sparingly in qualification, so Motta could also be a kingpin.
While Italy ultimately didn't have the energy or guile to survive the Spanish onslaught, they were very well-organised and it should be remembered they were relying on a striker who is only 21.
Mario Balotelli has the talent and physique to one day be world No.1 if he can keep his temperament under control. Many people were amazed by the discipline and self-sacrifice he showed.
Di Natale will be too old for Brazil, but if Giuseppe Rossi is fit, they will have one of the best strike forces on show.
In fact, Italy were impressive all across the pitch. Balzaretti, Bonucci, Barzagli, Abate and Chiellini (when fit) were excellent in front of the imperious Buffon.
In midfield, there was no shortage of talent beyond Pirlo and De Rossi, including Diamanti and Nocerino who were dangerous substitutes.
Italy seemed to have moved forward in this tournament, combining their traditional defensive qualities with creativity and movement in midfield and a genuine goal threat. They may not win in 2014, but nobody will take them lightly.
5. Uruguay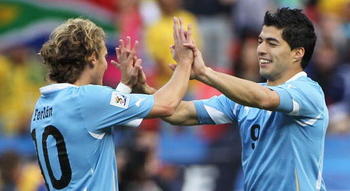 Doug Pensinger/Getty Images
This has to be one of the most potent spearheads in the world. The problem is that Forlan is 33.
Nevertheless, steaming up behind him is Edinson Cavani who may well become an even better striker. Suarez is a potent poacher for Liverpool and his country.
Between the First and Second World Wars, Uruguay was the South American team to beat. They won the Olympics twice and the World Cup, repeating the latter feat in 1950. Their performance might have been all the more memorable if they hadn't been excluded from two of the 1930s Finals.
They have also won the Copa America or its equivalent 15 times.
In 2010, they finished fourth and few would be surprised if they matched that this time around.
4 Argentina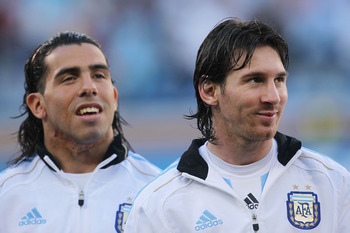 Chris McGrath/Getty Images
These two are at the peak of their powers. Unfortunately they have not always delivered as a pair and a more likely partnership is between Messi and Aguero.
If Argentina can play the Spanish way, combined with their traditional European defensive qualities, they could be a serious bet to win in 2014.
Apart from the above three strikers, there are also Lavezzi and Higuain. Alejandro Sabella will be spoiled for choice.
Added to these is yet another bundle of talented players, many of whom will also be in their prime, including:
Di Maria, Zabaleta, Mascherano, Gago, Demichelis, Burdisso, Rodriguez, Coloccini, Pastore, Gutierrez, D'Alessandro, Riquelme and Gonzalez add to an impressive roster, some of whom won't even make the squad.
Like the Netherlands, many think Argentina should have done better since their purple patch from 1978 to 1990, during which they were twice winners and once runners-up in the World Cup.
A useful pointer, however, could be their wins in the Olympics in 2004 and 2008. Many of those young players form the basis of the current squad.
Surely they will outperform Uruguay, but can they match the hosts, Brazil?
3. Germany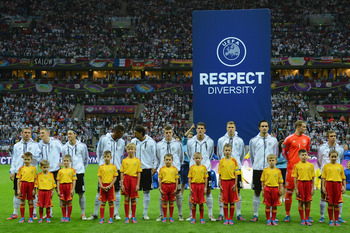 Shaun Botterill/Getty Images
One of the biggest surprises at Euro 2012 was how easily Germany were rolled over by Italy. They will learn from that. They also have a number of talented young players, some of whom hardly got a look in and others who maybe should have had more playing time in the semi-final.
In two years' time, Germany will be a formidable unit and Joachim Low will be spoiled for choice.
They are one of the most successful World Cup teams of all time, having only once finished outside the top seven. They have won it three times and been runners-up four times.
A tradition like that not only breeds good players, but especially confidence, to the point that some can perceive as arrogance.
Ozil and Khedira of Real Madrid were especially impressive. If Low had preferred Klose throughout, Germany might have been in the Final, but he won't be there in 2014.
Of that squad, only he would be too old in Brazil. Neuer is one of the three best keepers in the world; Mertesacker is no longer first choice at centre-back, despite 81 caps at only 27. Captain Philip Lahm has 91 caps at only a year older. Neither Schweinsteiger with 95, nor Podolski with 101 are over the age of 27 either.
But the most striking feature is that Hummels, Badstuber, Boateng, Ozil, Schurrle, Muller, Bender, Gotze, Kroos, and Reus are all 23 or younger.
If they can find reliability in their strike force with a replacement for Klose, they must be serious contenders, despite the finals being in South America.
2. Brazil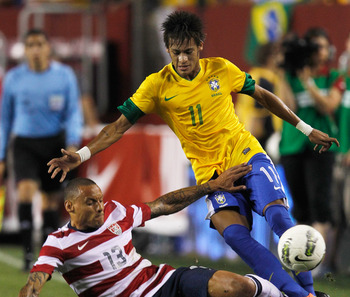 Rob Carr/Getty Images
Any team that can field Neymar and Hulk as their strike force has to be taken seriously, especially in their own back yard.
Brazil are very much a team in making, which is hardly surprising as they do not have to qualify and have only finished fifth and sixth in the last two World Cups.
Nevertheless, look at the other players who are likely to form the core in 2014:
Julio Cesar, Alves, Luisao, Maicon, Ramires, Leiva, Robinho, Pato, Thiago Silva, Marcelo, Luiz and Lucas Moura.
In fact it is debatable whether Kaka will make the squad.
It can be a mixed blessing not having to qualify, as it is difficult to reproduce the competitive edge of tournament play and they also only finished eighth in the 2011 Copa America.
In the last two years, Brazil have been beaten twice by Argentina, and also by Germany, France and Mexico.
You cannot underestimate home advantage and three of their last four World Cup wins have come in South America. The last time they were on home soil, they also won—in 1950.
For much of the history of the Jules Rimet Cup, Brazil would have been considered to be the best or one of the best teams in the world. Their star may have waned and their mantle has been assumed by Spain in the last five years, but surely they will reach the semis this time?
1. Spain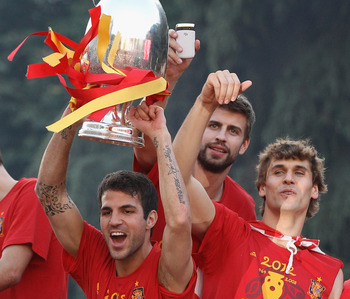 Oli Scarff/Getty Images
Who would bet against a similar scene in two years time?
Even before Euro 2012, Spain would have been favourites for the next World Cup. Having won this year's tournament, they are nailed on to repeat the feat in Brazil. Indeed, many people now believe them to be the greatest national team ever.
It is easy to get carried away with recent history and as with the great Real Madrid side of the 1950s and 1960s we shouldn't forget Brazil's substantial dominance for over 60 years until 2002, when eulogising about Barcelona and Spain.
Spain's greatest strength, however, may be their Achilles heel. Xavi is 32 and Iniesta 28 but almost as important, Xabi Alonso is 30.
Before the end of the final on Sunday, there were six Barcelona and five Real Madrid players on the pitch. Some of them looked tired in the semi-finals but they prevailed all the same.
Players like Fabregas, Alcantara, Busquets and Mata will be in their prime by 2014 and there is a frightening conveyor belt of talent coming through, such as Pedro, Martinez, Alba, Muniain, Iraiola and De Gea, to name but a few.
In January 2007 Spain were ranked 12th in the world. Then they went on a 35 game unbeaten run, including 15 consecutive wins, that have seen them as world No.1 for 41 out of the last 48 months.
Their football against France was described as boring; they scraped a draw against Italy in the Group stage, but thumped them 4-0 in the Final.
Vicente del Bosque is one of the best and wiliest managers ever. He is the only man to win the Champions League, European Championship and World Cup.
Spain are the only team to win three consecutive major tournaments. Who would bet against them making it four in Brazil?
Keep Reading

Spain (National Football): Like this team?