Gymnastics Olympic Trials 2012: Alicia Sacramone Was Biggest Loser at US Trials
July 2, 2012
Al Bello/Getty Images
Alicia Sacramone's quest to avenge her poor performance in the Beijing Games during the 2012 Summer Olympics was over before she even stepped on the plane to London. Falling short once again, Sacramone is clearly the biggest loser of the U.S. Olympic Gymnastics Trials.
After falls on the floor and beam, Sacramone blamed herself for the U.S. team taking the silver medal during the 2008 Olympic Games. She looked to make up for her previous mistakes with a dazzling performance in the 2012 Games, yet she will not be given that opportunity.
The U.S. Olympic team tweeted the members of the team early on Monday morning, and Sacramone was not among them.
Presenting your 2012 @USAGym #Olympic women's team: Gabby Douglas, Jordyn Wieber, Aly Raisman, McKayla Maroney, and Kyla Ross! #TeamUSA

— US Olympic Team (@USOlympic) July 2, 2012
The 24-year-old is past her prime as an Olympic gymnast, and the 2012 Games was the last opportunity she had to make up for her falls in Beijing.
Now she must live with her demons.
Sacramone is the most decorated U.S. gymnast in world championship history, yet her career looks like it has come to its close.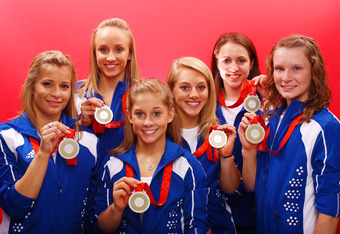 Kristian Dowling/Getty Images
To be fair, the odds were not with Sacramone.
Sacramone tore her Achilles last year and had to rush through surgery and rehab to compete in the trials. Also, the U.S. team was cut to five members this year instead of six. With a deep field, it was doubtful that she would make the team.
However, this was her last shot. She needed a bit of luck to make the team, but it would not have been ludicrous to suggest that she could get it done.
Unfortunately, she did not pull it off, and her Olympic career is over. She will never be given the chance to make up for her performance in China or to win a gold that would outshine the silver that she blames herself for winning.
To see such a decorated athlete's career end in such a way is upsetting, and of all the athletes to miss out on the U.S. team, she was the biggest loser.