Floyd Mayweather and the 2012 Fighters of the Year so Far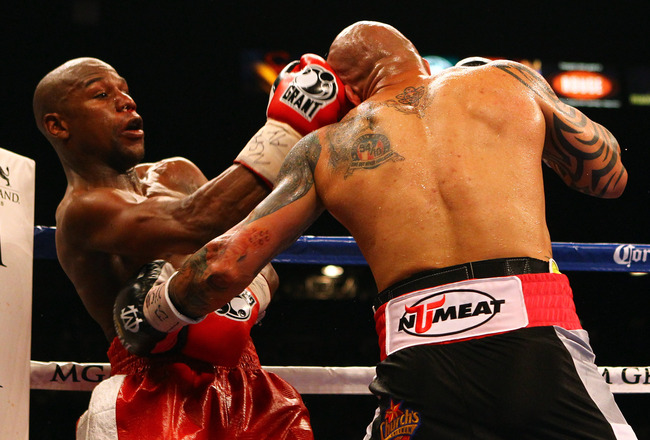 Floyd Mayweather defending well against former titlist Miguel Cotto while attacking
Al Bello/Getty Images
Floyd Mayweather is just one of the boxers who have dazzled boxing fans this year with an important win or two that enhanced their legacy.
Across various weight classes and age groups as well as levels of experience, there have been fighters who rose above the odds to become the clear-cut favorites to run boxing in 2012.
Picking a fighter of the year will be hard, but simple. It all boils down to who has the most impressive wins.
Who had the harder opponents? Who had the most disadvantages? Who took the less safe path of rolling a dice that wasn't loaded and won the crap shoot?
Here are those fighters who have rolled the dice well enough to potentially become the fighter of the year.
10. David Haye (26-2, 24 KO); Record This Year so Far: 1-0, 1 KO

David Haye nearly decapitates Dereck Chisora with a one-two and then drops him again en route to a stoppage victory in Round 5.

David Haye came back after a year in "retirement" to outclass fellow British heavyweight Dereck Chisora (15-4, 9 KO) with a vicious knockout in Round 5.
Haye became the first to stop the iron-chinned Chisora and has now called out the Klitschko Brothers, specifically Vitali Klitschko (44-2, 40 KO).
How can Haye secure himself as the 2012 Fighter of the Year?
Knockout a Klitschko. Not both, just one will do. It's easy to say, much harder to do.
Haye earned a shot last year against Wladimir Klitschko (58-3, 51 KO) and flopped hard during that performance. A year later, and a nice knockout doesn't alter his chances.
He has a puncher's chance thanks to his speed and power, but the size and skill level of the Klitschko brothers is nearly impossible for any heavyweight of this generation to overcome.
9. Erislandy Lara (17-1-1, 11 KO); Record This Year so Far: 2-0, 1 KO

Erislandy drops Ronald Hearns to the canvas three times while scoring a first-round stoppage.

Erislandy Lara hasn't beaten any trailblazers this year, but he scored an impressive first-round knockout of Ronald Hearns (26-3, 20 KO) and a scorecard-shutout of Freddie Hernandez (30-3, 20 KO).
How can Lara secure himself as the 2012 Fighter of the Year?
Take out undefeated contender Vanes Martirosyan (32-0, 20 KO) in a Fall WBC title eliminator and face undefeated WBC junior middleweight world champ Saul Alvarez (40-0-1 29 KO) in the Winter.
Lara-Martirosyan is set to produce the mandatory challenger for Alvarez. The purse bid was won by Martirosyan's promoter Top Rank. Speculation says it may land on the Chavez-Martinez undercard.
If that's true, Lara will get arguably the biggest test of his career on September 15. That's also the date WBC champ Alvarez faces his latest foe.
If Alvarez comes out a strong victor with no injuries, a December clash between Lara and Alvarez is not unfathomable, considering Lara's recent signing with powerful adviser Al Haymon.
Haymon's influence is part of the reason Floyd Mayweather has become the success he is today.
Though Lara's skills and powerful left hand are a deterrent for fighters to face him, Haymon can make the right moves in Lara's favor. If anyone can make Lara-Alvarez happen in 2012, it's Haymon.
8. Sergio Martinez (49-2-2, 28 KO); Record This Year so Far: 1-0, 1 KO

Here's the highlights of Martinez-Macklin

Sergio Martinez engaged in a brutal war with Matthew Macklin (28-4, 19 KO), a tough British middleweight who gave long-time WBA champ Felix Sturm (37-2-2, 16 KO) a run for his money.
How can Martinez secure himself as the 2012 Fighter of the Year?
Martinez has a fight with current WBC champ Julio Cesar Chavez Jr. (46-0-1, 32 KO) scheduled for September 15.
The grudge match between the two will undoubtedly be action-packed, but more is at stake for Martinez.
Martinez is the one who is pound-for-pound number three on most boxing scribes' list. Chavez is the hungry fighter in need of a big win to prove himself.
In order for this win to net him the honor of being the Fighter of the Year, Martinez must go out and pulverize Chavez. He can't let this fight be competitive. That will be a very difficult task
7. Danny Garcia 24-0, 15 KO); Record This Year so Far: 2-0, 1 KO
Danny Garcia has two victories over big names in his division. First he won his first world title from the legendary Erik Morales (52-8, 36 KO) by a wide-margins, unanimous decision.
Garcia would take his newly won WBC belt and face Amir Khan (26-3, 18 KO) for the WBA junior welterweight belt. The unification match wasn't going in his favor for the first two rounds.
Then, one punch changed everything in Round 3. Khan went down and Garcia went after him. In Round 4, a quick exchange and two knockdowns later, Garcia had stopped Khan for a major upset.
How can Garcia secure himself as the 2012 Fighter of the Year?
Garcia will have a hard time trying to find a big opponent to close out his 2012. The only opponent that would be suitable is Lucas Matthysse (31-2, 29 KO).
Currently, Matthysse is facing Ajose Olusegun (30-0, 14 KO) for the WBC interim title at junior welterweight on September 8.
If Garcia and Matthysse can come to an agreement afterwards to meet, maybe in December, a unification match could be in the cards and provide Garcia with the perfect fight to top off his year.
6. Julio Cesar Chavez Jr. (46-0-1, 32 KO); Record This Year so Far: 2-0, 1 KO

Julio Cesar Chavez Jr. flurries Andy Lee into oblivion in Round 7

Julio Cesar Chavez Jr. is the current WBC middleweight champion and has been defending it against increasingly tougher competition.
First up this year was Marco Antonio Rubio (54-6-1, 47 KO), a heavy hitter coming off a nice six-man knockout streak. Chavez bullied him and ate his shots in route to a unanimous decision.
Then Chavez faced a fast, hard-hitting southpaw in Andy Lee (28-2, 20 KO). Chavez cut off the ring effectively and pounded away. Lee gave a hard effort, but was stopped by a flurry in Round 7.
How can Chavez secure himself as the 2012 Fighter of the Year?
Beat Martinez and the honors are certainly all but guaranteed.
Beating Martinez will be difficult due to his experience, speed and technique, but Chavez's chin, size and growing skill set put him in the game.
If he can corner and pound away at Martinez, a stoppage victory will be in view. If he wants to lap the rest of the boxing world, he can have another fight in December.
The sheer productivity of fighting four times in a year mixed with defeating a pound-for-pound fighter in Martinez is definitely enough to warrant heavy Fighter of the Year considerations.
5. Carl Froch (29-2, 21 KO); Record This Year so Far: 1-0, 1 KO

Carl Froch finishes off Lucian Bute in Round 5 by a brutal flurry on the ropes.

Carl Froch lured Lucian Bute into his hometown of Nottingham, England and blazed him in five rounds. Giving Bute his first loss earned him the IBF world title and great acclaim.
How can Froch secure himself as the 2012 Fighter of the Year?
Froch was looking to face Mikkel Kessler (45-2, 34 KO) in a fight to avenge his close decision lose to Kessler. If Froch goes through with this, he will have earned his Fight of the Year honors.
Other reports show that Froch may consider a fight with Kelly Pavlik (40-2, 34 KO), who is still on the comeback. That fight won't earn Froch the credit he needs to be the man of the hour.
A last option that has been mentioned by Froch includes Thomas Oosthuizen (19-0-1, 13 KO). The South African is young, hungry and progressing rather impressively.
Oosthuizen just has one more fight to win on August 2nd and this match becomes a possibility. One that can earn Froch top honors as long as he clearly dominates as he did with Bute.
4. Nonito Donaire (29-1, 18 KO); Record This Year so Far: 2-0, 0 KO

Nonito Donaire knocks down Jeffrey Mathebula in Round 4.

Nonito Donaire moved up this year to a division he had never fought in before and won two world titles there.
He beat Wilfredo Vazquez Jr. (21-2-1, 18 KO) by split decision to win the vacant WBO junior featherweight world title in a fight that was wider than the official scorecards had it.
After that, he targeted Jeffrey Mathebula (26-4-2, 14 KO) for the IBF world title. Mathebula put up a good effort, but Donaire snatched his IBF belt away to add to his growing collection.
How can Donaire secure himself as the 2012 Fighter of the Year?
Donaire has two fights being lined up to keep him busy and well-paid.
First off, there's a fight with popular Mexican legend Jorge Arce (60-6-2, 46 KO) being nailed down for October.
Then there's a battle with Japanese legend Toshiaki Nishioka (39-4-3. 24 KO) being lined up for December. That's two fights against legends.
Though Arce may be 32 and Nishioka turning 36 this month, they still have the knowledge, power and experience to turn the fight around at any time.
Beating both men would certainly shoot Donaire to the top of the list for Fighter of the Year honors, but beating both men back to back will be tough.
3. Chad Dawson (31-1, 17 KO); Record This Year so Far: 1-0, O KO

The full fight between Chad Dawson and Bernard Hopkins

Chad Dawson proved to be a style nightmare for Bernard Hopkins (52-6-2, 34 KO). The former middleweight division legend and light heavyweight division king pulled every trick in the book.
Dawson fell for none of them and gave Hopkins a thorough boxing lesson. With the unanimous decision over Hopkins, Dawson has become the first to truly beat him in almost 20 years.
How can Dawson secure himself as the 2012 Fighter of the Year?
Dawson has the rare chance to have two totally different victories that could all but secure him as the Fighter of the Year for 2012.
Dawson already netted the first one by beating Hopkins, the best fighter at light heavyweight to become the man himself.
Now he gets to face Andre Ward (25-0, 13 KO), the best super middleweight in the world, and he's doing it in Ward's own division.
Not only will it be a challenge to go down in weight to face Ward without a catch weight, but he'll have to do it in Ward's hometown.
Dawson has the size advantage and could have the speed and style to give Ward problems, but the odds are stacked.
But if Dawson isn't bothered by the weight or the disadvantage of being in enemy territory, he'll can come out with a victory over another pound-for-pound great fighter.
It's rare to see a fighter face two pound-for-pound fighters in two separate divisions with no catch weights and beat them. That's a rare feat deserving of extra kudos if Dawson can pull it off.
2. Floyd Mayweather (43-0, 26 KO); Record This Year so Far: 1-0, 0 KO

Highlights of the Floyd Mayweather vs. Miguel Cotto fight

Floyd Mayweather made a leap from 147 to 154 to capture the junior middleweight WBA world title in one of the toughest fights of his career against Miguel Cotto (37-3, 30 KO).
How can Mayweather secure himself as the 2012 Fighter of the Year?
Because Mayweather is 35 and coming off of a jail sentence, these can be seen as factors that could weaken Mayweather and perhaps make a rematch with Cotto appear valid.
Mayweather was in a tough fight with Cotto and Cotto was live the whole night, but Cotto won only four rounds at most. What could change that? How about location?
Cotto has already reserved Madison Square Garden for his next fight on December 1 against an opponent to be decided.
Puerto Rico may be home, but Cotto and New York have an intimate connection and history.
Cotto is undefeated in New York and becoming the first man to beat him in his legendary hometown after coming out of jail would make for the perfect year for Mayweather.
Vernon Forrest (41-3, 29 KO) won numerous Fighter of the Year awards from the likes of Ring Magazine and the World Boxing Hall of Fame in 2002 for beating Shane Mosley (46-8-1, 39 KO) twice.
Considering Mayweather went up to junior middleweight, a division he doesn't fight in to nab these victories, he'll be under heavy consideration if he beats Cotto again.
1. Josesito Lopez (30-4, 18 KO); Record This Year so Far: 1-0, 1 KO
Josesito Lopez defeated Victor Ortiz (29-4-2, 22 KO) in a sure-fire Fight of the Year candidate, in which he broke his opponent's jaw and never let up.
Lopez had never fought above the junior welterweight limit. Beating a fighter as strong and talented as Ortiz in his first trip to welterweight is a heck of leap toward becoming the Fighter of the Year.
How can Lopez secure himself as the 2012 Fighter of the Year?
Lopez needs to win his next fight against the undefeated WBC junior middleweight champion Saul "Canelo" Alvarez (40-0-1, 29 KO) scheduled for September 15.
Canelo is bringing him up yet another weight division. It may be one too many for the fighter who had a hard time against Ortiz at welterweight, but Canelo is not without his flaws.
The 21-year-old champ is a timid puncher, not always knowing when to put it on his foes. That's something Ortiz is far from and if Lopez can bring it to him, he definitely will bring it to Canelo.
If Canelo doesn't open up, Lopez can capitalize by overcrowding him and making the younger fighter think. The more Canelo is forced to think, the more likely he is to get nailed with the right shot.
Canelo has been rocked by smaller fighters before, so Lopez having the ability to take him out is not such a hard possibility to imagine. He just needs to brawl smart. Easier said than done.
But if it is done, Lopez will have two of the best young fighters in their prime in two weight divisions he's never fought in before. If that's not Fighter of the Year material, then nothing is.
Keep Reading