Euro 2012: Picking a Best XI from the Entire Tournament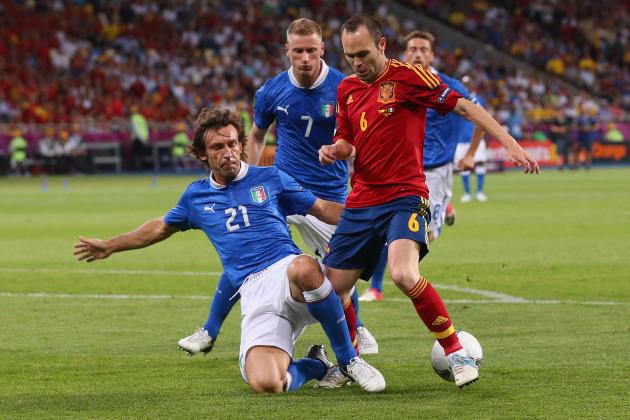 Alex Livesey/Getty Images

Euro 2012 is history, and UEFA has released its official team of the tournament. Now it's our turn.
Which players performed best in Poland and Ukraine this summer? Who, if anybody, did UEFA leave out?
Those questions are answered inside as I select my best XI of the tournament, along with several honorable mentions.
Leave me your best XI in the comments or via Twitter @MikeCummings37.
Begin Slideshow

»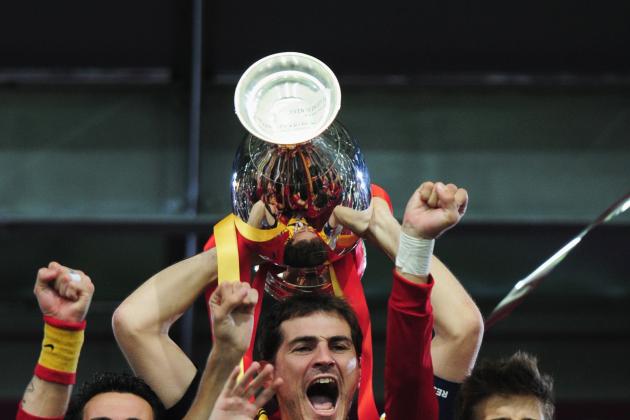 Shaun Botterill/Getty Images

Mike's choice: Iker Casillas (ESP)
It had to be Saint Iker.
Only Italy's Gianluigi Buffon rivaled Casillas for greatness at Euro 2012, but after the final, there was only one correct choice for anyone's best XI.
Besides being solid throughout, Casillas also made a clutch save on Croatia's Ivan Rakitic in the Group C finale. Had Casillas let Rakitic's header past him, Spain might have crashed out of the tournament at the group stage.
Instead, they won it all again, and their captain and leader was at the heart of everything.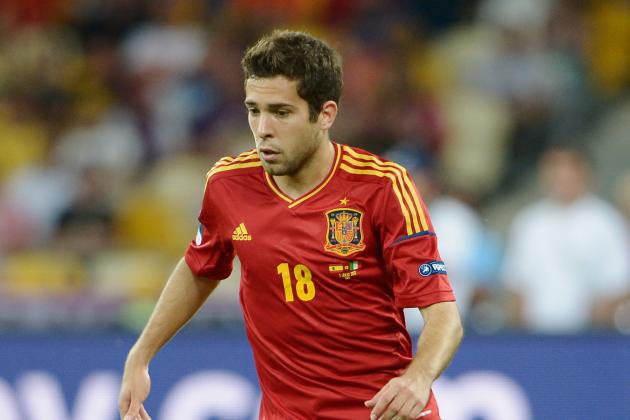 Claudio Villa/Getty Images

Mike's picks: Jordi Alba (ESP), Fabio Coentrão (POR), Gerard Pique (ESP), Sergio Ramos (ESP)
Yes, it's a back four dominated by Spain. So what?
Spain allowed only one goal during the entire tournament, after all. What's more, the Spanish defense didn't concede anything for the final 500-plus minutes of match time.
And all that happened without the guidance of defensive stalwart Carles Puyol, who missed the tournament through injury.
Gerard Pique and Sergio Ramos coped just fine in the middle without him, and Jordi Alba made himself a household name with solid defending and barnstorming runs down the left flank.
Oh, and Fabio Coentrão was pretty good for Portugal, too.
Germany, meanwhile, could have placed a couple names in Philipp Lahm and Mats Hummels, but neither covered himself in glory during Germany's disappointing semifinal loss to Italy.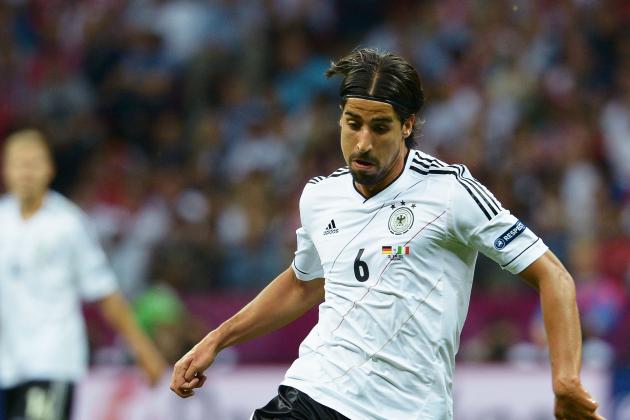 Claudio Villa/Getty Images

Mike's picks: Andrea Pirlo (ITA), Sami Khedira (GER), Xabi Alonso (ESP)
Choices, choices, choices—starting with the very formation of the team.
For my purposes, I went with a 4-3-3, somewhat similar to the formation used by Spain during their run to glory. (Hey, why not?) The three men in the middle are all deep-lying midfielders skilled in holding, passing, attacking and defending.
Andrea Pirlo, 33, rolled back the years with a vintage performance, and had Italy won the final, he certainly would have been named UEFA's player of the tournament.
Sami Khedira excelled in the German midfield, moving forward dangerously and scoring an impressive goal against Greece in the quarterfinals. He also shielded the defense in his customarily expert manner.
Xabi Alonso scored twice in Spain's quarterfinal win over France, but the rest of the time he was his usual pass-happy self.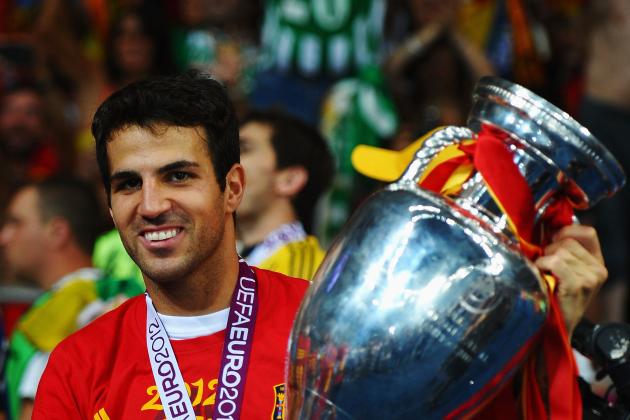 Laurence Griffiths/Getty Images

Mike's picks: Andres Iniesta (ESP), Cristiano Ronaldo (POR), Cesc Fabregas (ESP)
Like Spain's title-winning side, my best XI doesn't necessarily need true strikers. Instead, I've chosen three more midfielders for my experimental 4-3-3 or 4-6-0 formation.
Wide midfielder/forward Andres Iniesta earned UEFA Player of the Tournament honors for his excellent outings for Spain. At 28, he still has several good years left and could become one of Spain's most decorated players.
I'll take Cristiano Ronaldo on the other side. Europe's best player and biggest superstar turned in two match-winning performances for Portugal.
Yes, he also struggled at times, but no other player was able to match Ronaldo's best moments at Euro 2012.
In the middle, it's Cesc Fabregas, who isn't really a center forward at all. It didn't matter for Spain, and it doesn't matter here. When Cesc was on the field, Spain played their best football.
Fabregas scored twice, including the crucial equalizer against Italy in the Group C opener. He also converted the decisive penalty against Portugal after having a "premonition" about the incident beforehand.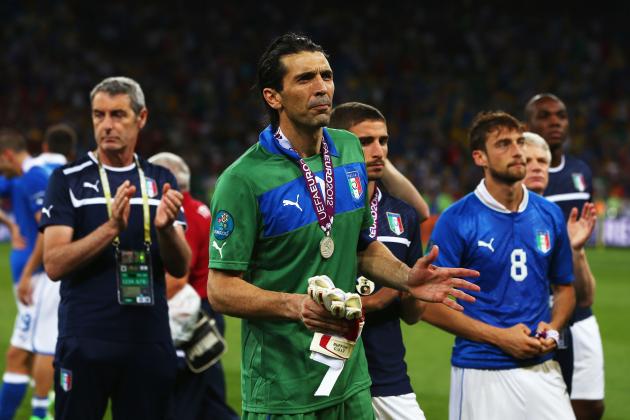 Alex Grimm/Getty Images

Several deserving players barely missed out on the starting XI. All of these players performed well at Euro 2012, but for various reasons, find themselves in the list of honorable mentions.
Goalkeepers: Gianluigi Buffon (ITA), Manuel Neuer (GER), Stipe Pletikosa (CRO)
Defenders: Pepe (POR), Leonardo Bonucci (ITA), Philipp Lahm (GER), Mats Hummels (GER), Theodor Gebre Selassie (CZE)
Midfielders: Sergio Busquets (ESP), Steven Gerrard (ENG), João Moutinho (POR), Riccardo Montolivo (ITA), Mesut Ozil (GER), Bastian Schweinsteiger (GER), Daniele De Rossi (ITA), Xavi (ESP), Petr Jiracek (CZE), Michael Krohn-Dehli (DEN), Giorgos Karagounis (GRE)
Forwards: David Silva (ESP), Mario Balotelli (ITA), Zlatan Ibrahimovic (ITA), Nicklas Bendtner (DEN), Alan Dzagoev (RUS), Mario Gomez (GER), Fernando Torres (ESP), Andriy Shevchenko (UKR)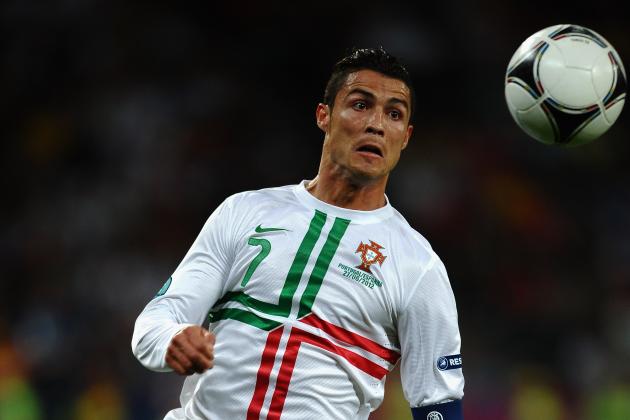 Laurence Griffiths/Getty Images

Here's my best XI. The formation could be a 4-5-1, a 4-6-0 or a 4-3-3, depending on how you want to look at it.
And by all means, feel free to think of it any way you want.
Iker Casillas (ESP); Fabio Coentrão (POR), Sergio Ramos (ESP), Gerard Pique (ESP), Jordi Alba (ESP); Andrea Pirlo (ITA), Sami Khedira (GER), Xabi Alonso (ESP); Andres Iniesta (ESP), Cristiano Ronaldo (POR), Cesc Fabregas (ESP).
My team would somewhat mirror Spain's 4-3-3 or 4-6-0 setup with Andrea Pirlo, Xabi Alonso and Sami Khedira forming the deep midfield three. Andres Iniesta and Cristiano Ronaldo would play in the wide midfield/forward spots, and Cesc Fabregas would start in the middle.
If it seems like there are a lot of Spanish players in my starting XI (and seven is admittedly a bunch), there's a reason for that. They weren't just good—we're now debating whether they're the best team of all-time.
What would your team look like? Let me know in the comments or via Twitter @MikeCummings37