Fernando Torres: El Nino Will Ride Euro 2012 Momentum to Chelsea Dominance
July 2, 2012

Denis Doyle/Getty Images
Fernando Torres does two things extremely well.
He scores goals and wins championships.
On Sunday, Torres added to his impressive resume this season. After previously triumphing in the FA Cup and Champions League, Spain defeated Italy 4-0 to claim the Euro 2012 crown, and El Nino took home the Golden Boot.
Torres was forced to beat the odds to win the trophy. He only started two matches the entire tournament, and in the semifinals against Portugal, he was an unused substitute. Despite Spain's sparse use of him, he scored three goals, and his assist against the Italians gave him the edge over Germany's Mario Gomez for the title.
The Press Association reported that Torres talked about the irony of being awarded the honor. He said:
Football is like this. This is my third Euros, in the previous ones I played almost all the games and scored two goals. In this one I have played less but won the Golden Boot. Football can be just or unjust like that depending how you look at it, and that is why we like it so much.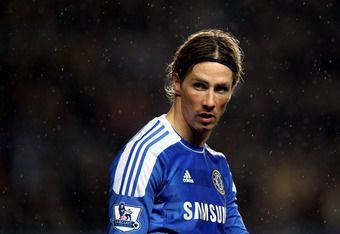 Julian Finney/Getty Images
Last season for Chelsea, Torres played a major role recording 11 total goals and 12 assists for the Blues.
His display of dominance in the European Championship proves that he'll continue to produce next year for the football club. And with Didier Drogba set to depart from London to play for the Shanghai Shenhua, Chelsea will be in need of a scoring boost, especially if Eden Hazard has a slow transition to the Premier League.
Torres scored his trio of goals in Euro 2012 in just 189 minutes. Comparatively, Gomez scored three in 281. Just imagine how many times Torres would've scored if he actually received the playing time of a starter.
Chelsea should be giddy.
David Daniels is a featured columnist at Bleacher Report and a syndicated writer.