MLB Trade Deadline: New York Yankees Must Get More Pitching
July 2, 2012

Jim McIsaac/Getty Images
The New York Yankees currently sit atop the vaunted AL East with a record of 48-30, good enough for a six-game lead over the second place Baltimore Orioles.
While on the surface it may seem like it's all smiles in New York, there are issues lurking for the Yankees and a lot of them are with their pitching staff.
Last week the Yankees had to put two starting pitchers on the disabled list when C.C. Sabathia strained his groin and Andy Pettitte broke a bone in his left ankle. Sabathia is on the 15-day D.L. and Pettitte is out for six weeks.
While the Sabathia injury probably isn't going to end up being anything too serious or season-altering, the Yankees are still without their No. 1 starter for two weeks essentially.
The Pettitte injury is more troubling. Not just because the Yankees lose a guy who has yet again become a valuable member of the rotation, but because of what it does to the long-term landscape of both the rotation and the bullpen.
With Pettitte out, Freddy Garcia will most likely be taking his spot in the rotation. No disrespect to Garcia, but he isn't the pitcher that Pettitte is. Therefore, right off the bat, the Yankees are at a disadvantage strictly from a talent standpoint.
In 14 appearances this season, including four starts, Garcia has logged 31 innings pitched and given up 37 hits and 24 runs, with 22 of them earned runs. That's good enough for a WHIP of 1.45 (really bad) and an ERA of 6.39 (even worse).
Regardless, Garcia was a useful guy to have in the bullpen. He could eat up innings on days when the starters weren't up to par or other guys like Boone Logan or Cody Wade needed rest.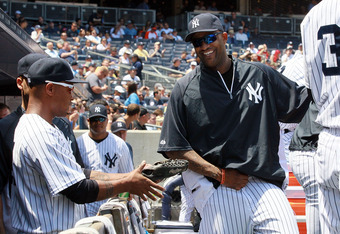 Jim McIsaac/Getty Images
Now, they don't have that luxury.
Speaking of Wade, he's been shaky the last week as well. In the last seven days Wade has thrown three innings, given up 11 hits and 10 runs, all of them earned. I know that it's only one week out of the entire season, but an ERA of 30.00 and a WHIP of 4.00 is not exactly something you can ignore.
What does all this mean? The Yankees need more pitching. 
Joe Girardi has been accused of micro-managing the bullpen on more than one occasion. He likes to play the matchup game, sometimes to an aggravating extent. He uses pitchers far more often than is necessary and because of that, exhausts his bullpen over the course of the season. 
The Yankees did a good thing in picking up veteran Chad Qualls from the Phillies, but that isn't enough.
The Yankees bullpen is good and young for the most part, but because of the way Girardi uses them, they need more guys in there, which is being exposed now because of the losses of Sabathia and Pettitte.