NBA Free Agents 2012: 2 Ways for Golden State Warriors to Get Tough
November 26, 2016
Streeter Lecka/Getty Images
It's time for the Golden State Warriors to take a hard look at themselves. That's right, the beginning of the 2012 free agency period means it's time for the Warriors to ask the tough questions.
Actually, let me re-phrase that: it's time to question their toughness.
Now that the free agency period has officially begun, the Warriors need to make an honest assessment of the team's strengths and weaknesses. And the Warriors' main weakness is obvious: they're weak.
Check the numbers: last season, Golden State didn't shove anyone out of the way to secure rebounds, so they finished dead last in the NBA in rebound rate. They didn't body up on defense, either. Predictably, they wound up finishing 26th in the NBA in defensive efficiency.
Clearly, it's time for the Warriors to toughen up.
It's the only way they'll improve their woeful rebounding and defensive statistics. More importantly, a little toughness will go a long way toward helping Golden State change the (accurate) perception that they're a finesse squad that tough teams can knock down and walk over.
With just the mid-level exception available, the Warriors will have to be cost-conscious when they address their toughness deficiency in the free agent market. Fortunately, there are a couple of cheap options available. And both of them should be familiar to Warriors fans.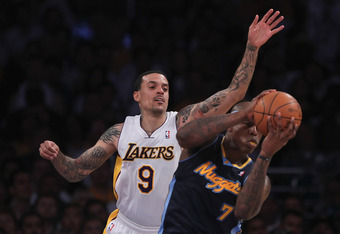 Jeff Gross/Getty Images
Matt Barnes
 Barnes, a key piece of the Warriors "We Believe" run, was most recently a Laker. He has the kind of toughness the Warriors need. He's an unrestricted free agent who made just under $2 million with Los Angeles last season, so he wouldn't break the Warriors' bank.
The tattooed nine-year veteran has earned a reputation as a tough guy. He's never been afraid to use his physicality to send a message, often toeing the line between "hard-nosed" and "dirty." But that's what the Warriors need.
And Barnes isn't just a guy who'll start a fight. His toughness and tenacity translate into some very impressive statistics. Just last season, Barnes was the second-best rebounder among small forwards. So he's clearly not afraid to throw his body around and jostle for position down low.
What Barnes really brings is an attitude the Warriors are lacking. He's gritty, he's a pest and most importantly, he's not afraid to mix it up with anyone.
So if the Warriors are looking for toughness, they could certainly do a lot worse than bringing Barnes back into the fold.
Dominic McGuire
This tough guy's already in town!
As a Warrior last year, McGuire had a quietly excellent season in a limited role. He was the fourth-best rebounder among small forwards. And the year before, he was the best rebounding small forward in the NBA.  So, like Barnes, McGuire gets after it on the glass.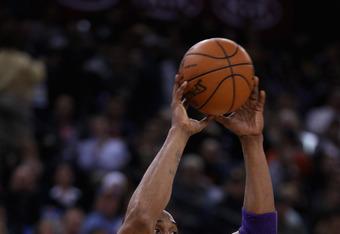 Ezra Shaw/Getty Images
He's big for a wing player, and uses his length and strength to make life rough for offensive ball handlers. And as anyone who watched the Warriors last year could point out, McGuire was just about the only player on the team who could be described as gritty.
Sure, he's basically limited to dunks as an offensive player. But if the Warriors don't re-sign him, they'll be even softer on defense than they were last year. If he's gone, who else is going to knock Blake Griffin unconscious?
McGuire made under $1 million last season, so even with a slight raise, the Warriors could retain him and still have a little room to fill another need.
Somehow, the Warriors need to toughen up this offseason. Barnes and McGuire are two cheap options that can help Golden State do just that.