Arsenal Transfers: How Arsene Wenger Can Get the Best Out of Giroud Next Season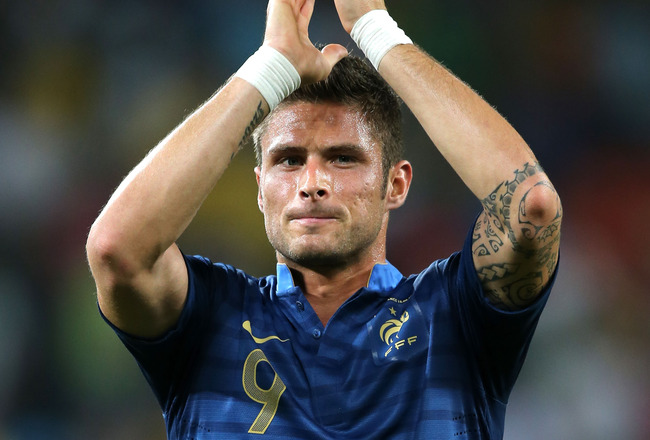 Ian Walton/Getty Images
Arsenal finished third in the previous season, and considering their horrendous performances at the start of the campaign, it should be considered a very good achievement.
Robin van Persie was the key to Arsenal qualifying for the Champions League in the 2012-13 season and has been brilliant in the last 18 months. The Gunners have signed experienced Germany international Lukas Podolski and French league's top scorer Olivier Giroud, and the manager has looked to strengthen his forward line for this season.
However, they have been hit hard by Robin van Persie's official statement (h/t robinvanpersie.com) that he will not sign a new contract. With only one more year left to go on his current deal, Arsenal might have to sell him in order to not lose him on a free transfer.
As of now, it looks like Arsenal are primed to lose their second captain in two years and it will be a huge blow to the Gunners, who have stuck beside Van Persie during his injuries and temperament issues in the past. However, the future does not look bleak for the Gunners as they have already made two very good signings in Podolski and Giroud, who can both play in a central role and both were prolific for their respective sides in the previous season.
Olivier Giroud, in particular, could be one to watch out for in the next season and is a player who is suited only to play centrally. He relishes the physical side of the game and is also intelligent in linking up with other attacking players, which he will be required to do in Arsenal's fluid style of play. Though he will be under huge pressure to start his Arsenal career with plenty of goals, he is someone who has handled big pressure in the past having made rapid progress from Ligue 2 with Tours to Arsenal in a few years.
The tall French striker did not get much playing time in the Euro 2012 tournament where Karim Benzema was preferred ahead of the new Arsenal forward. However, he is someone with a lot of quality and does have a lethal left foot which he used to score several goals for Montpellier last season.
Wenger is a very intelligent manager when it comes to integrating new players to his side, and he will look to find ways to get the best out of Giroud in the next few seasons. Here are some ways Wenger could get Giroud to perform at his best for the Gunners.
1. Wenger Could Look to Sign Belhanda Who Has a Great Understanding with Giroud
Younes Belhanda was one of the most important players for Montpellier in the previous season and he had an excellent understanding with Giroud on the pitch. Belhanda was Montpellier's creator-in-chief, and Giroud benefited from the midfielder who created some very good chances for the tall striker.
Though it will be very difficult to persuade Montpellier to sell another talented player, one cannot rule out the possibility. Wenger has developed many young talented players into world-class players and it could be one of the main factors which could be considered by Belhanda if he does want to move away from the French club this summer.
Wenger has also openly professed his admiration for the player and Arsenal could make an inquiry if he does become available for a transfer in this summer. According to ESPN.com:
"I know Younes well and like him a lot," Wenger said. "But I don't want to cause problems. Only Montpellier can decide where he goes."
With Jack Wilshere having not played for more than a year and Aaron Ramsey short of form and confidence, Belhanda could provide them superb creativity and could greatly strengthen the depth of the squad as well. If he is signed, then his understanding with Giroud is also another positive as it will help both of them fit in quickly with their new teammates.
2. More Crosses into the Box to Utilize Giroud's Aerial Ability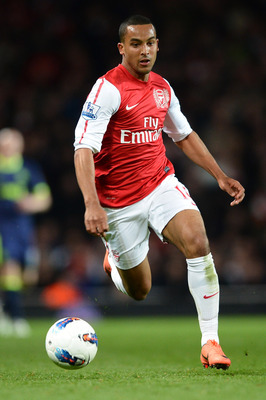 Laurence Griffiths/Getty Images
Olivier Giroud is a tall, physical striker and his physical attributes make him much better suited to the Premier League than some other strikers. Arsenal could look to utilize his aerial ability by supplying him with more crosses into the box which will help Giroud score from headers.
Though Van Persie is quite tall, he is not the best when it comes to scoring headed goals and most of his goals are due to his fantastic off-the-movement around the box. Arsene Wenger could opt to go with a more direct approach if Giroud is leading the line for the Gunners.
Though it has not been easy for Marouane Chamakh to adjust to the Premiership, one must not judge Giroud before he has even started his Arsenal career. The Frenchman looks more suited to the physicality of the Premiership and the 6'3" striker will relish going against some of the most physical defenders. The likes of Theo Walcott, Lukas Podolski and Gervinho will be encouraged to cross early into the box if Giroud is playing as the central striker.
Giroud's off-the-ball movement is also quite good, which is why early crosses will be useful if he is on the pitch.
3. Lukas Podolski to Be Played Alongside Giroud in a Two-Striker Formation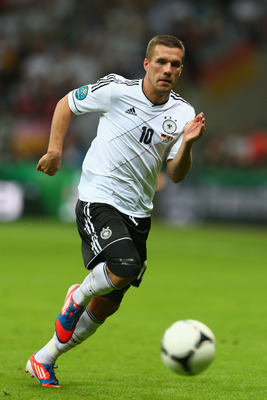 Michael Steele/Getty Images
Giroud is comfortable playing as the lone striker or in a two-striker partnership which will also benefit him. The French striker is not the quickest player, though he is also not a slouch. But the presence of a fast, clinical striker with good movement and anticipation could be very beneficial to the team. Giroud is excellent in linking up with other attackers, and as the focal point of many attacks, he can release the other striker into space if he can play the correct ball. Podolski is a very versatile striker and can comfortably play alongside the Frenchman.
The Germany international was prolific for FC Cologne in the previous season, where he played in a central role and he can adapt to the role he is asked to do. With the speedy Theo Walcott and the dangerous upcoming winger Alex Oxlade-Chamberlain in the ranks, Arsenal could have a superb attack which could specialize in counterattacking as well considering the speed of the forward line coupled with the intelligence of Giroud, who should be the one to link up play between the attackers.
Though the chances of Arsene Wenger employing a two-striker formation is quite slim, it could be interesting if he does try it. There is also a good chance that the French tactician could try it in preseason to see how both players perform if they do partner with each other.
4. Hold Robin Van Persie to His Contract and Giroud Given Enough Time to Adapt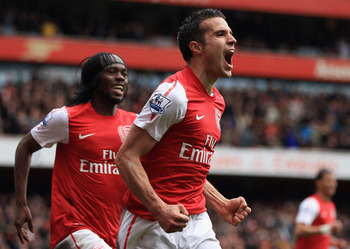 Bryn Lennon/Getty Images
Robin van Persie has only one year left on his contract and he has made it clear that he will not sign a new contract deal with the Gunners. This leaves Arsenal in a tricky situation as they will have to sell him this summer if they are to obtain a transfer fee for the Dutchman.
However, with Arsenal in a financially strong position, they could hold the striker to his contract and ask him to lead the line for one more season for the Gunners. With the Gunners securing the signings of Giroud and Podolski, Van Persie will have more competition if he stays this season.
More importantly, it will certainly take the pressure off Giroud who will have time to adapt to the pace and physicality of the Premiership. Van Persie can also be ably managed by Wenger in order to avoid injuries and Giroud could adapt well under less pressure.
When Van Persie eventually decides to leave the Gunners, the French striker will be in a good position to replace him and he can produce the goods for Arsenal. Also, Van Persie will be an ideal foil for Giroud if Wenger decides to use them both together, as Van Persie's movement is world class and he will also create opportunities for Giroud.
5. Arsene Wenger Showing Faith and Confidence Could Be Key to Giroud's Success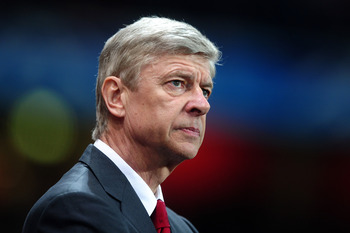 Laurence Griffiths/Getty Images
Irrespective of what happens with regard to Robin van Persie's future, it is imperative that Arsene Wenger shows his faith in the new signing of Giroud right from the outset. Van Persie is undoubtedly a world-class striker and replacing him will not be an easy task for any striker, let alone a striker who is relatively inexperienced at the highest level.
However, Giroud has shown superb determination and mental strength in his career at all levels and has the ability to be a top striker at Arsenal. It is also important that Wenger does play him in a central role, because a player of Giroud's attributes might not be comfortable playing in any other position.
Wenger has kept the faith in several talents who have struggled initially and many of them have proven to be very good after getting past the initial hurdles. He will have to do the same with Giroud if the striker does not get going in the first few games of the new season.
Laurent Koscielny had a torrid first few months at Arsenal and remained inconsistent till the end of his first season. However, he found his groove in his second season and has established himself as a superb defender at the Emirates. Similarly, Giroud must be given the time to show his talents and must not be judged on the basis of few performances.
It will be another difficult season for Arsene Wenger and his team, especially if they do lose their skipper, Robin van Persie. But they have made steps in the right direction by signing both Giroud and Podolski and Giroud could prove to be a very valuable asset if he is shown faith and given the time to excel by Arsene Wenger, who has been greatly instrumental in the development of several world-class players.
Keep Reading

Arsenal: Like this team?