Chicago Blackhawks: One Way or the Other, Expect More Moves on Defense This Week
July 2, 2012

Bruce Bennett/Getty Images
Chicago Blackhawks GM Stan Bowman was relatively quiet on a day filled with signings. As the free-agency period continues this week, can we expect some follow-up moves or has Bowman folded up his tent?
Right now, Chicago's lone free-agent addition is defenseman Sheldon Brookbank, who signed a two-year contract Sunday. The deal carries a cap hit of $1.25 million per season.
After Chicago made a bid for New Jersey goalie Martin Brodeur, The Hockey News is reporting that the 40-year-old signed a two-year, $9 million deal to stay a Devil. Bowman still has space to go after further free agents if he chooses.
However, if he plans on making any moves on the blue line, someone may be leaving town.
Brookbank, while not a major move, is a good one by Bowman for a number of reasons. The defender will be 32 next season and should be productive over the length of his contract. He was a plus-11 last season in Anaheim and is a right-handed shooter, which is something the 'Hawks could use.
He adds a physical, defense-first element, which brings a little balance to the 'Hawks blue line corps. If Joel Quenneville uses him 15 minutes a night in a third-pairing role, he's an effective team player.
More importantly, Bowman didn't grossly overpay for what figures to be a fifth or sixth defenseman. On a day where Filip Kuba went for $4 million a year to Florida and Sami Salo got $3.75 million a season from the Lightning, Brookbank's deal slots into the defensive lineup just fine.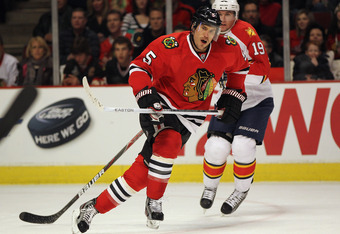 Jonathan Daniel/Getty Images
Brookbank's deal is one-way, leading me to believe that he's earmarked for a steady role on Chicago's back end. This creates a bit of a logjam, as eight defensemen are on the current roster.
In addition to Brookbank, those players are Brent Seabrook, Duncan Keith, Johnny Oduya, Niklas Hjalmarsson, Nick Leddy, Steve Montador and Dylan Olsen. That doesn't count additional free agents Bowman may pursue this week.
Oduya was just signed this spring to a new contract (how much would he have garnered in the open market?) so it stands to reason that he's in the mix. I would expect that Olsen can now develop most of next season on Rockford's top line.
It's hard not to think that either Hjalmarsson or Montador, or possibly both players, will be moved. If Bowman wants to add another name to the blue line, somebody has to go.
Perhaps Bowman attempts to pick up a bottom pairing guy to play with Brookbank for similar money. Maybe the 'Hawks are still making a play for Ryan Suter or Matt Carle, though after that the top UFA defensemen have been picked over.
Right now at least, I feel like the other shoe has to drop regarding the defense. It may not come Monday and it may be a case of subtraction rather than addition.