Spain vs. Italy: La Roja Stars Who Boosted Stocks During Championship Run
July 2, 2012
Alex Grimm/Getty Images
Spain was able to continue its international football dominance by defending the European Championship and winning a third straight major tournament. As always, it was a complete team effort, but a couple players stood out from the crowd.
Here's a look at a trio of stars who boosted their individual stock during the team's run at Euro 2012. Not only did they have good performances in the final against Italy, they also made an impact throughout the marquee event.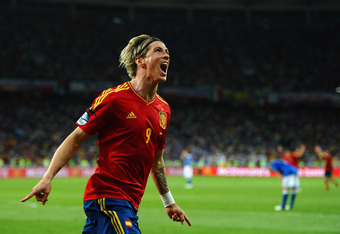 Laurence Griffiths/Getty Images
The tournament's Golden Boot winner, Torres continued to show signs of breaking out of his prolonged slump with three goals and one assist. His tally in the title match, at last, put an end to any remaining hope Italy had of making a comeback.
His performance throughout the event is another step toward getting his confidence back. While Torres has never lacked talent, his high-profile move to Chelsea put a lot of pressure on his shoulders, and it really seemed to take a toll on his mentally.
He enjoyed a minor resurgence during the Blues' surprising Champions League run, and once again, looked dangerous during Spain's less-surprising Euro run. I have a feeling Torres will be a lot more effective once next season rolls around after those encouraging showings.
Jordi Alba
Alba played a key role in Spain's defense, which didn't allow a single goal over the tournament's final five matches. It was the 23-year-old defender's first extended playing time with the national team, but it certainly won't be his last.
Perhaps, even more impressive than his work in the defensive third was Alba's ability to get forward to help the attack. Spain struggled at times to create chances, so the left back was at times the most dangerous man on the pitch.
He scored La Roja's second goal of the championship match, which gave them a bit of breathing room and then ensured Italy's dynamic attacking options didn't break loose to make it close. It was definitely a breakout event for Alba—a true rising star.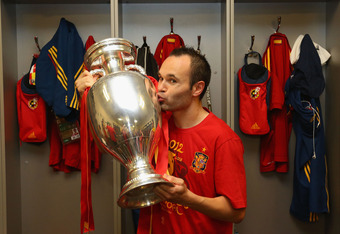 Handout/Getty Images
Andres Iniesta
Although Iniesta didn't score a goal during Euro 2012, he was still named the top player in the tournament by UEFA—and rightfully so. His ability to control possession in the midfield was important both offensively and defensively.
Since Spain didn't have lead striker David Villa available, the team relied more on steady build-ups to create scoring opportunities and Iniesta usually led the way. Maintaining possession took a lot of pressure off the back line, as well.
All told, it takes a special midfielder to make a major impact without scoring goals. Iniesta certainly falls into that category and asserted himself as one of the best players in the world while leading Spain to yet another championship.