Premier League Guide: 10 Things to Expect from Manchester United Next Season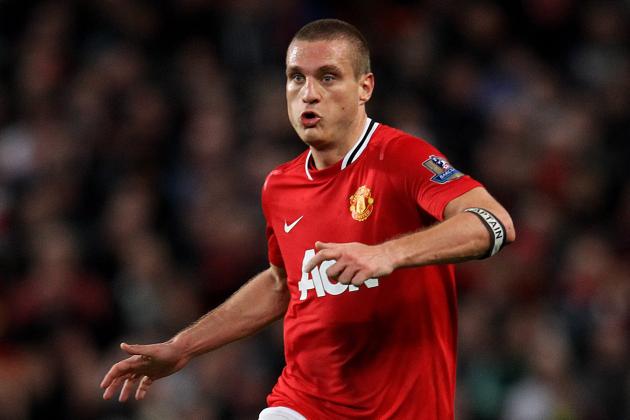 Alex Livesey/Getty Images

Manchester United's failure to win a single trophy last season will have hurt Sir Alex Ferguson badly. But being the passionate, determined manager he is, this will simply spur him on again.
Some may think that if he had won a 20th title, or the Champions League, he would have bowed out gracefully, but he has constantly asserted that he will continue as long as his health holds up (via The Telegraph).
So what can we expect from United next season? There has been no shortage of speculation about players they might sign. A lot of the time, such rumours are simply nonsense, maybe started by the media to sell copy or agents to get a better deal for their player.
In some senses, it is surprising that there have been so few rumours this close season about Wesley Sneijder. The new favourite is Luka Modric, and the stories won't go away, despite suggestions from Goal.com that United have ended their interest.
Sir Alex usually likes to get his business done early, as he did with Phil Jones, David De Gea and Ashley Young last season. But he can also keep fans guessing right to the end, as he did with Dimitar Berbatov's signing.
I have already predicted elsewhere that we shall see more turnover of players at Old Trafford this year than perhaps ever before under Sir Alex. Already four players have been released, and it is believed that several others are available at the right price.
This time around, with three teams coming into the Premier League needing more top players and others having to top up their squads after near-misses last season, there should be no shortage of demand.
Once he has his targeted signings in place, you can expect the auction to begin. It's already happening in the Reserves, with Oliver Norwood's departure, and Paul Pogba is still expected to join Juventus.
As always, there is much to talk about and get excited about before the new season starts. The tour to South Africa and China starts in mid-July, and United are also scheduled to play Barcelona in a preseason friendly.
There have been two signings, and more are still expected to arrive.
With 659 million followers worldwide, you can be sure that there will always be plenty to write about and no shortage of hungry consumers to feed with rumour and fact.
Begin Slideshow

»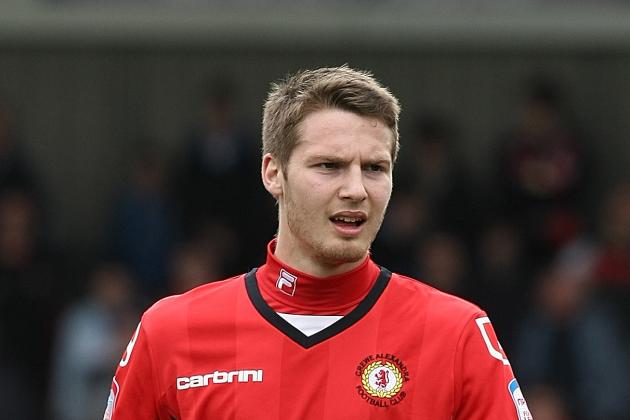 Pete Norton/Getty Images

Manchester United have already captured one of the most prolific midfielders in Europe last season in Shinji Kagawa, as well as one of the best young players that Crewe's Academy have ever produced in Nick Powell.
Sir Alex is also rumoured to be after a left-back, another midfield player and a striker, according to the team's website.
The central midfielder is presumed to be Luka Modric. If Sir Alex has spoken to him or his agent, he will already have impressed on him that he will be first choice and that he wants to build the team around him.
This could be enough to turn Modric's head, and the player cannot be in any doubt that arguably the best manager ever wants him as a replacement for United's legendary midfielder, Paul Scholes.
Spurs chairman Daniel Levy will of course play hardball, as he did with Michael Carrick and Dimitar Berbatov. Both of the latter wanted to join United.
The problem would come if Real Madrid were to pursue a serious interest. While Modric may feel let down by Chelsea not pressing home their interest last year, very few players turn down the greatest club of all time.
If Sir Alex does sign Modric, it may well be at the end of the transfer window, as with Berbatov. The manager will not want to overpay.
On the other hand, with Andre Villas-Boas as Tottenham's incoming manager (per The Independent), will want a reasonable war chest for new players and will not want the disruption of a player who clearly wants to leave.
Maybe this time United will get a better deal at, say, £30 million.
According to the Daily Mail, another player that Sir Alex covets is Javi Martinez. In the event that Modric does not sign, Martinez represents a different alternative. He can play as a holding midfielder or as a centre-back. With Kagawa and Powell already signed and much still expected of Tom Cleverley, a defensive midfielder would be a much-needed bonus.
United have not had a player like that since Roy Keane, because Owen Hargreaves was perennially injured. Since then, the burden has fallen on Darren Fletcher (who may never return from his bowel condition) and Michael Carrick (who was signed as an attacking midfielder).
There seems no doubt that Sir Alex also wants a left-back, with Patrice Evra over 30 and Fabio sent on loan to get more top-level experience. Jordi Alba would have been an outstanding signing, but Leighton Baines is well used to the Premier League and is England's No. 2.
The suggestion that Ferguson would also like another striker still rumbles on also. He was very disappointed that Will Keane suffered a ligament injury, because the England under-19 striker would have gone straight into the first-team squad. Does that mean Federico Macheda gets a reprieve?
The player who has been most closely linked, however, is Robert Lewandowski (per the Daily Mail). Some have likened him to Ruud van Nistelrooy. Sir Alex has always stated the need for four top strikers.
An alternative scenario, however, is that Nick Powell will be groomed for this role until Keane is fit again before dropping into an attacking midfield role. Dario Gradi has even likened him to Alex Oxlade-Chamberlain, who Ferguson previously tried to sign.
So in summary, you can expect at least four and possibly five new signings before the curtain goes up on the new season. Ideally Sir Alex would want all those complete in time to take on tour.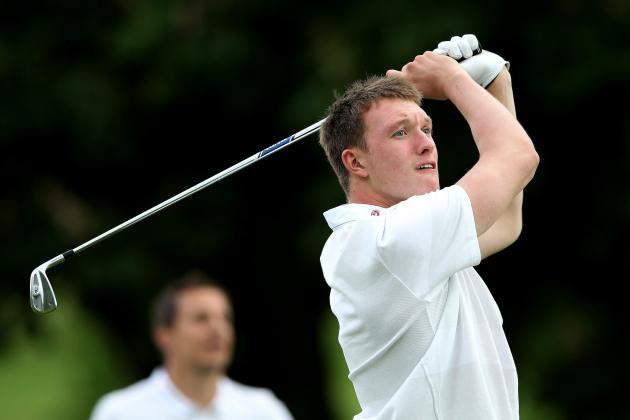 Scott Heavey/Getty Images

Phil Jones hardly had a taxing Euro 2012, not even managing to get a minute on the pitch.
That means he should be pretty fit. Sir Alex usually gives England tournament players an extended break. Wayne Rooney has already departed for three weeks in Los Angeles (which may be both holiday and conditioning with Nike).
Jones is a dedicated and committed young player who wants a first-team place. It may well be that he and Sir Alex agree that he will go on tour after a shorter holiday.
In total, six players are currently believed to be reporting back on July 16 after the Euros and missing the overseas leg of the tour (according to the Daily Mail).
Clearly, Rooney, Nani, Evra, Danny Welbeck and Young are in need of a break, but surely Sir Alex would welcome Phil Jones if he wants to tour?
The significance of this is in the likely changes to the team next season.
While Rafael da Silva is not joining his twin brother on loan, it would make sense for Jones to be the first choice right-back next season, alternating into a defensive midfield role as appropriate.
The big question is whether Nemanja Vidic and Rio Ferdinand will be the first choice centre-back pairing next season, assuming the Serb is fully fit. He will also miss the long-distance tour legs.
There is much for Sir Alex to think about.
Whether or not he signs Javi Martinez, the manager will surely relieve Michael Carrick of his holding role. He gets a bad press for helping out his manager in that role and would be better in the Paul Scholes role if Modric doesn't arrive.
So if Sir Alex gets his way with his desired signings, the starting lineup next season could be:
* De Gea
* Jones, Chris Smalling, Vidic, Baines
* Martinez, Modric
* Antonio Valencia, Kagawa, Nani
* Rooney
And if he doesn't:
* De Gea
* Jones, Smalling, Vidic, Evra
* Valencia, Carrick, Kagawa, Nani
* Welbeck, Rooney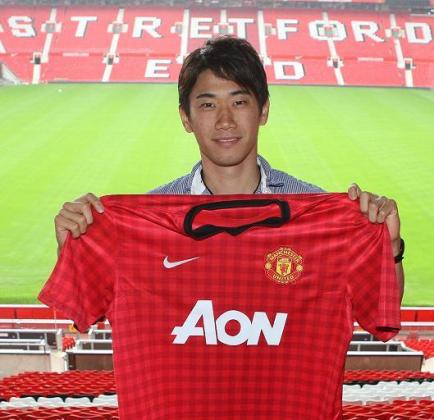 koletsy.blogspot.com
Shinji Kagawa has not been signed to come off the bench.
So it seems very likely that whatever additional signings Sir Alex makes, the tactical formation will change.
If this is Sir Alex's swansong season, he will want to go out with a bang. He could be accused of having been too cautious in Europe and in key Premier League matches last season.
For some time, I have been of the view that he should try a 3-5-2 formation in Europe, rather like that adopted by Cesare Prandelli for Italy in the Euros. This would especially be true against teams like Barcelona, who want to flood midfield.
The manager will not, however, compromise on United's attacking principles in the Premier League. In that case and with the likely personnel, the most suitable formation would appear to be 4-2-3-1
Irrespective of how the team sets up, however, United have for some time been moving towards more of a "total football" approach, rather like that adopted by the Dutch.
Ferguson has allowed greater interchange between players on the pitch, and from Academy upwards, all defenders have to be able to attack as appropriate, and all attackers must be able to tackle.
When you look at the way Mats Hummels, Sergio Ramos and Gerard Pique marauded forwards in the Euros, Andrea Pirlo's ability to play all the way back to his own penalty box and the Italians' abilities all across the pitch, this must surely be the way to go/
Kagawa and Powell will be encouraged to bulk up, as will William Keane as part of his recovery programme.
United need to be even stronger, fitter and faster across the pitch and hopefully will be luckier with injuries.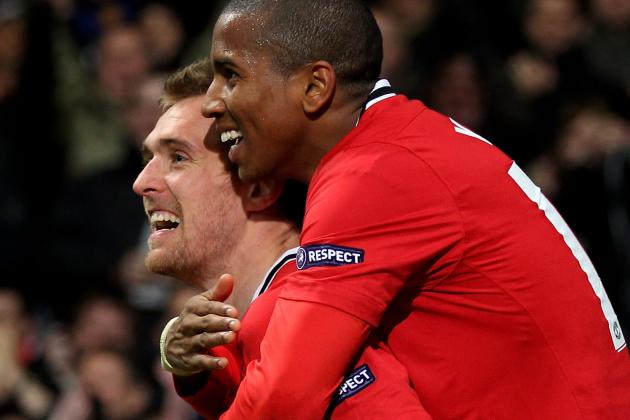 Alex Livesey/Getty Images

OK, so United missed Nemanja Vidic, but it is arguable that they missed Darren Fletcher more.
Michael Carrick was signed as the natural successor to Paul Scholes but has hardly been allowed to play in that role.
Nobody has the genius of the Ginger Prince—not even Luka Modric—but Carrick can hit a long or an incisive pass and prefers to play from box to box or around the opposition penalty area.
Indeed, it may well be that a big part of his apparent loss of confidence was down to constantly having to play out of position and then getting pelters for it from some of the fans.
Carrick and Fletcher were an established pairing before the latter's bowel condition. and he was arguably in the prime of his playing days.
United only missed out on the Premier League title on goal difference, with the highest second-place points total ever.
Also, their squad was disrupted in Europe after Vidic's injury, and it took a while for the Ferdinand and Jonny Evans combination to gel.
In all, United lost about nine times as many player days due to injury last season as Manchester City. One could only regard that as a freak occurrence, with both teams having the benefit of the best sports-science facilities.
While the long-term injuries were the big problem, several of their key players were out for long spells or more than once, notably Valencia, Cleverley, Nani and Javier Hernandez.
With better luck this season, United should be a major force again.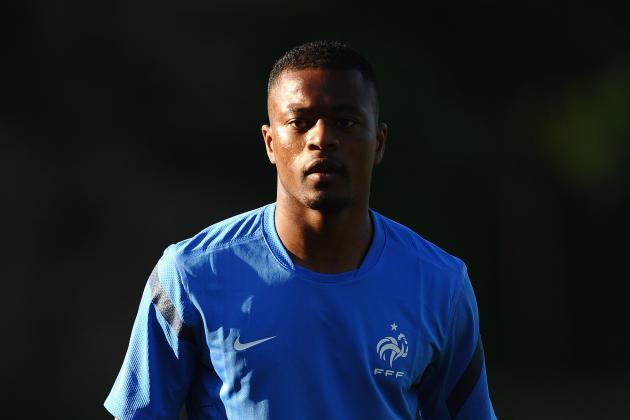 Laurence Griffiths/Getty Images

Patrice Evra was the wrong captain last season. You can never doubt his commitment, and he leads by example. But in the City and Everton home matches, he was at the wrong end of the pitch for critical goals.
He is a great inspiration in the dressing room and, with Vidic and Rooney, part of the never-say-die attitude that has characterised United.
Ryan Giggs has much the same attitude, and the reaction of the younger players like Phil Jones to the last-minute heartbreak last season was a delight to see.
United were hurt badly. Whoever Sir Alex signs will have their eyes opened by the drive, determination and team spirit in the dressing room. They know they will be expected to up their game further, whoever they are.
The young guns will drive their seniors, and the latter will lead by example.
If it's possible, there will be even more commitment at Old Trafford—especially in Europe.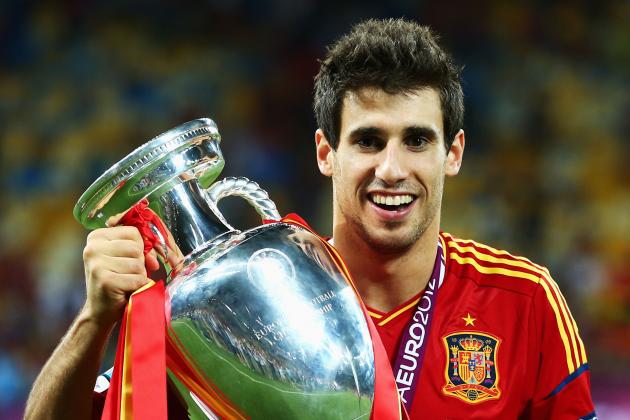 Alex Grimm/Getty Images

Let's face it: United were poor in Europe, which is why this player should be top of Sir Alex's wish list, even ahead of Modric.
His Athletic Bilbao destroyed United over two legs and showed Sir Alex the way to go. Although they never even won a Champions League place, Bilbao made the Europa League Final and, despite losing, drew plaudits from all directions, putting the spotlight on several players.
Because they are a Basque team, it will be hard to prise any player away, but if Sir Alex is after a striker as well, he should look no further than Fernando Llorente.
So, apart from Leighton Baines and Nick Powell, Sir Alex should be targeting players who will fit well in his European squad and/or with top-level European experience.
Modric has played in the ECL, as has Kagawa.
There needs to be a different style, as referred to elsewhere, but it may be that the European squad will be significantly different from the Premier League squad.
It was a shock when United went out in the league stages last season and when they failed so miserably in the Europa League. There is simply no excuse, and it cost the club money that will be needed for transfers.
The attitude was wrong, as were the tactics and team selection too often. Injuries were an unwelcome contributor, but Sir Alex will want no excuses this season, and once again, certain squad players may have their United futures decided by how they play in Europe.
Quarterfinals at least, please, depending on how the evolving squad gels this season.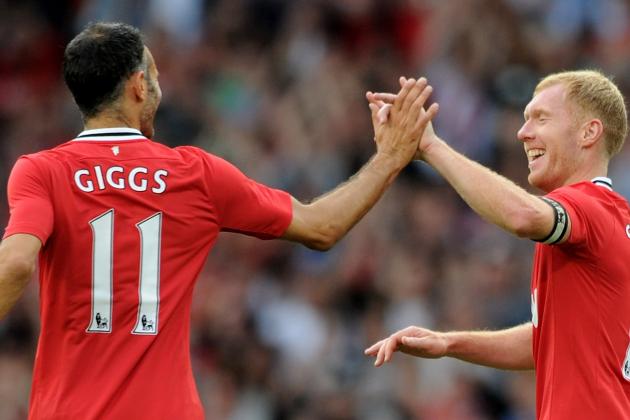 Chris Brunskill/Getty Images

Sir Alex always uses the cups as a development tool.
Next season, you can expect these two players to be the focal point for the development "squad."
As well as several of the players who won the Reserve League last season, Nick Powell can expect to feature strongly in this squad.
It may also be that Sir Alex will make Phil Jones captain for the twin assaults. Whatever he does, he will expect more leadership, commitment and success than the woeful showing last season, for which there was no excuse.
Expect at least the semifinal in both competitions. It's about time United won the FA Cup again. Rio Ferdinand has never won it!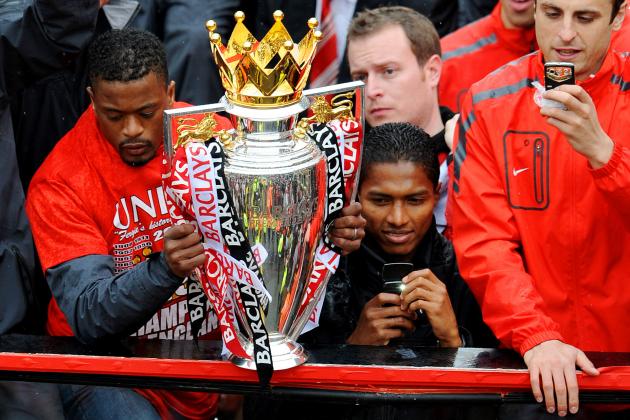 Clint Hughes/Getty Images

This should have been ours last season.
OK, well done to City, but if Patrice Evra and Rafael had been at the right end of the pitch and Scholes had been substituted earlier, against Everton, United would have walked it.
Nothing less than a 20th title will do for Sir Alex and his squad, irrespective of what happens in Europe.
After all, it may well be his last season as manager...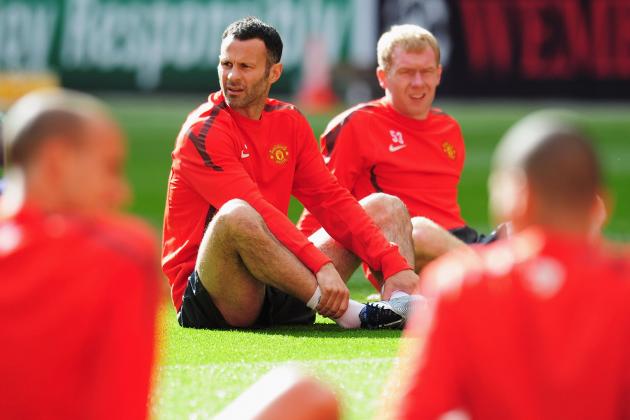 Shaun Botterill/Getty Images

This will be the future for two of the greatest players ever.
They can be expected to sit out more matches than they play next season. That will have been the key condition in their new contracts.
They can also both expect to be at the core of United's coaching team after 2012-13.
Scholes has already had a taste under Ole Gunnar Solskjaer. Both are seen as players that young stars and new signings look up to.
Even if they hang up their playing boots, they can both expect to have a major inspirational influence going forward.
Assuming that David Beckham gets his Knighthood this year, the big question is whether both of these players will be similarly honoured next year.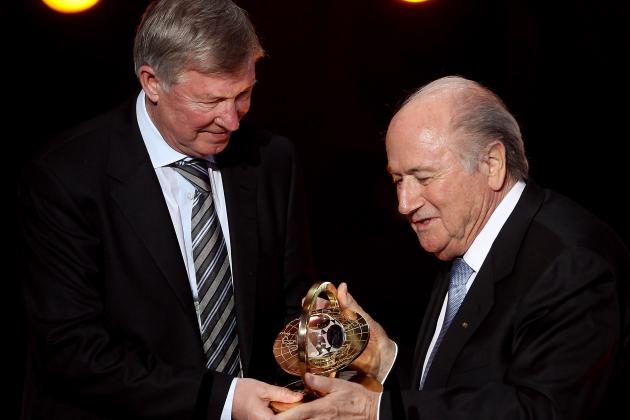 Scott Heavey/Getty Images

Sir Alex Ferguson has nothing left to prove to anyone—except to himself.
He is his own worst enemy and his own hardest task master.
Despite his health scares in the past, including possible heart difficulties, he learned from his lesson in 2001-02 not to let anyone know about his future plans.
He is in charge of his own destiny and has always insisted he will go on as long as his health holds up.
Nevertheless, it would be no surprise if this was his last season.
If he wins either, or especially both, of the Premier League and the Champions League, you can confidently expect him to hang up his tracksuit.
The question is, who can possibly succeed him? Laurent Blanc didn't exactly cover himself in glory in Euro 2012, and Jose Mourinho remains possibly too hot to handle.
My own choice and indeed prediction is Pep Guardiola, who has already turned down Chelsea.
They have huge mutual respect: Sir Alex deeply admires what Guardiola has achieved at Barcelona, and, unlike Mourinho with his pragmatic football, the Scottish Knight could safely entrust Manchester United's playing style and values to arguably the most talented young coach in the world.