5 Early Signs the Dallas Cowboys Have Turned the Corner
Layne Murdoch/Getty Images
The one thing that I love about training camp is the infinite amount of hope that all fans feels when their team steps on the field for the first time. The Dallas Cowboys are no different as all records have been reset and all hopes renewed.
For many who proudly wear the badge of the silver and blue, the Dallas Cowboys are now Super Bowl favorites. With the additions of free agent cornerback Brandon Carr and rookie defensive back Morris Claiborne, the Cowboys, at least on paper, seemed to have taken a giant leap forward.
In addition to Carr and Claiborne, let's take a look at a few more signs that the Cowboys may be ready to take the next step toward a championship.
Rob Ryan's Defensive Decision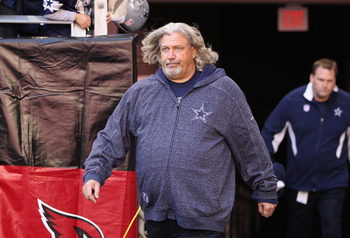 Christian Petersen/Getty Images
Ryan said that he's going back to the basics and will simplify the Cowboys defense. If he does, this should make the transition for Claiborne and Carr much easier.
We have no evidence to believe that Ryan will do just what he says. Our only inclination is that the Cowboys have three new starters in the defensive backfield with Carr, Claiborne and possibly Brodney Pool, so Ryan may be forced to bring them along slowly.
Dez Bryant's Maturation
Ronald Martinez/Getty Images
Quarterback Tony Romo said that Bryant is coming along and continues to improve. If he truly has matured and engulfed the entire playbook, there is no reason to believe that Bryant won't have a breakout season.
He had 928 receiving yards and nine touchdowns last season. If he's able to add just two additional touchdowns and a few hundred yards on the back end, the Cowboys will be dangerous.
The Return of DeMarco Murray
Tom Pennington/Getty Images
This isn't necessarily a move to signal a change but more of an assertion that stability and consistency have returned. Murray was the breakout star for the Cowboys last season, and he should return to form in 2012.
He'll still have Felix Jones as his backup, a more potent offense due to the health of Bryant and Miles Austin and an additional year in head coach Jason Garrett's offense.
Murray should easily gain more than 1,000 yards behind a more mature offensive line.
Jason Garrett's Cultivation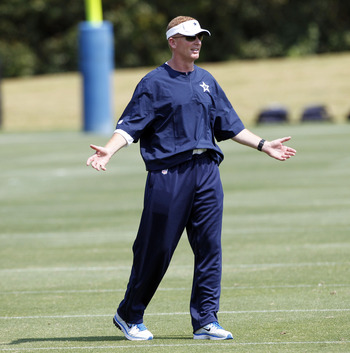 Layne Murdoch/Getty Images
This will be Garrett's second full season as head coach in Dallas. He took over midway through 2010, had an 8-8 year during his second season and will receive the full opportunity to place his stamp on the Cowboys in 2012.
Garrett is still growing, at least in my eyes, and this year we should see that maturation. They say that progress is a slow process and within this microwaved society it is often tough to judge the true advancement of certain things and people.
Garrett is growing, and he will continue to do so in 2012. Watch how he incorporates Murray and Bryant into the offense and if he'll allow Romo to reign over the offense.
Attention to Defensive Playmakers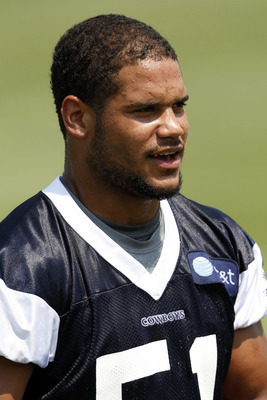 Cowboys linebacker Kyle Wilber
Layne Murdoch/Getty Images
Sean Lee will keep growing and will eventually turn into a defensive team leader. Bruce Carter will make a move this season, and hopefully Anthony Spencer will make a larger impact when it comes to sacks.
The Cowboys drafted defensive end Tyrone Crawford and linebacker Kyle Wilber to add youth, depth and intensity. I'm not sure what type of pressure Crawford will bring, but I expect Wilber to make an immediate impact.
Even if he doesn't, Dallas has the potential to have one of the best linebacking corps in the NFL. Ware, Lee, Carter, Spencer, Butler, Wilber, etc., should make them a pretty deep unit.
Keep Reading

Dallas Cowboys: Like this team?