WWE Monday Night Raw: The 10 Best Wrestler Debuts in the Show's History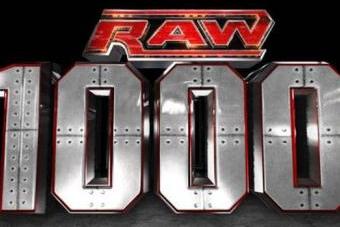 July 23 will mark the 1,000th episode of Monday Night RAW, a milestone that most shows don't ever get to hit. The impressive part about RAW's milestone is that the shows have come weekly without repeats, making it an unheard of accomplishment in television history.
RAW has had a lot of interesting and unexpected events happen over the course of nearly 1,000 weeks to make it a must-watch show for pro-wrestling fans.
A new superstar can debut in virtually any regard and on virtually any show in WWE. Some have debuted on pay-per-view or come through the ranks on an NXT-like show. WWE SuperStars has been an avenue for some, while SmackDown and even the defunct ECW brand have given us the first look at other superstars. However, if you really want to make an impact, RAW is the place to debut.
Live on television, an impact is sure to be made, and the whole world can be talking about it the next day. Just look at what happened when The Nexus invaded RAW (though they aren't on this list because they were seen on NXT prior to their RAW debut).
Still, the invasion of those eight ex-rookies was a shocking end to an episode of RAW and really made the following weeks something to keep an eye on. A debut has to mean something because you only get one chance at it (well, unless you change your gimmick).
Here are 10 of the most memorable debuts that all happened on the flagship show for WWE, Monday Night RAW.
Begin Slideshow

»
I'll begin with one of the more forgotten debuts in RAW history. It was May 1997 when the original ECW was doing cross-promotion with the then World Wrestling Federation.
At the head of it from the WWE front was Jerry "The King" Lawler who was very anti-ECW and made his opinions felt by many. Van Dam debuted on RAW as an ally to Jerry Lawler and a former ECW star.
What is unusual about RVD's career is that he talked badly of extreme promotion and stated that he belonged in a bigger company. Lawler gave Van Dam the moniker of "Mr. Monday Night" which had followed him around for the rest of his career.
It is still the same Rob Van Dam we have always known, but it is unusual to see him as a heel. Even with a part of the WCW/ECW InVasion storyline in 2001, Van Dam acted like a face and was cheered for it.
Van Dam received plenty of cheers during this match, which was a good squash match that showed his athletic ability off. You may even get a nice glimpse at who Van Dam is facing in his debut. That is none other than Jeff Hardy.
How often can someone win a championship in their very first match? It doesn't happen much, but it did occur for Gail Kim in her first match in WWE.
In a seven-Diva battle royal with the Women's Championship on the line, Gail Kim debuted in the bout and was the last woman standing. Kim outlasted previous Women's Champions Trish Stratus, Ivory, Victoria, Molly Holly and Jacqueline.
She also dethroned Jazz, who came into the match as the champion. Jazz was actually in need of surgery, leaving the match to write her off.
Gail Kim showed impressive feats in the match and won the title. She had few impressive moments after that night and never became Women's Champion again. Even in her second stint with WWE, Gail Kim never amounted to much, despite her immense talent.
Her great debut may end up being the peak of anything Gail Kim did in WWE.
Edge was a mysterious character when he debuted in 1998. Coming through the crowd and being represented as a tortured soul, nothing was really known about the man we would soon know as The Rated-R Superstar.
Little did we know that Edge would define a generation when he debuted, but he was good enough upon his debut to have a quick victory over Jose Estrada.
What makes this so unique too was the way that Edge won his debut. Edge did not pin Estrada but saw him down on the floor outside the ring and launched himself on top of him. Estrada never made it back into the ring and Edge won in a rare count-out victory on a debut.
I said it was rare to see debuts give someone a championship, but that's how Santino Marella's career began. In 2007 during a RAW in Italy, Umaga and Mr. McMahon stood in the ring with anger to let off.
Following an embarrassing loss to Donald Trump at WrestleMania, McMahon was a bald billionaire and not one that was too pleased. The suffering of others was what would make McMahon feel better.
That's when Santino was picked out of a crowd of Italians to fight.
Santino tried, but Umaga was too powerful. The rules also were altered to make it a no-disqualification match, putting the non-wrestling Marella in a bad place.
Santino would get help from Bobby Lashley, who came into the ring and attacked Umaga. Marella was thrown on top of Umaga with Lashley pressing down as Santino became the holder of the prestigious Intercontinental Championship.
Speaking of debuts, Umaga had an impactful one of his own. While it wasn't in a match officially, it was a great physical display.
Ric Flair was in the ring during a RAW in 2006 when The Samoan Bulldozer stormed down with Armando Alejandro Estrada. Estrada called the shots for Umaga, who had been seen as a member of Three Minute Warning previously.
This mix of a character between Kamala and The Wild Samoans led to a successful run for Umaga. Had it not been for drug issues and his early death, Umaga could still be in WWE rings today.
This is not just one superstar debuting, but four of them. Chris Benoit, Eddie Guerrero, Perry Saturn and Dean Malenko were The Radicalz, a group of four men who all left the rival WCW to join the competition in WWE.
During a tag team title match between The New Age Outlaws and Al Snow and Steve Blackman, the Radicalz came to ringside and sat in the front row. They weren't bothering anyone until the Outlaws came knocking.
Suddenly, it was the four free agents hopping the guardrail and attacking members of the infamous D-Generation X.
When the job was done, the four walked up the ramp at a WWE show for the very first time, and it became clear that these four were the newest stars in WWE.
It was a sight that few knew we would ever see. Goldberg, the dominant WCW superstar, had contract issues that prevented him from being used during the WCW InVasion storyline. Goldberg had to wait for that contract to expire before he could sign on with WWE, which he finally did following WrestleMania XIX.
On a RAW in 2003 where The Rock gloated about beating Stone Cold Steve Austin, Goldberg made his impactful debut in WWE.
The crowd was aware of the rumors and chanted for Goldberg, which The Rock bushed off rather easily. In the end, Goldberg did appear after all, and even when it was already known, the crowd became unglued.
The Rock and Goldberg were in the same ring at the exact same time, a feat unknown and thought impossible.
Goldberg delivered a spear to The Rock, and it was clear who was next for Goldberg.
The great career of Chris Jericho in WWE has included good returns, but his debut in the company was a great thing to see all put together.
Jericho moved to WWE in 1999. In WWE, Jericho has had nine Intercontinental Championship reigns, multiple world championships, the honor of being the first Undisputed Champion in WWE history and countless unforgettable matches a moments.
It all began on a night in 1999 in Chicago. As The Rock was looking for The Big Show to come out, he was greeted with a countdown clock.
The Countdown to the Millennium was the way that Jericho debuted in WWE. The clock would count down every so often and was in the final moments during The Rock's speech. The clock struck zero, Y2J appeared and it was soon followed with the words "Welcome to RAW is Jericho!".
When WCW lost out to their rivals in WWE, it was never conjured up that the on-air figure head of WCW, Eric Bischoff, would ever be seen on a program produced by WWE. That changed one night in the Meadowlands in 2002.
Mr. McMahon was going to shake things up in the WWE, which had announced earlier in the night that the nWo would no longer be seen. It was time to have a general manager on both shows, and the RAW GM would be announced at the end of the night.
Minutes before the official announcement, Booker T, along with the whole world, saw Eric Bischoff backstage at a WWE event.
Sure enough, Bischoff was the new man in charge. In what was a shocking and unforgettable moment in wrestling history, Bischoff and McMahon embraced in a hug on the top of the ramp upon announcing Bischoff as the new man in charge of the flagship brand of WWE.
The pain was coming in 2002 and was actually there one night on RAW. As Maven and Al Snow fought over the Hardcore Championship, Spike Dudley appeared. Right after, we saw the man we all know now as the dangerous Brock Lesnar. Lesnar displayed incredible strength and dominating talent.
Alongside Paul Heyman, Lesnar would end up being the youngest WWE Champion of all time, a former Royal Rumble winner and a former King of the Ring.
Lesnar has since returned to WWE, but nothing quite outdoes that first glimpse at The Next Big Thing. Had Lesnar stayed consistently in WWE and never left, who knows what could have happened to his career and his stock in the history of pro wrestling.