Penn State Football: Why Nittany Lions Will Shine in 2012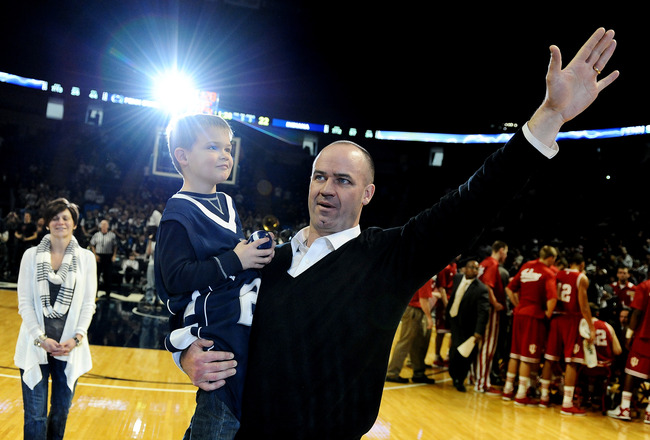 Patrick Smith/Getty Images
Penn State football had an interesting year in 2011, to say the least.
There was an image-tarring alleged sex scandal and firing of Joe Paterno, followed by frustrated and confused students overtaking Beaver Canyon, and then the eventual death of a legendary coach, humanitarian and icon.
However, football was played, in case you missed it.
On the field, the Lions put together a nice season with a 9-4 record, beating the teams they should have and losing to those who were better than them.
With a new face leading the Lions, the team will be revitalized and looking to perform well in 2012.
Here's a look at a few reasons why the Nittany Lions will shine in 2012.
New Offensive Scheme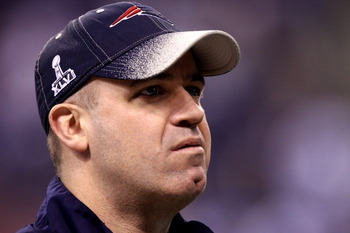 Elsa/Getty Images
Prior to this upcoming season, Penn State football, particularly their offense, has been synonymous with adjectives like "boring," "bland" and "routine."
However, this will be expected to change in the near future with the addition of Bill O'Brien's new offensive scheme.
Focused on stretching the field through the air, O'Brien's offense is multifaceted and will cause fits for opposing defenses.
Also, it's well documented that the new offensive scheme is heavily influenced by tight ends, and with up-and-coming players like Kyle Carter and Jesse James, the offense should be able to be productive.
As long as the players are capable of learning the presented portion of O'Brien's massive playbook, the Lions offense will vastly improve from last season.
A Decision at Quarterback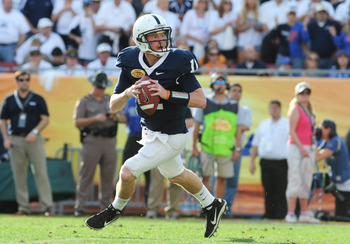 Al Messerschmidt/Getty Images
One of the biggest things that has plagued Penn State football on the field the past two years has been a strung out starting quarterback decision.
Heading into spring practice, the main competition for the job was between rising senior Matt McGloin and rising junior Rob Bolden, with Paul Jones trying to get in the mix.
Ever since he was recruited out of the state of Michigan, Bolden had the potential and expectations surrounding him that he would come in and provide Penn State with their next great quarterback.
That obviously wasn't meant to be, and after a concussion in the Minnesota game two years ago, former walk-on McGloin got his chance to come in and perform.
Ever since that game, Nittany Lion fans and coaches have been divided on who deserves to start.
However, O'Brien wanted to avoid dragging out a decision and chose the Scranton product McGloin to operate the offense.
While he may not possess the best on-the-field abilities, the senior provides a sense of confidence and leadership in the huddle that will help guide the offense through this transition.
Stacked Linebacking Corps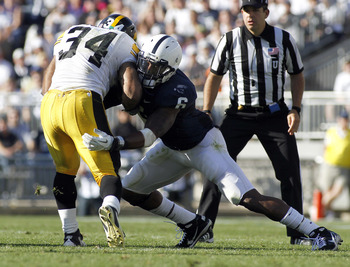 Justin K. Aller/Getty Images
While quarterbacks have never been Penn State's forte, linebackers certainly have, and this year is no different.
After a breakout season in 2011, rising senior Gerald Hodges is coming into this season with accolades galore. He was most notably named a preseason first-team All-American by Lindy's College Football Preview.
Hodges played incredibly last season and will be looked upon to lead the Big Ten's best linebacking corps.
Along with Hodges, the Lions defense boasts the return of hard-hitting veteran Michael Mauti.
Despite his history of injury troubles, Mauti will provide the Lions with a great deal of leadership and skill at outside backer if he can stay healthy.
At middle linebacker, rising junior Glenn Carson is listed as the starter in O'Brien's first depth chart after performing extremely well as a sophomore last season.
However, Khairi Fortt is right behind him and will be expected to earn a decent amount of playing time.
With the combination of Hodges' speed off the end, Mauti's sure tackling and the Carson/Fortt versatility, new defensive coordinator Ted Roof and his aggressive style hit the jackpot walking into this linebacker situation.
Silas Redd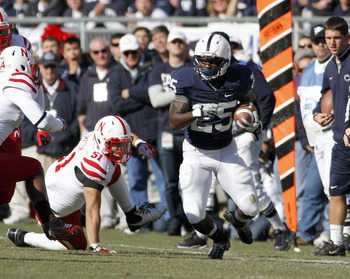 Justin K. Aller/Getty Images
Penn State's offense was nothing short of anemic last season. The quarterback was mediocre at best, and the wide receiving corps disappointed.
However, one bright spot for the Lions was running back Silas Redd.
After showing his shiftiness and creativity in limited appearances his freshman year, the Connecticut native showed off his workhorse side as he consistently logged carries throughout the season.
In 2011, Redd compiled 1,241 yards and seven touchdowns on 244 rushing attempts. This includes a stellar October—his 703 yards in five games was the best in the nation.
In the transition year for Bill O'Brien, Redd will be looked upon once again to put most of the offense on his shoulders and stay healthy throughout the year.
Offensive Line Making Strides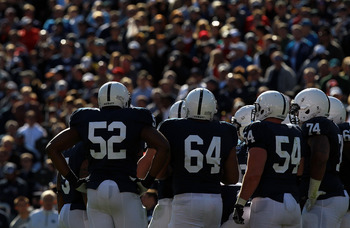 Ronald Martinez/Getty Images
After spring practice wrapped up, one of the biggest improvements noted was on the offensive line.
Despite losing four of five starters to graduation, new offensive line coach Mac McWhorter has done an effective job so far, identifying five strong starters for O'Brien's first depth chart.
Matt Stankiewitch is the only returning starter at the center spot. John Urschel and Miles Dieffenbach will return as guards, while Adam Gress and Mike Farrell will return as tackles.
While Stankiewitch is the only one with real experience, Gress is the one making large strides, getting stronger and becoming more of a force at left tackle.
With McWhorter coaching all line positions and a new weight-lifting program implemented by strength and conditioning coach Craig Fitzgerald, the offensive line looks like it will be a strength of the Nittany Lions in 2012.
Keep Reading

Penn State Football: Like this team?