Spain vs. Italy: Most Underrated Contributors to La Roja's Euro Cup Title
July 2, 2012
Martin Rose/Getty Images
Not everyone can be Xavi or Andres Iniesta. 
The two all-world midfielders will certainly be on everyone's team of the tournament and deservedly so, considering how they dominated the opposition throughout Euro 2012, but Spain got contributions from elsewhere, too. 
Let's take a look at the players who were key to La Roja's title run but aren't quite getting the attention they deserve. 
Even when Torres was missing golden opportunities during Spain's opening match or two, he was making perfect runs behind the defense and putting himself in the best opportunities to be successful. 
Nonetheless, Vincente Del Bosque predictably lost faith in the Chelsea striker and hardly gave him any time on the pitch. 
No matter to Torres, who took advantage of his minimal playing time to score three goals and tally one assist on his way to the Golden Boot.
Even after winning the prestigious award, however, Torres continues to be disrespected.
La Roja, who didn't have a striker, really needed Torres to have a solid tournament, and he did just that when he was called upon. 
Jordi Alba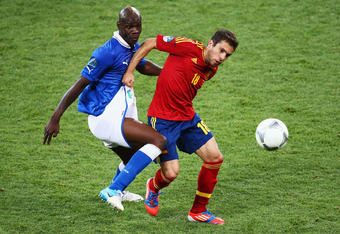 Martin Rose/Getty Images
Technically Spain's left-back, Alba spent a lot of his time on the opposition's half of the pitch. In fact, only three players in the entire tournament made more touches on the attacking half (via bbc.co.uk).
Alba displayed fantastic pace and terrific creativity, and he showed why Barcelona was willing to pay £11m for him. 
He was constantly attacking, putting the defense on its heels, and a fabulous run finally resulted in a much-deserved goal for Alba in the final against Italy. 
Alba is certainly getting plenty of respect, but with how crucial he was on both sides of the pitch, I would go as far to say he deserves to be player of the tournament. 
David Silva
Silva may have had the quietest two-goal, three-assist tournament in the history of the Euro Cup. 
He often struggled to complete passes ("only" 84.8 percent completion rate), but whenever Spain needed a play to be made, Silva made it. 
The Manchester City midfielder got off 1.8 shots and 1.7 key passes per game.
He may not have been as flashy as some of the other members of the squad, but Silva left a large footprint on this tournament and deserves more credit.