Chicago White Sox: A.J. Pierzynski Was Robbed of Rightful All-Star Nod
July 2, 2012

Victor Decolongon/Getty Images
Chicago White Sox catcher A.J. Pierzynski being left off the 2012 American League All-Star Team is pure highway robbery. Ignoring the numbers Pierzynski put up in the first half of the season is simply criminal.
Yesterday, the American League announced that its three catchers would be Mike Napoli of Texas, Joe Mauer of Minnesota and Matt Wieters of Baltimore. Pierzynski finished fourth among catchers in fan voting for the starting job in the All-Star Game July 10 and wasn't named a reserve.
That's not hard to understand. Outside of Chicago the veteran backstop has few allies.
However, a quick look at the numbers leaves me stunned that the best catcher in the American League will not be behind the plate at Kaufman Stadium when the leagues collide. Let's just look at the offensive numbers and see how Pierzynski measures up to the three AL catchers.
| | | | | | | |
| --- | --- | --- | --- | --- | --- | --- |
|   | Player          Average  HR   RBI  Runs OBP  SLG   OPS |   |   |   |   |   |
|   | Pierzynski      .285      14    45     36   .331   .512   .843 |   |   |   |   |   |
|   | Mike Napoli    .238      12    30     36   .338   .444   .782 |   |   |   |   |   |
|   | Joe Mauer      .324       4     36     38   .414   .445   .859 |   |   |   |   |   |
|   | Matt Wieters ..249      11    38     33   .331   .440    .771 |   |   |   |   |   |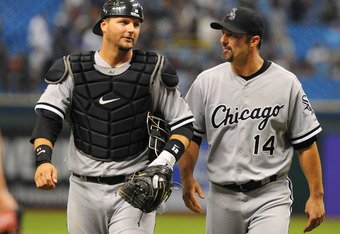 Al Messerschmidt/Getty Images
In those offensive categories, Pierzynski ranks second, first, first, second, third, first, second. He is second among all AL catchers in homers and leads the league's backstops in RBI and slugging percentage.
Napoli is starting because he won the fan vote. Mauer's numbers lack Pierzynski's power, but I get that he excels in different areas. My beef with these two players besting A.J. for a spot is that while Pierzynski has caught in 65 of Chiacgo's 79 games, Napoli has caught in 45 of 80 games and Mauer just 35 of 78.
A third of Napoli's playing time has been at first base this season. Mauer has started 14 games at first. Pierzynski is a much better offensive player that Wieters, the only other full-time catcher in this group.
How does Wieters get that third catcher spot? Pierzynski's many detractors will point to two things:
1. Pierzynski's a jerk.
2. Wieters throws out runners and Pierzynski doesn't.
Number one should not matter when selecting the best player. Number two is a bad rap, at least this year.
Keeping in mind that Pierzynski leads the AL in total chances for a backstop (520), he leads the league in putouts (482) and is second to Totonto's J.P. Arencibia in assists (36). He leads the AL in fielding percentage for catchers (.996).
Now comes the part where Pierzynski's throwing arm comes into question. Wieters is throwing out 36 percent of base-stealers. Here's the flaw in that statistic. Pierzynski is gunning down runners at a 30 percent success rate, which is well above the league average. Heck, Mauer and Napoli aren't even at 20 percent in 2012.
Pierzynski is logging full-time duty behind the plate. He is his position's leading run producer and is fielding his position as well or better than his primary competition this season. What explanation is there for him to be omitted from the All-Star Game?
There isn't one. Pierzynski just plain got ripped off.