MLB Trade Rumors: Why New York Yankees Must Make a Play for Cole Hamels
July 2, 2012
Sarah Glenn/Getty Images
The New York Yankees are in need of starting pitching at the moment thanks to injuries to CC Sabathia and, more seriously, Andy Pettitte.
The solution to the problem? Cole Hamels, of course.
Most Yankees fans will tell you it makes more sense to just wait until free agency after this season to bring Hamels to the Bronx, but there is a major problem with that thought process. Hamels might not be around to sign at the end of the season if he is traded to another team and then signed to an extension.
Now is as good a time as ever for the Bombers to make their move with the news that the Philadelphia Phillies are currently shopping their left-hander, according to Jon Heyman of CBS Sports. What's also interesting in that piece is how Heyman lists the Los Angeles Dodgers as a major threat to sign Hamels if he hits the open market.
Unfortunately for any team in the Hamels sweepstakes, the Yanks included, it will take a king's ransom to acquire Hamels; namely top-notch prospects and, quite possibly, some major league-ready talent.
The Yanks have all of the above to offer. It just remains to be seen if they are willing to part ways with their younger arms at this moment.
But why wouldn't they?
New York's hope is that they can develop their young starters, thus saving them money down the road by not having to look to free agency to bring in a front-line starter. However, the times the Yankees develop their young prospects into front-end starters are few and far between.
For every Pettitte that comes up through the farm system, there is a Brien Taylor and a ton more busts like him to mention. Chances are, these young arms the Yanks covet so much will never amount to anything more than back-end starters, if that.
Manny Banuelos and Dellin Betances are the Yanks' top pitching prospects at the moment, but both have already shown troubling signs.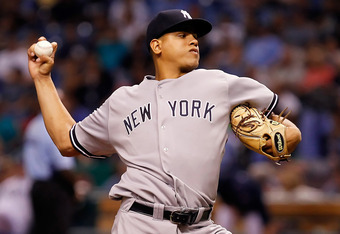 J. Meric/Getty Images
Tim Bontemps of the New York Post recently wrote a piece listing the problems with each starter. Betances was recently demoted from Triple-A back to Double-A Trenton. Banuelos, on the other hand, has battled injuries all season long, and his control issues are nothing new.
Just another shining example of how the successful future of a top prospect is never guaranteed.
If the Killer B's aren't enough in a deal for Hamels--and they won't be--the Yanks will be forced to sweeten the deal, and that's where the major league-ready talent comes into play. The Bombers could offer starting pitcher Phil Hughes as well as infielder Eduardo Nunez.
Granted, Nunez has had several issues with fielding, having made errors on countless routine plays, but that's something that can be fixed. It's Nunez's bat that is the most attractive piece about him. Great speed and power to the gaps gives Nunez certain top-of-the-order ability.
Hughes isn't having the greatest time as a starter in the major leagues, though. In 2012, Hughes is 9-6 with a 4.29 ERA, and it has been nothing short of a roller coaster ride for the 26-year-old. But even if Hughes doesn't work out as a starter, he can be turned into a back-end-of-the-bullpen arm for years to come.
You could probably make the case that this trade would be enough to put Hamels in pinstripes, but this is a Major League Baseball trade, and no amount of talent is ever enough. The Yanks could throw in another top prospect, Mason Williams.
Williams could be a premier young talent in the future, but he is several years away from making any such contribution. Last time I checked, this is New York, and the Yankees want to win now. Not to mention, this organization is flush with great young talent in the minors. It's time the Evil Empire starts cashing in on it.
It might seem like a drastic move, but the Bombers would add a huge piece to their championship puzzle. The money must be figured out down the road, but it can't be mistaken how much this team needs a consistent, alternate option to CC Sabathia.
With their history, chances are that waiting for a prospect, or even a Michael Pineda, is far more risky for the Yankees than making the move to trade the farm for Hamels. We'll just have to see if this Yankees brass is like the old, over-indulging one, or if they are much like they seem now: a bunch of penny-pinchers.