WWE Rumors: Brock Lesnar, Kurt Angle, Kevin Nash and Monday's Top WWE News
July 2, 2012

Tonight is the night that WWE fans have been waiting for since Raw ended last week. We were promised an answer from Brock Lesnar, or someone associated with him, regarding Triple H's SummerSlam challenge. 
Lesnar is not expected to be at the show live, though he could have done some kind of taped vignette. I don't see that being the route taken, as WWE usually tapes those backstage at their shows, and Lesnar isn't flying in to do a short promo. 
Instead, look for Paul Heyman to give Triple H the answer that we are looking forward to. My initial reaction is that it will be no, so they can drag that out until the 1,000th Raw. We shall see what is in store tonight.
To whet your appetite for Raw, here are Monday's news, rumors and links to the top stories from WWE. 
BROCK LESNAR'S WWE CUP RUNNETH OVER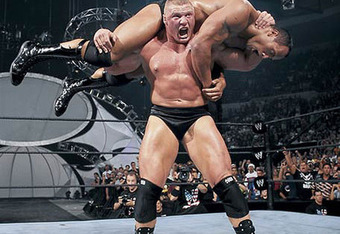 As if the news about Lesnar appearing on the 1,000th Raw wasn't good enough, it has now been confirmed that The Pain will be bringing his talents to Raw on Aug. 13. Not that this is a big surprise, considering that is the go-home show for SummerSlam. 
Question on Everybody's Mind: How does WWE end the build to Lesnar-Triple H?
Our Take: It won't be enough to tell the world that Lesnar is an a**-kicker this time around. WWE needs to let him show it against Triple H. Going back to what we said during the Cena feud, Lesnar has to feel like something different to make the difference in business WWE should be looking for. 
Hype Meter: 5 out of 5 Sword Tattoos
Lesnar might not be able to have the same impact he would have if certain things about his booking had been handled differently, but it is time to move forward. He has to defeat Triple H if anyone is to take him seriously. Sadly, I don't see that happening; just call it a weird hunch. 
Deeper Dive
Lesnar's Latest WWE Schedule (NoDQ)
-----------------------------------------------------
KURT ANGLE STILL TEASING WWE RETURN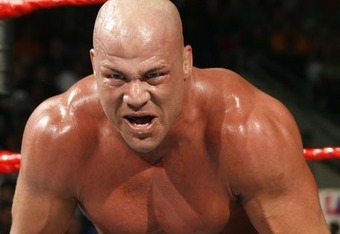 It seems like every month there is a rumor about Kurt Angle and WWE, so what better way to celebrate the Fourth of July than with the U.S. Olympic hero teasing a possible return on Twitter. 
I Know Everyone Wants Me to Go Back to Wwe. Not Yet. My Job Is to Build Tna. Once they Are Built, I May Retire In Wwe. Maybe. Tna is 1st tho

— Kurt Angle (@RealKurtAngle) July 2, 2012
Question on Everybody's Mind: Would WWE re-sign Angle?
Our Take: I don't get the sense there is a lot of love for Angle in WWE. He left on bad terms, was spiraling downward, and he had to get out of there. If he can get a deal where he is just working Raw and pay-per-view, I'm sure he would be enticed. I just doubt that WWE would give him the deal. 
Hype Meter: 4 out of 5 Olympic Slams
Say what you want about Angle being a complete worker on social media, but he is still one of the best wrestlers in the world. At least when he is healthy enough to be in the ring. If WWE had a chance to get him for a retirement tour, that would be great. Considering TNA is the better product right now, Angle should be more than happy where he is. 
Deeper Dive
WWE vs. TNA PPV Dream Matches (B/R)
---------------------------------------------------
KEVIN NASH PUTS FAMILY OVER WWE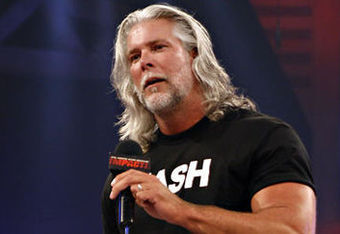 If you want to take something Nash says at face value, then you will undoubtedly love his Twitter post from Sunday, when he said that he would not be at Raw's 1000th show because of family commitments. It's a perfectly valid and reasonable answer, though he has been known to work an audience. 
Going to 1000th Raw involves taking a ferry from St.John to St.Thomas then fly Sunday to Raw,do show Monday, spend all Tuesday flying. 3days

— Kevin Nash (@RealKevinNash) July 1, 2012
Question on Everybody's Mind: Does WWE need Nash for Raw that night?
Our Take: Given the level of star power that is expected to be on the show July 23, I don't think Nash's absence would be felt in the slightest. He was a part of WWE, and should not be erased from the record books, but he was not exactly a bright spot during his time there.
Hype Meter: 5 out of 5 Jackknives
I think the further away from WWE Nash stays, the better for everyone involved. His last "run" in the company proved just how out of touch he is with today's product. Why bring him back to showcase how inept he is right now?
Deeper Dive
WWE Superstars Who Could Have Great Acting Careers (B/R)
----------------------------------------------------------------
POSSIBLE RAW SPOILER FOR MONDAY NIGHT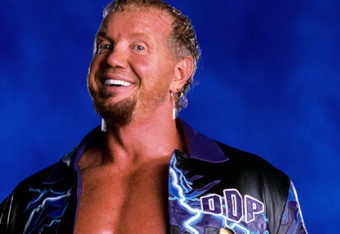 In keeping with the somewhat weekly tradition of bringing a legend back to destroy Heath Slater's career a little more up through the 1,000th episode of Raw, Diamond Dallas Page is reportedly going to be the Blast From The Past on tonight's show. 
Question on Everybody's Mind: Which gimmick will DDP be using?
Our Take: With any luck, it will be his WCW gimmick. He was such a good performer during that time, but when he became a creepy stalker who was smiling at Undertaker's now ex-wife, his career was over. 
Hype Meter: 5 out of 5 Self High-Fives
WWE has had great success so far with the legends gimmick on Raw, though it has exposed just how weak the roster is. The crowd is far more excited to see these wrestlers than anyone working full-time, with the obvious exception of John Cena. 
Deeper Dive
Rumored Legend For This Week's Raw (Wrestling Inc)
------------------------------------------------------------------
Check back for more on the WWE as it comes, and check out Bleacher Report's Wrestling Page to get your fill of the WWE. For more WWE talk, check out Ring Rust Radio for all of the hot topics you just can't miss.