Jasper Juinen/Getty Images
July 2, 2012
Yesterday, Spain became the first national side in history to capture consecutive European championships after a masterful performance against Italy in the final. Spain will now hold the title of European champions until 2016, when the tournament takes place in France.
However, when Spain takes to the pitch in Euro 2016, they will have to face a field of 23 fellow European nations who are also vying for the Henri Delaunay Trophy.
Euro 2016 represents the first time that the European Championship will be contested by 24 sides, after going with 16 nations in each Euro since 1996.
In a move that is clearly motivated by money, Euro 2016 will see 51 matches take place instead of the 31 that took place in Poland and Ukraine over the past month.
At the start of the tournament, there will be six groups containing four teams. The top two nations from each group will advance, while the top four third-place finishers also will reach the round of 16.
This format is similar to the format used in the World Cup between 1986 and 1994, where it was not that popular.
The expanded group stage for Euro 2016 will be great for eight lucky nations. Sides like Belgium, Slovakia, Slovenia, Switzerland, Turkey and Bosnia and Herzegovina would have all found themselves in the larger tournament.
Stars like Eden Hazard, Edin Dzeko, Marek Hamšík and Nemanja Vidic would all find their way into the 24-nation field. These extra stars would be great for UEFA and for fans of these national sides.
But adding in four sides would be awful for the European Championships. For starters, adding two additional groups at the beginning of the tournament would dilute the quality of play.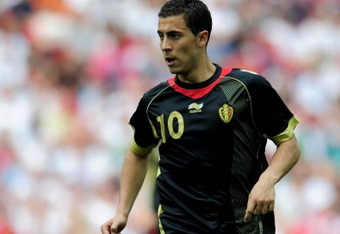 Euro 2012 went well without Eden Hazard.
Shaun Botterill/Getty Images
In this past group stage, we were gifted to some fantastic matchups, including a group stage fixture that featured both sides that went to the final. In Group B, there were four sides that were ranked among the top ten nations in the world, according to the most recent FIFA World Ranking.
During each day of the group stage, we were treated to some incredible plot lines. We also saw some matchups take place that were worthy of a cup final.
Unfortunately, we will probably never see that happen again. Incidents such as the collapse of the Netherlands will probably not have as much severity in an easier group.
These group stage matches also showcase that only the best nations do make the group stage. Outside of the Republic of Ireland, every side accumulated at least two points.
Euro 2012 showcases that these sides (which are largely equals) are quite competitive and help to make this tournament the best international tournament in the world.
A major reason why the World Cup fails to live up to its billing is due to the massive amount of pressure that each side faces. But in the Euros, that mentality is invisible, considering that each nation must face a tough side during every fixture.
With an extended field, minnows will inevitably appear considering that 45 percent of UEFA's members will qualify. Out of the top 24 nations in FIFA's rankings, sides like Scotland, Wales and Hungary would all make the tournament.
This would make qualifiers for the European Championships become pointless considering how many weak sides will make the tournament.
Qualifiers have always pushed one heavyweight out of contention to participate in the tournament. This past year, Belgium were the side unfortunate to reach the tournament, while England infamously failed to advance from their group in 2008.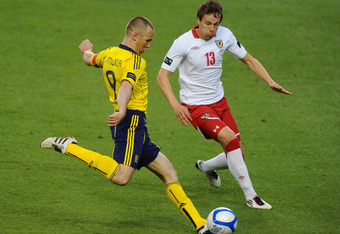 Scotland and Wales will have much easier roads to Euro 2016 than they had for this past tournament.
Mike Hewitt/Getty Images
After the group stage ends, 16 of the 24 nations will advance into the knockout stage. That number is much higher than the 50 percent of sides that advanced from this year's group stage. This would make the group stage almost useless.
Considering how important the tight group stage had been after two matches in Euro 2012 (14 of 16 nations were still statistically alive), a strong group stage is a major component to this tournament to remain as effective.
Going with 16 sides in the knockout stage will cause the tournament to drag out like the World Cup. The odds of having a marquee final will also decrease with twice as many nations in the single elimination portion of the competition.
Euro 2016 still will be a good tournament that will feature many moments to remember. However, it won't be as memorable as Euro 2012 due to the dilution of the tournament. Adding nations to the Euros may look good financially, but it is terrible for football fans.
There are very few fans that would like to see a matchup between Spain and Estonia in a group stage fixture, or a fixture between a side that squeezed their way through and a superpower in the knockout stage.
Hopefully, there will be a nation that could twist these odds and have a great run in the tournament, but considering the tremendous gulf of class between the minnows and giants in European football, it is unlikely that will happen anytime soon, especially in four years time.
Like the new article format? Send us feedback!