Why Mike Trout Will Be the Next Great MLB Slugger
July 2, 2012

Stephen Dunn/Getty Images
After a decade of dominance in St. Louis, a new generation of talent has risen on the west coast. There comes a time when the modern day slugger, Albert Pujols, will have to pass on the torch. When the time comes knocking, his predecessor and teammate, Mike Trout, will help relieve him of his duties.
All that buzz around Sports Illustrated's 2009 cover boy, Bryce Harper, has slowly begun to matriculate westward toward Harper's arch-rival, Mike Trout.
Mr. Selig, you're welcome. 
Still one month shy of his celebratory 21st birthday, Trout has taken the MLB by storm since being called up in late April. Witnessing his express-elevator rise to MLB stardom, who knows what his ceiling will hold for his future.
I mean the kid is only a rookie and already boasts the one of the top batting averages in the American League. 
At the time of his call-up, Pujols was struggling to turn out his paycheck with zero home runs and the Los Angeles Angels of Anaheim had a dreadful 6-14 record.
Since then, the Halos have made a full recovery, and are now contending for the divisional lead—thanks in part to the five-tool prospect who helped resurrect a lifeless offense.
Trout has ripped off eight home-runs, 32 RBI, and an impressive .336 batting average. To throw the cherry on top, he recently earned himself a trip to Kansas City for the 83rd All-Star game.  
His defensive skills are second to none, but we can save that for another work.
Offensively, his game doesn't just stop between the lines of the batter's box. He has proven to be a perennial threat on the basepath as well. In fact, his 22 stolen bases is tops in the league.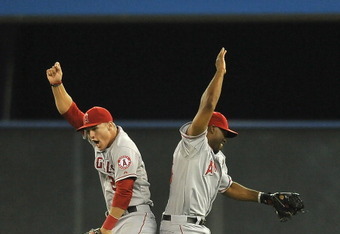 Brad White/Getty Images
Trout's talents away from his offensive ranks keep me pinned a firm believer that he isn't going to be just another highly touted prospect that washes out. Despite his early nod to the big leagues, through 57 games, Trout has turned the risky situation into a success story.
Trout has worked fashionably quick as he has marched his way up the statistical ranks and into the second tier of competition. Just a tadpole, this young Trout has people turning heads with each time he steps to the dish. 
Without question, he is the leading candidate to take the Rookie of the Year award. He has, however, taken it one step further. Not only is he the best player in the American League right now, he is simply the best player in the MLB right now.   
Can he perform under pressure? The answer is simple.
On the day of his call-up, Trout stepped to his lead-off role and patrolled the grounds of centerfield. Once he landed in Anaheim and became a fixture in the starting lineup, Trout put the team on his back and rallied together a resounding 37-20 record.
Enough said. With the enthusiasm he brings to the table every day, I don't see him dropping off anytime soon. Get used to No. 27 because he is going to be a name baseball fans will hear for years to come.
We are all witnessing the blossoming of the MLB's next slugger right before our very eyes.