Alabama Football: 3 Major Reasons the Crimson Tide Will Love the Playoffs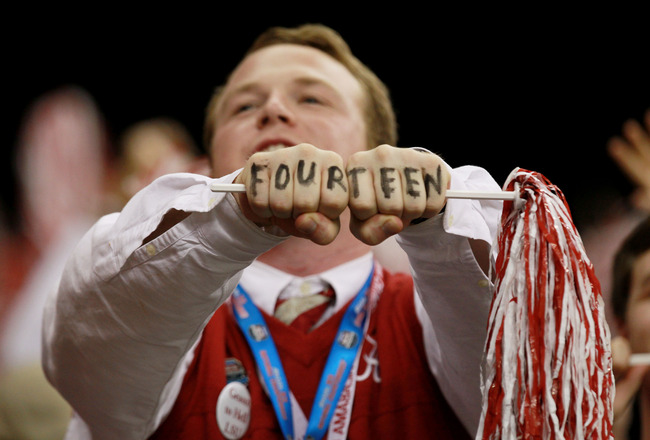 Ronald Martinez/Getty Images
There are three major advantages to the looming four-team playoff system that is on the college football horizon.
Alabama will be playing with the hopes of reeling in its 15th national championship in school history in 2012.
The playoff will be instituted in 2014, bringing an end to the BCS as we know it. While there are still some major unknowns surrounding that exciting news, there is a lot or reason for many fans to be ecstatic.
Here are three major reasons for Tide fans to be hopeful about the near future.
Mow Many More Championships Will a Playoff System Give the Tide?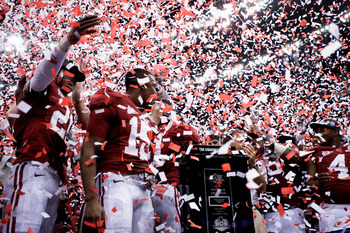 Andy Lyons/Getty Images
Since the inception of the AP poll in 1936, the Tide has been in the top four (final poll before 1968, pre-bowl poll 1968-present) in the following years (via collegepollarchive.com):
1936 (Fourth)
1937 (Fourth)
1945 (Second)
1961 (National Champions)
1964 (National Champions)
1965 (National Champions)
1966 (Third)
1971 (Second)
1972 (Fourth)
1973 (First, but lost bowl game)
1974 (Second)
1975 (Fourth)
1977 (Third)
1978 (National Champions)
1979 (National Champions)
1981 (Third)
1992 (National Champions)
2008 (Fourth)
2009 (BCS National Champions)
2011 (BCS National Champions)
So, if a four-team playoff had been in place since the inception of the AP Poll, the Tide would have appeared in that playoff 20 times.
All national championships before the AP era would still be honored, so the Tide would have already earned four (1925, 1926, 1930 and 1934). The two bowl losses (1964 and 1973) would cost Alabama two championships, and the 1941 championship would disappear.
So, in total, the Tide would have had 20 opportunities, plus four previously earned championships minus three championships that we know they would have failed to defend in that playoff.
Assuming the Tide successfully earned 50 percent of the championships that they played for, they would have 10 national championships to add to the four that they earned beforehand.
That would mean that the Tide would have 14 national championships if they could only win half of the playoffs they entered. The bigger advantage for Tide fans is that every national championship would be indisputable.
If the Tide could earn a better record than 50 percent, then they would have even more championships to their name than the 14 they already claim. (A little food for thought: Thirteen of those opportunities would have come with Bear Bryant at the helm.)
Bring on the playoffs!
Nick Saban Would Know the Opponents a Month Ahead of Time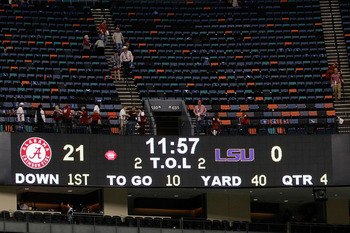 Kevin C. Cox/Getty Images
Nick Saban has had the following results in bowl games since his arrival at the Capstone (via ESPN.com):
2007: Win over Colorado (Independence Bowl)
2008: Loss to Utah (Sugar Bowl)
2009: Win over Texas (BCS Title Game)
2010: Win over Michigan State (Capital One Bowl)
2011: Win over LSU (BCS Title Game)
Saban is 4-1 in bowl games, and the lone loss was a team attitude issue for having had their hopes crushed by a Tebow-led Gators squad that would go on to win the National Championship in 2008.
It's safe to assume that the Tide would not have that kind of a letdown during a playoff scenario.
Saban would know, along with the rest of us, immediately following championship weekend which teams were going to be in the playoffs. He would have his team ready to play their first opponent and spend a little of the time to prepare for whichever teams were in the other semifinal game.
After the semifinals, he would spend the entire week preparing them for the opponent they knew they were actually facing.
Saban is one motivational speech (in 2008) away from being undefeated at Alabama in the postseason. When the playoffs roll around (pun intended, Tiders), his teams will be ready.
The BCS Is Dying: What That Could Mean for the Tide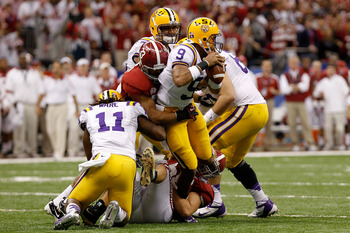 Chris Graythen/Getty Images
The BCS title game has yielded the following champions from 1998-2011:
1998: Tennessee
1999: Florida State
2000: Oklahoma
2001: Miami (FL)
2002: Ohio State
2003: LSU
2004: USC (vacated)
2005: Texas
2006: Florida
2007: LSU
2008: Florida
2009: Alabama
2010: Auburn
2011: Alabama
Keep Reading

Alabama Crimson Tide Football: Like this team?