Euro 2012: Spain's Victory Proves Why 'Boring' Criticism Was Ridiculous
July 1, 2012
Laurence Griffiths/Getty Images
By winning Euro 2012 with a comprehensive 4-0 win over Italy, Spain have become the first country to win three major tournaments in a row (following the 2008 European Championships and 2010 World Cup), an astonishing achievement
And to think, some had the temerity to criticise the football of this outstanding collection of players as "boring."
The way Vicente Del Bosque's team turned on the style in beating Italy will have many of these critics changing their tune, but it should not have taken this display for them to recognise their brilliance (and for those who still don't, they probably never will).
Brazil in 1970 and Holland four years later can probably lay claim to being the most entertaining sides in international football history (to have at least reached a final).
But where Spain can claim to have excelled beyond them is not only in developing a stylish brand of passing football that utilises several skillful players comparable with the above teams, but finding a way to implement this consistently and effectively over the course of multiple tournaments (and in qualifying in between).
Something no other country has done before.
"Effectively" is the key word here.
Spain have done what has been needed to be done over the course of the tournament.
While there have been hiccups along the way, notably against Croatia and then Portugal in the semifinal, they have gotten the job done and progressed.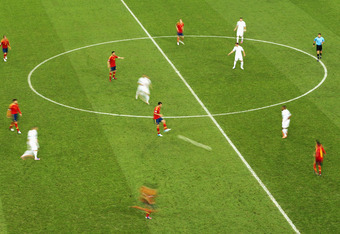 Jasper Juinen/Getty Images
But far from being a pragmatic and workmanlike team, even in such difficult matches the Spanish have adhered to their ideology of always looking to pass the ball (a very commendable attitude).
Very rarely will you have seen them deviating from this inclination, even in tight situations defensively, they passed their way out thanks to plenty of movement off the ball and no shortage of skill and comfort on it.
Accusations that this is boring football, whether in their own half or moving forwards and dictating play, are nothing short of ridiculous.
At times their desire to maintain possession meant them sitting back slightly, the midfield quartet of Andres Iniesta, Xavi, Xabi Alonso and Sergio Busquets in particular have become very adept at moving it between themselves and away from the opposition.
Watching the ease in which they often seem to do so should be satisfaction enough for football fans, getting the chance to witness such fine players performing their craft even in the face of pressure.
But if this is not enough to satisfy those who label it dull, then they should at least be aware of the reasoning behind it.
Of course Spain, like most other teams, would like to attack as much as possible.
However it not always easy to do so when opposition players are so focused on stifling them and teams are set up to stop them getting through, in which case keeping the ball is the priority.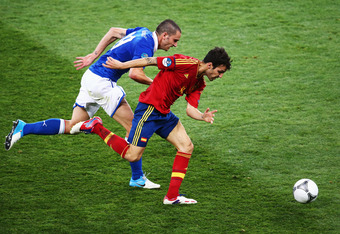 Martin Rose/Getty Images
Some will point to the 2-0 victory against France as one in which Spain may have turned up the heat and summarily toasted their catatonic opponents.
Maybe, but with Laurent Blanc's team posing so little threat, there was nothing wrong with the way the Spanish managed to win without much in the way of exertion.
In fact that may have benefited them in lasting the course against the Portuguese in the semifinal contest that followed.
What is certainly clear is that when they have needed to, Spain have turned on the style in the best, most bewitching fashion possible.
The earliest example in this tournament came in Cesc Fabregas' equaliser against Italy in their Group C meeting, a superb move between their many maestros that exposed a previously solid looking resistance.
Against Republic of Ireland, a match where three points were vital coming in between much tougher tests, they rose to quite brilliant levels to dispel any possible Irish threat.
The performance in the final was a fitting culmination to Spain's attempts to retain their crown.
Defending impeccably, they also controlled the game in the areas that mattered, testing and teasing Italy until the moments they were able to expose their opponents with all the qualities that make them so great and make the football of the country's club sides so revered.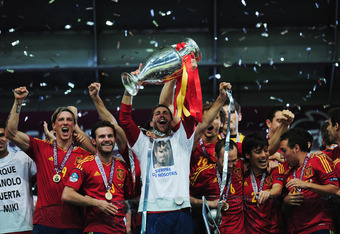 Shaun Botterill/Getty Images
And despite what the scoreline says, Italy were no pushover, only succumbing to inevitable defeat once they were reduced to 10 men following an injury to Thiago Motta, the third and final substitute that had not long come on.
Spain truly went and saved the best for last.
Particularly sweet for Del Bosque (besides winning the trophy of course) was how one strategic and tactical choice came to full fruition.
Much had been the made of the coach's decision to deploy Cesc Fabregas in several games as essentially the focal point of their attack, but one who could also drop deeper and help them keep the ball.
That he certainly did, but there was a strong argument to be made that Spain did not necessarily need him with several other gifted players capable of doing so, and that a striker like Fernando Torres would have given them a more effective presence up front.
It was one of the key points of evidence in the accusations of Spain being boring, but in Kiev's Olympic Stadium, the Italians could not live with the constant movement of Fabregas and those supporting him.
It is testament to the quality of this team they could be so dangerous without essentially a natural striker (despite of course, Fabregas' own attacking leanings).
Make no mistake, while this final was the embodiment of tika-taka at its most glorious, it was also the essence of all what they did in progressing throughout this tournament.
Rather than the pressure being on Spain to always perform at their very best, the onus now should really be on the rest of the world to try and find a way of matching them.
Then we might really be in store for the kind of football no one would dare call boring.