NHL Trade Rumors: Rick Nash's Trade List Shrinking,New York Rangers Are Favorite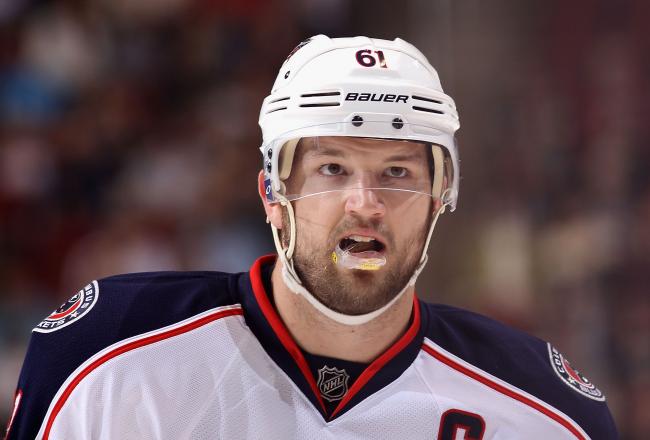 Christian Petersen/Getty Images
Today, the headlines are dominated by the buzz of free agency, but little by little, teams are falling out of the Rick Nash sweepstakes.
The New York Rangers also appear to be the favorite at this time because of the amount of teams left on the "list." Rick Nash has an NMC and controls his own destiny. Many teams have expressed interest and may offer a lot, but Nash has final say on where he plays.
As teams drop off the list, it appears Nash wants to play for the Rangers. The San Jose Sharks could still be in the mix, but Darren Dreger (see below) thinks that is a long shot.
DET GM Ken Holland tells FP Red Wings have made offers to both Ryan Suter and Zach Parise.

— Detroit Free Press (@freepwings) July 1, 2012
Sens are out of Rick Nash talks. "We weren't on the list," said Murray. #Sens

— Bruce Garrioch (@SunGarrioch) July 1, 2012
Make no mistake. Sather wants Nash and has for months. If Howson is realistic, a deal will be made.

— Larry Brooks(@NYP_Brooksie) July 1, 2012
Told that Red Wing offer for Nash is not competitive...Carolina, Ottawa, Philly not on 61's list.

— Larry Brooks(@NYP_Brooksie) July 1, 2012
The New York Rangers were picked by Darren Dreger as the favorite earlier in the day and now that these teams appear to be out, is it only a matter of time before Nash becomes a Ranger?
Flyers submitted big bids on both Parise and Suter. For the moment, Philly appears to be out on Nash. Things can change quickly.

— Darren Dreger (@DarrenDreger) July 1, 2012

With great respect to teams who think they're in on Rick Nash, my guess he ends up in NY, Philly or SJ(longshot). Remember his list is short
— Darren Dreger (@DarrenDreger) July 1, 2012


Said all along, though, that likely window for a Nash trade is July 2-5, or the few days after Zach Parise finds a new home.
— Aaron Portzline (@Aportzline) July 1, 2012
However, the Rangers are not going to cave into Scott Howson's demands. Howson keeps going back to Glen Sather with the same high demands, and the Rangers will not budge. The price for Nash is undoubtably high because of the talent he has, but one would think that as the list of teams shrink, will the price drop as well?
The Rangers will not part with Chris Kreider or Ryan McDonagh under any circumstances, but if Derek Stepan was involved in a lesser package, Sather might bite the bullet.
It is understandable that Sather will not uproot the team to acquire Nash, but it will be interesting to see how things change once Ryan Suter and Zach Parise drop anchor.
This article is
What is the duplicate article?
Why is this article offensive?
Where is this article plagiarized from?
Why is this article poorly edited?

Columbus Blue Jackets: Like this team?