MLB Trade Rumors: Phillies Reportedly Shopping Cole Hamels
Use your ← → (arrow) keys to browse more stories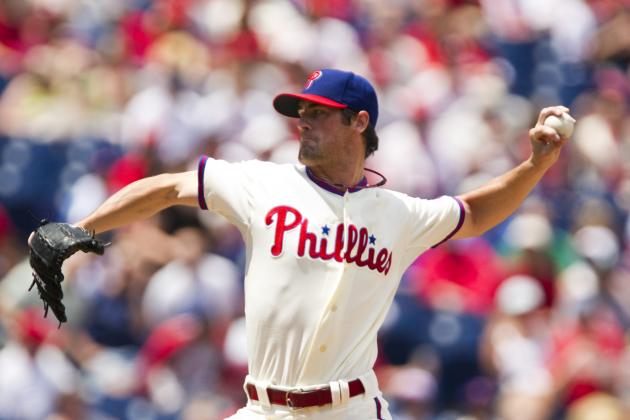 The day that Philadelphia Phillies fans have been dreading all season long is upon them: The team has begun shopping All-Star pitcher Cole Hamels.
Jon Heyman of CBS Sports was the bearer of bad news on his Baseball Insider blog:
The Phillies dropped a bomb on the trade market when they recently began making calls to see about trade interest in Cole Hamels, CBSSports.com has learned.

Hamels is a free agent after the year, and a source with knowledge of his contractual situation, said there has been no progress made in contract talks.

The Phillies are struggling through an injury-riddled first half. They traded Jim Thome on Saturday to the Orioles, but the Phillies suggested that didn't mark the beginning of the selloff.
Oh, the horror!
Of course, nothing is set in stone at this point. But with Hamels set to become a free agent after this season and no contract extension in place, it was always a possibility that the team—with one of the biggest payrolls in baseball—would look to deal the lefty ace.
And Hamels' contract expectations probably became more expensive after Matt Cain signed his whopping six-year, $127.5 million contract extension with the San Francisco Giants.
Hamels is having another excellent season for the Phillies, currently 10-4 with 111 strikeouts, a 3.08 ERA and 1.10 WHIP. In a year full of disappointment, Hamels—alongside catcher Carlos Ruiz—has been a bright spot.
He's also become one of baseball's elite left-handed pitchers in the past three years, and he'll long be a hero in Philadelphia after winning the NLCS and World Series MVP awards in the Phillies' 2008 championship season.
It's possible that the Phillies are simply doing due diligence and testing the market to see if a team will absolutely blow them away with a deal. But the possibility that Hamels will depart Philadelphia is now very real.
Hit me up on Twitter—my tweets want Dwight Howard to just get traded already too.