Alabama Football: 7 True Freshmen Who Will Make Waves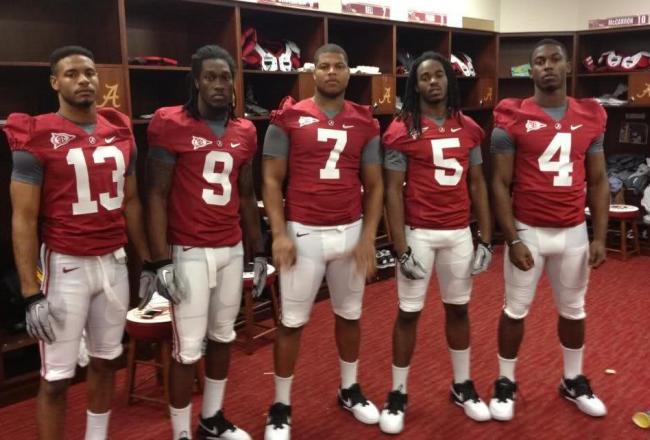 Alabama's star-studded lineup is going to feature a lot of familiar names, but the Tide's fresh crop of true freshmen have a few that are not only guaranteed to see playing time but will make big plays when given the opportunity as well.
Nick Saban is not afraid to play true freshmen, let alone start them when necessary. He's especially keen on the idea when the player in question is likely to become a future All-American and NFL draftee.
In every recruiting class there are a few guys who fly under the radar until game time comes, but here are seven players who are certain to impress.
Chris Black, Wide Receiver (5'11", 178 lbs)
Kenny Bell, Kevin Norwood, DeAndrew White and Christion Jones are going to see the majority of playing time in 2012, but the new guys will see some action as well.
Chris Black will hit the field early and often and he will quickly become known for his ability to get yards after the catch, just like Marquise Maze was.
Alabama is certain to put more emphasis on the passing game, but the team's habit of going for easy short to mid-range throws won't change.
Expect Black to turn a few seven-yard receptions into a whole lot more.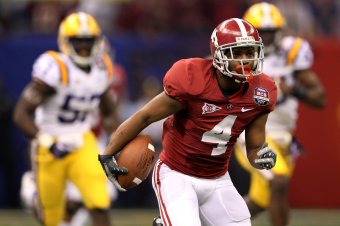 Alabama's senior receivers played well in 2011, but replacing them is far from difficult.
Andy Lyons/Getty Images
Amari Cooper, Wide Receiver (6'1", 198 lbs)
Like Black, Amari Cooper will waste no time getting onto the field. Even as a true freshman, he already has incredible size.
Cooper will eventually develop into Alabama's catch-in-traffic specialist, and there's no reason he can't start building that reputation now.
His length, soft hands and ability to beat defenders right on top of him with the ball in the air will provide A.J. McCarron with a reliable, safe target in tight coverage.
He doesn't drop passes—even when he takes a hard hit—and he will fill the role that Darius Hanks did during his time, but Cooper will do it a lot better.
Eddie Williams, Wide Receiver/Safety (6'4", 215 lbs)
As a receiver, Eddie Williams is in the same mold of former Alabama star Julio Jones, though a tad slower in straight-line speed.
As a safety, he is an incredible player as well, and his size would make him one of the biggest defensive backs in the nation.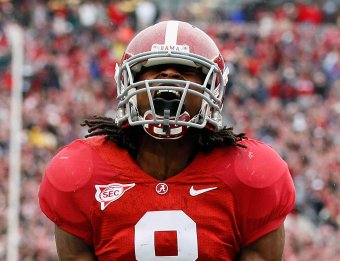 Alabama fans have been dying to see the next Julio Jones, and that could be Eddie Williams if he plays offense.
Kevin C. Cox/Getty Images
Nick Saban has an interesting predicament when it comes to figuring out what to do with Williams, as he can play either position in equal measure.
Williams could be an unstoppable defender with a penchant for turnovers or a star go-to receiver who would be deadly in the red zone, a place that Alabama has struggled with a lot in recent years.
The "problem" is that Alabama is stacked at both wide receiver and safety, and Williams is the only guy who can play both.
Either way, he will be on the field early.
T.J. Yeldon, Running Back (6'2", 216 lbs)
Alabama has a great, diverse running back squad heading into 2012, but only Eddie Lacy and T.J. Yeldon are complete every-down running backs.
Yeldon made a name for himself in the spring with 179 yards of total offense, but the fact that it was against the second-string offense cannot be ignored.
After Lacy, Yeldon will get the majority of carries, as Alabama will continue to push the ball between the tackles.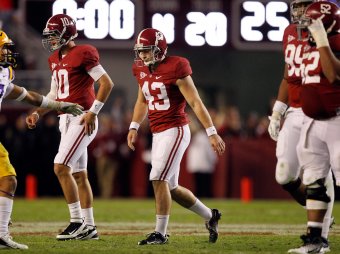 Alabama desperately needs a kicker that can put the ball in the end zone.
Streeter Lecka/Getty Images
As a receiver out of the backfield, Yeldon has the potential to be the best the Tide has had under Nick Saban.
Yeldon is too valuable to keep on the bench and if things play out as they should, he won't be around for his senior year. Better get started now.
Adam Griffith, Kicker (5'11", 175 lbs)
After the first showdown with LSU in 2011, it was obvious that Nick Saban wanted to improve on the kicking game, but field goals are likely the least of his worries in that department.
It's all about the touchbacks on kickoffs, as Alabama was last in the SEC with five. Auburn had 38 and Arkansas had 40.
The value of a touchback is not lost on Nick Saban. Forcing your opponent to start on his own 25-yard line (new rule) as often as possible is incredibly important to both the Tide offense and the defense as well.
Griffith is the guy for the job, as Cade Foster has proven ineffective at putting the ball downrange and Jeremy Shelley is a short field-goal specialist.
The fans and coaches didn't get to see what Griffith could do in the spring, as he didn't enroll early, but expect Michigan to face his wrath and be forced to face 80-yard drives against Alabama's defense. Ouch.
Which of these seven true freshman will make the most impact?
Landon Collins, Safety (6'0", 210 lbs)
What is it with Nick Saban bringing in the best safeties in the nation? He makes it seem so easy.
He even nabbed Landon Collins straight out of LSU territory from a LSU fan mother.
With Robert Lester, Ha'Sean Clinton-Dix and Vinnie Sunseri in the running, Collins is highly unlikely to win a starting position, but you can expect him to see a lot of playing time.
I would also daresay that Collins is more like Mark Barron than Clinton-Dix is, and it is still a possibility that Clinton-Dix moves to cornerback, but it seems less likely since Nick Saban brought in two JuCo cornerbacks (Travell Dixon and Deion Belue).
Collins will make a big splash on special teams and will work his way into the regular lineup and see plenty of playing time in relief duties and nickel and dime packages.
Reggie Ragland, Middle Linebacker (6'4", 245 lbs)
With all the buzz surrounding other players, Reggie Ragland has surprisingly fallen off the radar.
Very little has been mentioned in regards to him, but that was likely due to the fact that he didn't enroll early.
Ragland is the ideal middle linebacker, especially in Alabama's base 3-4 defense. He will be Alabama's next great middle linebacker, but he is much more like Rolando McClain than any Tide linebacker since then, Dont'a Hightower and Trey DePriest included.
He is a beast against the run and in coverage, but he has the size and ferociousness to make big plays as a blitzer from the middle linebacker position.
Ragland will quickly find himself in the linebacker rotation with Nico Johnson, C.J. Mosley, Trey DePriest and Tana Patrick.
He will first make a name for himself on special teams, just like Trey DePriest did in 2011.
As a prospect, Ragland is actually better than DePriest (if that is even possible), which is a scary thought for opponents.
This article is
What is the duplicate article?
Why is this article offensive?
Where is this article plagiarized from?
Why is this article poorly edited?

Alabama Crimson Tide Football: Like this team?