Tennessee Volunteers Football: The Curious Case of Tyler Bray
July 1, 2012

Andy Lyons/Getty Images
When talking about the quarterbacks in the upcoming draft class, a few names get thrown around pretty often.
Matt Barkley, Tyler Wilson, Landry Jones, E.J. Manuel, Geno Smith, Logan Thomas and Tyler Bray, are just a few of the names that get a lot of attention.
When watching "game tape" (Windows Media Player and YouTube are my study rooms) of these guys, one player really popped off the screen. Now I don't personally have him ranked as the best possible quarterback in this class (Logan Thomas and Matt Barkley are 1A and 1B) but Tyler Bray is really an odd prospect.
The first thoughts I had watching Bray two years ago was that he reminded of me of Philip Rivers. Since then he has filled out that comparison very nicely. A tall, strong-armed quarterback, he uses play action and shotgun snaps to throw the ball vertically—though that's not the weird thing about Tyler Bray.
It's his production that strikes me odd.
It all goes back to Tyler Bray's true freshman season in Knoxville. He was just a kid from Fresno, Ca., who was backing up Matt Simms—until Nov. 11. Bray's first start would be against Memphis in a cross-state rivalry game. The result? He went 19 for 33 for 325 yards and five touchdowns, plus catching the eyes of every draftnik.
(Note: Bray never started before that Memphis game, but he did see the field in four of the eight previous games. He managed to 25 completions in 47 attempts for 303 passing yards, two touchdowns and three interceptions against Tennessee-Martin, Georgia, Alabama and South Carolina.)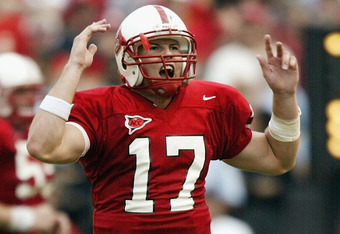 Craig Jones/Getty Images
Bray had success his freshman year, accumulating a 142.7 passer rating by season's end. His sophomore year would be even better with a 144.8 rating, although he missed five games due to injury.
Here is a quick run down of his stats those two years:
2010: Freshman—125/224 1,849 yards 55.8% 18 TD 10 Int
2011: Sophomore—47/247 1,983 yards 59.5% 17 TD 6 Int
Total: 272/471 3,832 yards 57.7% 35 TD 16 Int
Out-of-Conference Stats
2010: Freshman 49/84 661 58.3% 9 TD 4 Int
2011: Sophomore 72/95 1,040 75.8% 11 TD 0 Int
Total: 121/179 1,701 67.5% 20 TD 4 Int
SEC Stats
2010: Freshman 76/140 1,188 54.8% 9 TD 6 Int
2011: Sophomore 75/152 943 49.3% 6 TD 6 Int
Total: 151/292 2,131 51.7% 15 TD 12 Int
Bray completes 15.8 percent more passes, and his touchdown-to-interception ratio is four times better when he's playing outside of the SEC. Now, I know I'm not breaking any long-standing thoughts by saying that players don't do as well in the SEC as against other opponents, but this one seems a little too fishy.
So I tried to figure out why he had such a big gap between the two categories.
I ran into some things that made sense. In his freshman year, he participated in one out-of-conference game (Tennessee-Martin). He was eased into the starting role slowly, getting playing time as a backup in three SEC games (Georgia, Alabama and South Carolina).
The fact that he was a true freshman playing against elite SEC teams was probably half the reason why he didn't start until the Memphis game. He never got more than 15 passes in any of those games, which could partly explain why his 2010 SEC numbers look better than his 2011 SEC numbers.
As a starter he played against three SEC teams (Ole Miss, Vanderbilt and Kentucky) before playing North Carolina in the Music City Bowl. There were seven SEC teams that ended up with a record over .500, and Bray played against only two (South Carolina and Alabama), starting neither game.
His sophomore season started off strong (116/176 1,579 65.9%), throwing 10 TD and 2 INTs (both against SEC rival Florida) in his first five starts. Bray then broke his thumb and had to sit out five games.
This threw another wrench at me. He didn't start a single game against a team from the SEC that would end with a winning record in 2010. One would assume that his numbers would drop the next year when he would play those teams.
The two teams he ended up playing before the injury both ended with winning records, and his stats in those games—44-for-81 for 539 yards and three touchdowns (and two INTs)—weren't too bad.
Unfortunately, the thumb injury kept him out of games against Alabama, LSU, South Carolina and Arkansas—teams that ended with a combined 47-6 record. He came back to finish the season against Vanderbilt and Kentucky with his two worst starts ever—by far.
Vanderbilt stat line: 16/33 189 yards 48.5% two touchdowns two interceptions
Kentucky stat line: 15/38 215 yards 39.5% one touchdown two interceptions
Some speculate that his thumb was still hurt and that he only went in to try to win the last two contests so that Tennessee could go to a bowl game. Detractors say that he's just not good enough to play in the SEC.
The opinions I have heard about Bray are simply staggering in their range. One minute he's the first overall pick in the 2013 draft; the next, he's not even in the top half of quarterbacks in his own conference.
He has the ability to take a draft stock dive the likes of which we haven't seen since Jevan Snead.
Either way, in 2012 he will be starting (assuming he's healthy) for the first time against four SEC teams in Mississippi State (Tennessee hasn't faced the Bulldogs in the two years Bray has been with the program), Alabama (he was a backup 2010, hurt 2011), South Carolina (backup 2010, hurt 2011) and Missouri (2012 will be the Tigers first year in the conference).
We should have our questions answered.