Knicks Rumors: Latest Buzz Around Jeremy Lin, Carmelo Anthony & More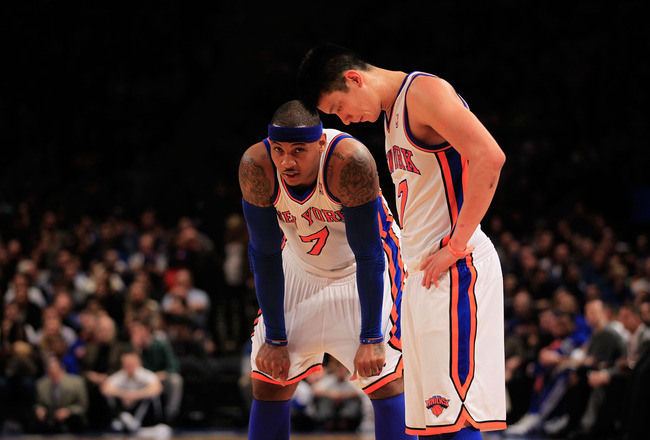 Chris Trotman/Getty Images
NBA free agency has begun, and it's about to become a very interesting offseason for the New York Knicks. The team's top target this summer is, as we all know, restricted free agent Jeremy Lin. Fortunately, they won't have a hard time signing him, as will be discussed later.
The Knicks have other free-agency targets too, like three-pointer extraordinaire Steve Novak and some other players, including veterans and those with tons of heart.
Oh, and you're just going to love the latest from Carmelo Anthony.
That said, Knicks fans, let's dive right in and dish on the latest gossip out of Madison Square Garden.
Carmelo Anthony and Mike D'Antoni's Summer Reunion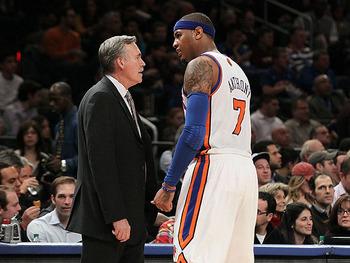 photo courtesy of sports.yahoo.com
In the very near future, Knicks star forward Carmelo Anthony will head to London with some of his fellow NBA stars to represent Team USA in the 2012 Summer Olympics. While he is sure to play a great role in the team's success, this looks like a complete soap opera on the outside.
You see, former Knicks coach Mike D'Antoni is an assistant for Team USA and as we all know, rumored tension between both parties may have played a role in D'Antoni's resignation back in March. That said, this is a recipe for a potential giant elephant in the room once the Olympics roll around.
Yet, that may not be the case according to David Sanchirico of the New York Daily News. In Sanchirico's report, Anthony stated that he was "excited" to work with his ex-coach in the quest for another gold medal and that there "wasn't any bad blood" between them ever.
Well, I guess we'll be able to make that call once the Olympics are over.
Randy Foye Headed East?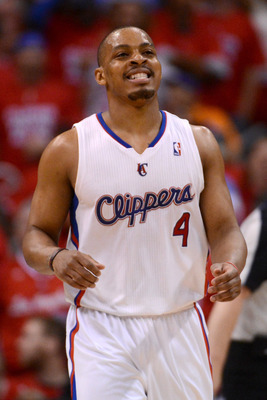 Harry How/Getty Images
With Iman Shumpert rehabbing an ACL injury and J.R. Smith opting to test the free-agent market, the Knicks have a glaring hole at shooting guard. Nothing against Landry Fields, but he is more of a defensive pest and not necessarily one who should be relied on to make the big shot late in the game.
Yet, the Knicks may have a savior yet.
According to Jared Zwerling of ESPNNewYork.com, shooting specialist Randy Foye is interested in taking his talents to the Big Apple. Playing for the Los Angeles Clippers last year, Foye averaged 11 points per game and shot 38 percent from long range.
It is unclear just how much money the former Villanova Wildcat will demand, but one thing is certain. In a Mike Woodson system, he could be great.
Captain Kidd?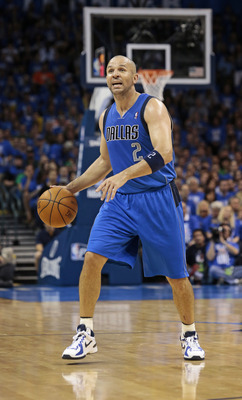 Brett Deering/Getty Images
Though Jeremy Lin will almost definitely be back in a Knicks uniform next year, New York will still need a backup point man so that the Harvard grad can get a rest.
Though not an ideal target, Jason Kidd would be a good fit for the team. According to Kidd, as reported by Mike Gavin of Newsday, the team has shown "a little" interest.
Kidd is now 39 years old and a far cry from the triple-threat point man he was in the prime of his career, but he is still the definition of a great leader and can dish off passes to the star players. He can also come through in the clutch in knocking down three-pointers, having shot a respectable 35 percent from beyond the arc last year.
Seeing as how Lin still has a lot to learn about being a top NBA point guard, Kidd is someone that the Knicks should definitely pursue. He will come cheap, probably on a one-year deal, and would be a key factor in turning the team from the little squad that could into the little squad that did.
Bird Rights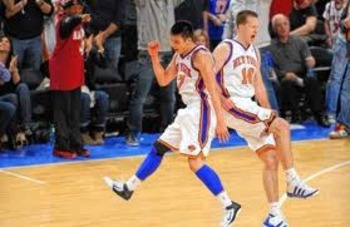 photo courtesy of articles.nydailynews.com
As we all know, an arbitrator ruled that Jeremy Lin and Steve Novak, and all players who were claimed off of waivers, could retain their Bird Rights. In a nutshell, that means that their current teams can sign them to contracts and go over the salary cap in doing so without having to worry about a penalty.
This means two things for the Knicks: They'll be able to retain their breakout point guard without having to worry about financial consequence, and at the same time they'll be able to bring back Novak, who led the league in three-point percentage after shooting an incredible 47 percent from downtown last year.
Long story short, things are looking bright for the Knicks next year, assuming the front office does what it's supposed to do.
Patience Is No Virtue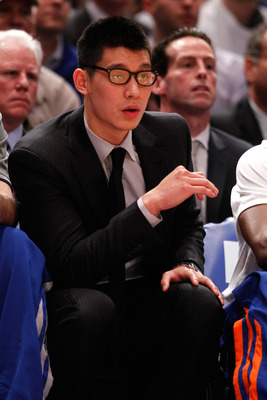 Jeff Zelevansky/Getty Images
For any of you aspiring GMs out there, allow me to share with you the first rule of negotiating: NEVER bank on the loyalty card.
Rumor has it that Knicks GM Glen Grunwald could make this mistake, because according to Marc Berman of the New York Post, the Knicks plan on waiting for other teams to set the market for Jeremy Lin before they make their push.
Simply put, this is one of the most idiotic decisions I've ever heard of in my entire life. The Knicks have the opportunity to go after Lin with everything they have and not have to worry about salary cap ramifications.
That said, why even give other teams the chance to pitch him?
The fact of the matter is that if Grunwald really wants to make Lin first priority, he'll start negotiating with him from the get-go. Lin is someone that the Knicks absolutely need on their roster next year, otherwise they could be in trouble.
He's a talented point guard and unless team management makes it absolutely clear that he's their guy, he could be leaving the Empire State as the sounds of fans' tears fill the streets.
Keep Reading

New York Knicks: Like this team?