AT&T National 2012: Tiger Woods Closes in on Lead at Congressional
July 1, 2012

It was one of the stranger days you'll ever see on the PGA Tour. Players hit off split tees in threesomes on a weekend, fallen trees littered the golfing property and the number of fans barely reached the dozens.
But if any man can ignore these distractions it's Tiger Woods—and he served notice on Saturday.
The 2009 AT&T National champion took great strides toward his second title here, firing a third-round four-under-par 67 to move within one of the lead held by Brendon de Jonge.
The former world No. 1 is now in prime position to become the first player in 2012 to win three times on the PGA Tour and capture his 74th tour title (enough to pass Jack Nicklaus for solo second all-time).
Things are looking up for Woods—who has progressed every day this week.
A trifling opening-day 72 put Woods behind the eight-ball at the start (not unusual for him), but a Friday 68 got him in position to challenge on the weekend. And instead of falling back like he did at Olympic two weeks ago, Woods took charge.
The move upward started in earnest, as the early bogeys that plagued his third round at Olympic were replaced by birdies at Congressional. On the first hole, Woods sent home a 10-footer for birdie and he quickly picked up another at the third when he curled in a 35-footer.
The round looked like it would stall, but the short game that had been lacking at Olympic showed up big time on Saturday when he needed it most.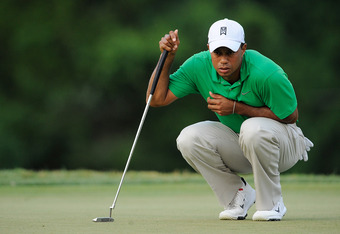 Patrick McDermott/Getty Images
Woods stuck an 80-yard wedge to two feet on four to save par, and after finding trouble by airmailing the green with his approach shot on six, he extricated himself brilliantly. The man who gave us a mesmerizing chip-in at the Memorial last month displayed his short-game magic once again by holing the dicey chip for his third birdie in his first six holes.
The 36-year-old missed excellent birdie chances at eight and nine, but didn't let the disappointment simmer.
On 10, an eight-iron to eight feet and a birdie putt—that saw all 360 degrees of the cup before dropping—moved Woods to four under for the round, six under for the tournament and within one shot of the lead.
He then hit the toughest stretch of the golf course and grinded his way to the finish.
Key par putts on 11 and 14 from four and six feet, respectively, kept Woods from slipping; and although he missed a golden opportunity for birdie on 16 after badly missing a four-footer, eight straight pars to finish on a course that is in some ways playing like a U.S. Open is nothing to complain about.
The leaderboard agrees.
Woods—who trailed 29 players after day one and 10 after day two—now has just one man standing between him and the lead heading into Sunday.
Woods didn't seem to have much trouble overcoming a four-stroke deficit and passing three players during the final round of the Memorial last month—so what's one player and one stroke to this man?
It's not a foregone conclusion to crown Woods the champion, but even this newer, less predictable version of the 14-time major champion is not one to bet against.
A year after Rory McIlroy made a statement at this very course, Woods could make one of his own. A third victory of the year would be a way to silence his critics—especially after his debacle at Olympic.
He could also pass one of his idol's greatest achievements in the process.
Woods has already re-proven himself in 2012 after two years of golfing purgatory, but another victory Sunday would definitely be satisfying.