Cornelius Bundrage vs. Cory Spinks Preview: Start Time, TV Info, and Schedule
June 30, 2012

Matthew Lewis/Getty Images
The IBF Junior Middleweight title is on the line tonight as Cornelius "K9" Bundrage squares off for the second time with Cory Spinks, the fighter from whom he took the belt nearly two years ago.
Spinks comes in as a decided underdog just as Bundrage did when it was Spinks holding the title back in August of 2010.
Bundrage (31-4, 18 KOs) routed Spinks with a fifth-round TKO in their first meeting, capping a 5-2 stretch in which he posted four knockouts in all. He's only defended his title once since claiming it, earning a rare win by decision against Sechew Powell.
Powell was also the most recent victim for Spinks (39-6, 11 KOs), who's won a pair of decisions since Bundrage took his belt. Spinks, the son of former heavyweight champ Leon, didn't exactly get his dad's power: it's been over a decade since he posted a victory by knockout.
Where: Fantasy Springs Resort Casino (Indio, CA)
When: Saturday, June 30 at 9 p.m. ET/PT
Watch: Showtime
Undercard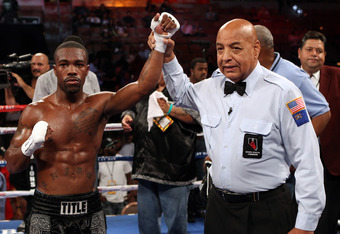 Scott Heavey/Getty Images
Junior Middleweight: Erislandy Lara vs. Freddy Hernandez
Featherweight: Gary Russell Jr. vs. Christopher Perez
Keys to Bundrage Win
In the first meeting between these fighters, Bundrage was able to overpower Spinks without worrying too much about technique. He'll need to avoid being over-aggressive in the early going because Spinks is too skilled a fighter to be caught off-guard by the same approach this time around.
Bundrage is perfectly capable of boxing as well as brawling, and the biggest factor for him will be striking the balance between the two. He's obviously the stronger fighter here, and he needs to attack just enough to use his superior power without giving Spinks too many openings.
Keys to Spinks' Win
Defense, defense, defense. Spinks absolutely cannot afford to let Bundrage get good shots in early, both because of Bundrage's power and because it would hurt his chances of playing for a decision in the later rounds.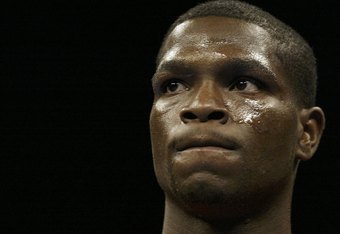 Elsa/Getty Images
Spinks needs to drag the fight out, giving him a chance to get an edge in punches landed and then extend the lead. Testing Bundrage's stamina—at 39, the champ is five years older than Spinks—wouldn't be a bad idea for its own sake, either.
Prediction
Spinks is a very skillful boxer, but he just doesn't have enough of an advantage in that department to outshine Bundrage. The champ's superior power will make it tough for Spinks to stick to a gameplan and even tougher for him to last the full 12 rounds.
Bundrage may not win by knockout, but even if Spinks takes him the distance, the decision will keep Bundrage's belt right where it is.