Brandon Weeden: Why Weeden Is Not Doing Himself Any Favors with Contract Issues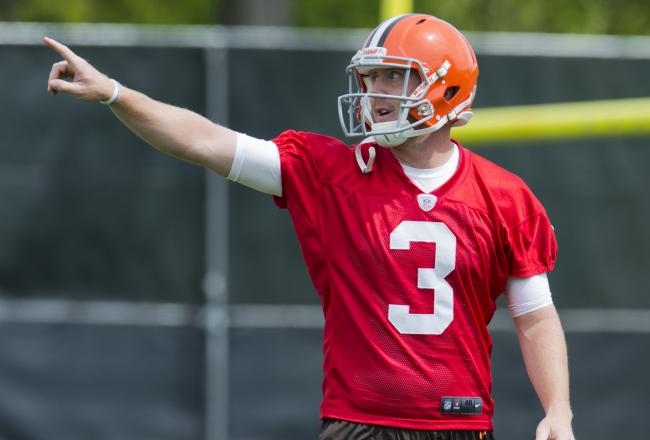 Jason Miller/Getty Images
Brandon Weeden is not going to hold out from Cleveland Browns training camp. Wait, he isn't going to, is he?
He would have to be crazy to do that. After being drafted in the first round of the NFL draft, surely a three-year contract is enough for Weeden to stake his claim into the NFL.
You would think.
After flushing out of Major League Baseball, Weeden's last shot at being a star pro athlete is as the quarterback of the Cleveland Browns.
Why do anything even remotely close to messing up that opportunity?
Forget the past; you're doomed to repeat it
Let's take a little look into recent Browns history and see how holding out has worked for past Cleveland quarterbacks.
The last time the Browns picked a quarterback with the 22nd overall selection in the draft (2007), he ended up holding out and missing training camp. Brady Quinn, the quarterback in question, was slotted in at third on the depth chart as Charlie Frye was given the reins of the stale Browns offense.
Then there was Frye's dismissal and the rise of Derek Anderson after the opening-day drubbing at the hands of the Pittsburgh Steelers. Anderson's strong arm and the Browns weak schedule created a mirage that led to a quarterback controversy that engulfed the team for two seasons.
Will Brandon Weeden be the Week 1 Starter?
Brady Quinn never developed. Derek Anderson didn't either. The Browns were still without a quarterback.
That's why holding out makes no sense for Brandon Weeden.
During his rookie season he will turn 29 years old. He doesn't have the luxury of "developing" and learning the game. He was picked at his age because he is believed to already be ready to step onto an NFL field and lead a pro football team to victory.
Is gratefulness enough to swing a deal before training camp?
Make no mistake about it; Brandon Weeden has a lot to be grateful for. The Browns took a chance on the 28-year-old quarterback. This Browns regime has invested everything into Weeden. Their legacy in Cleveland and immediate employment is riding on the success or failure of the latest rookie quarterback in Cleveland.
There is no way he is going to hold out after being given this opportunity.
How can I can be so sure?
Rather than grateful, I think he should feel indebted to the Browns enough that he will abandon this hunt for a guaranteed fourth year on his contract. He was brought to Cleveland to be the long-term starter. He knows that, they know it and everyone watching at home knows it.
As I've already said, it's his last shot. He doesn't have the luxury of time or of waiting around—the longer he waits the less likely his chances of succeeding become.
Show us what you've got
This holdout, delay or whatever you want to call it will do nothing but alienate him from some circles of fans. In the meantime, fan favorite Colt McCoy could begin to develop support from fans and possibly within the locker room.
The last thing this team needs is a repeat of 2007. The last thing it needs is uncertainty and division between the entire Browns nation.
There will be no contract holdout, no shortened offseason and no more excuses. The players, the city and, most importantly, the fans deserve a winner.
Sign your contract, Brandon Weeden. Earn it on the field.
Make us believers, again.
Follow Mike on Twitter @BigHoagowski
This article is
What is the duplicate article?
Why is this article offensive?
Where is this article plagiarized from?
Why is this article poorly edited?

Cleveland Browns: Like this team?