Undrafted NBA Free Agents 2012: College Standouts Who'll Leap onto Pro Rosters
June 30, 2012
Jonathan Daniel/Getty Images
While the NBA draft is a dream come true and is the culmination of years of work for 60 players, it also serves as a gigantic letdown for those with high hopes of being drafted that were overlooked.
The list of undrafted players may startle you (per B/R's own Zach Kruse). 
Even though many NBA teams were only graced with one pick in this year's draft after years of big trades, those teams will have plenty of talent to pick from when they call up the players of their choice for a tryout.
While many of these players will eventually find their way onto a NBA D-League team, only a select few will make the enormous leap onto an NBA team's bench and find their way to some minutes during the 2012-13 season.
William Buford, SG, Ohio State
If you're a college basketball fan, you've seen plenty of William Buford's game. You're also probably shocked that his name wasn't called Thursday night.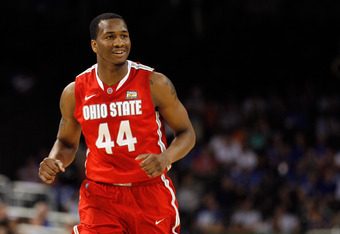 Chris Graythen/Getty Images
The Ohio State standout came into the draft as one of the most experienced players after being named 2008's Mr. Ohio as the state's top player and starting all four years with the Buckeyes. 
Buford's experience doesn't translate to a lack of athleticism, either. He should be able to transition to the NBA game much better than many of the younger players taken early on with the top picks.
He can knock down perimeter shots, which is a must-have in the NBA. But his best asset is fierce defending and ball-stopping. His size, matched with freakish athleticism, will get him onto a NBA bench and give him his big chance.
Players like this don't belong on an overseas team.
Kevin Jones, PF, West Virginia
West Virginia stud Kevin Jones was overlooked in the draft for many convincing reasons, but those reasons will be minimized by his high motor and intensity.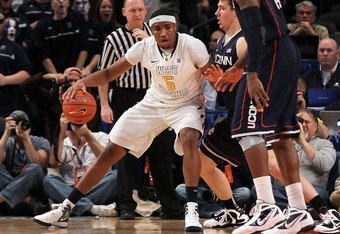 Jim McIsaac/Getty Images
Jones inspired a hapless Mountaineer team to an NCAA tournament berth that they had no business making. 
His lack of size and athleticism were some of the main driving forces toward going unpicked, but it's highly possible for a 6'8" power forward to succeed just based on strong post moves and energy. 
Jones has all the makings of a high-motor player who can pound and bruise opponents during the bench-player moments of the early second quarter and late third. 
Jordan Taylor, PG, Wisconsin
After Jordan Taylor's awe-inspiring career, it's a travesty that he was passed up with all 60 picks.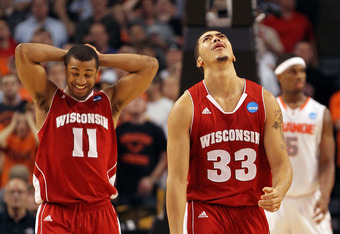 Jim Rogash/Getty Images
Taylor possesses one of the best three-point shots in the draft class, and most importantly, he can create his own shot off the dribble. His energy and quickness make for a menacing defender and make him a handful to guard.
He was passed on for his lack of size and his less-than-stellar senior season compared to his junior campaign. But there's no shortage of undersized point guards who have made it work in the NBA, and Taylor will do just that.