NBC Sports Tour De France 2012: Previewing Sunday's Stage 1 Action
June 30, 2012

Michael Steele/Getty Images
With the 2012 Tour de France kicking off its first stage Sunday, it's time to break down all you need to know about the first real action.
The excitement over the Tour de France is through the roof, and fans can't wait to see all the action from the Belgian portion of the race.
Not only are we in for great views and gorgeous scenery, we are also in store for some of the best racing you will ever see!
Where: Liege to Seraing
When: Sunday, July 1 at 8 a.m. ET
Watch: NBC Sports Network
For the complete stage-by-stage breakdown, check out the official slideshow!
Stage 1 Breakdown
Stage Name: Liège—Seraing
Length: 198 km (123 mi)
Style: Flat stage
What to Expect
After the prologue time trial to start the Tour de France, the first real stage of the action begins and ends in the beautiful country of Belgium.
Stage 1 is a flat portion of the race that will have the fastest racers bursting out to an early lead. As the Tour de France starts to get harder and harder, these are the stages where the non-climbers must excel.
This may only be Stage 1 of a 20-stage race, but cyclists who know their strengths and weaknesses realize that you can win or lose a race in the first few stages.
With tons of fresh racers and a flat racing surface, there will be mass chaos starting this race and possible crashes. The action is sure to live up to the expectations on a stage as great as the first.
Cyclist to Watch: Cadel Evans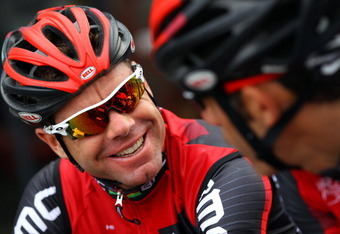 Doug Pensinger/Getty Images
The odds-on favorite to win the 2012 Tour de France is last year's winner Cadel Evans. With the first stage kicking off, most eyes will be focused on the veteran star.
While the excitement around him will be palpable, the flat surface will not be his best. That reprieve should be what the faster cyclists need to mount an early lead.
No rider ever wants to be behind in the race, but Evans knows it's a long race. With plenty of mountain stages later on for him to dominate, the champion will be playing it cool and waiting for his chance to run towards the Yellow jacket.