Erin Andrews: Departure Will Lead to Emergence of Jenn Brown at ESPN
June 30, 2012

Bruce Bennett/Getty Images
Erin Andrews may be departing ESPN, but as is the case in the sporting world as a whole, the Worldwide Leader in Sports is cyclical and has a suitable replacement waiting in the wings in the form of Jenn Brown.
According to Richard Deitsch of SI.com, Fox Sports is aggressively pursuing Andrews to be a major player in its college football coverage. Deitsch's report prompted ESPN to release a statement confirming Andrews' intentions to leave the company.
Regardless of where Andrews lands, though, ESPN now has a void to fill when it comes to the role of hot female sideline reporter. Luckily for ESPN, the company seems to have a Rolodex for that type of thing. SportsNation co-host Michelle Beadle recently left for NBC, but ESPN was quick to find a replacement in the form of Charissa Thompson. It will look to do something similar in the Andrews situation.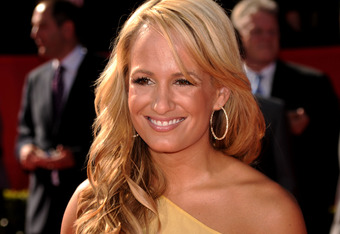 Jason Merritt/Getty Images
ESPN won't have to look outside the company to poach some new talent, though, because the perfect successor is already on the ESPN roster. Jenn Brown, a former University of Florida softball player, has been with ESPN since 2009 and has been hailed as the next Erin Andrews since ever since.
Not only does Brown score big time in the looks department, but like Andrews, she primarily covers college sports. Brown is a reporter for both the football and basketball versions of College GameDay, and while she has played second fiddle to Andrews since the beginning of her tenure, many fans have called for her to become a more prominent figure.
It looks as though those fans could get their wish in the very near future.
Both Andrews and Brown are actually good reporters, and that is part of the appeal, but Brown replacing Andrews will be about looks as much as anything. Even if ESPN found the greatest sideline reporter of all-time to take Andrews' spot, the fans wouldn't respond if her looks weren't comparable.
Perhaps that isn't fair, but it's certainly the reality of things. ESPN is very lucky in a lot of ways, because without Brown, there would be far more backlash from the viewing audience. Andrews has essentially developed into an icon and is the sole reason why some men watch college sports on ESPN. So she obviously leaves big shoes to fill.
Since fans have been hoping for Brown to be utilized more often, though, Andrews leaving may not be as big of a deal as many thought. Brown is a star on the rise, and she will finally get her chance to step out of Andrews' shadow and pave her own way.
ESPN is the true winner in this situation, because it will presumably pay Brown less while getting similar positive feedback. The ESPN machine has no problem churning out new talent, and Brown is simply the next in a very long line that shows no sign of ending.
Follow @MikeChiari on Twitter