Manchester City: Mario Balotelli Needs Roberto Mancini in Charge at the Etihad
June 30, 2012

Joern Pollex/Getty Images
Mario Balotelli needs Roberto Mancini at Manchester City.
Not because of the language barrier, but because of the City's No. 18's attitude to his country and fellow countrymen.
It's been a wonderful summer for the Italian striker, and it could get even better if he manages and his fellow countrymen manage to pull of, what many would consider, a shock win over Spain in the final of Euro 2012.
After setting up Sergio Aguero for his title winning goal on the last day of the season, Balotelli could add another winners medal to his trophy cabinet, while another goal would see him finish as the outright winner of Euro 2012's Golden Boot.
Speaking about Balotelli on Goal Daily this week, freelance soccer journalist Matthew Barker told me that Mario loves playing for Italy more then he does his club side.
If this is the case, what would happen at City next season if Mancini had failed to beat United to the  Premier League title and had been sacked as manger of the richest side in England?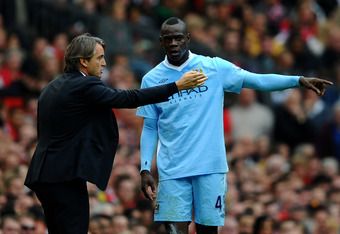 Laurence Griffiths/Getty Images
Mario is a fairly volatile character both on and off the pitch, and the grace and power he can show on the pitch is sometimes marred by lazy performances and outburst of frustration.
In the Italy squad this summer, aside from a rather curious show of aggression against Spain, Balotelli has remained calmer and more relaxed then we've seen him in a City shirt, and his performances have been of a higher standard because of it.
Cesare Prandelli has manged to get the best out of the striker in an international shirt, while Mancini has seen glimpses of it during last season.
Italy is obviously important to Mario and being under an Italian manager is more than likely a major reason that Mancini can get as much productivity out of his forward at the club level.
Would Harry Redknapp or former City manager Mark Hughes be able to calm Balotelli when he gets into one of his red-mist moments? 
Super Mario seems to respect Mancini and Prandelli as managers and as father figures who share a common cultural background. An English manager, I think, would struggle to keep Balotelli under the same sort of "control" that Mancini has been able to.
For City to have a chance of keeping a lid on his occasional outbursts, it is imperative that Mancini or another Italian manager is in charge of the League champions.
If not, another manager is going to struggle to get the same productivity out of the forward, and his volatile personality could cause a major problems in the City dressing room.