Vancouver Canucks Changing of the Guard – Cory Schneider Signs
June 29, 2012

Rich Lam/Getty Images
The Vancouver Canucks have signed Cory Schneider to a three-year contract extension worth about $12 million.
Schneider played in a career-high 33 games last season and posted a 20-8-1 record and three shutouts.  He finished with a very low 1.96 GAA and save percentage of .937.  He has improved every season in the NHL and is finally ready to be a number one. 
If you have been patient with Schneider on your fantasy roster, it has finally paid off.
He will be the Canucks starting goalie this season and should play 60-plus games.  He is a young goalie who is ready to prove he can be an elite goalie in the NHL. 
If you don't have him on your roster, you have a very small window to acquire him at a reduced rate that will end once Roberto Luongo is traded.  Until Luongo is officially traded, the Canucks are riding two No. 1 goalies, and if they start the season that way, expect games to be split 50/50. 
Vancouver has had a reputation for being a place where goalies go to ruin their careers.
The Canucks have gone through so many quality goalies, and many thought that trend would end with the acquisition of Luongo.  Despite putting up career numbers, backstopping the Canucks to two Presidents' Trophies and being one win away from a championship, many blame him for not winning the Stanley Cup.
Prior to drafting Schneider 26th overall in the 2004 NHL entry draft, the Canucks have drafted 32 goalies.
Of the 32 goalies, 14 have played at least one game in the NHL and 11 of them suited up for Vancouver at least once.  Only two goalies drafted by Vancouver have gone on to put up at least a 20-win season, but neither was with the Canucks.  Before Schneider put up 20 wins this season, the two highest wins put up by a drafted Canuck were Glen Hanlon with 17 and Troy Gamble with 16.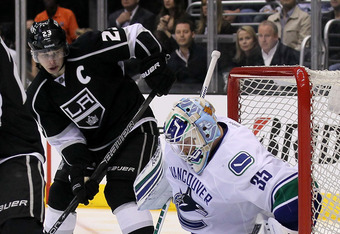 Stephen Dunn/Getty Images
Perhaps the answer here for the Canucks is not to bring in a quality goalie but to use the one who they developed.
Vancouver has a terrible track record in drafting goalies who have actually went on to play in the NHL, and the ones they did draft usually didn't amount to anything till they left Vancouver. 
So Canucks fans maybe handing the reigns over to a goalie that they drafted and developed will be the answer to winning Game 7 of the Stanley Cup Finals. 
-----------------------------------------------------------------------------------------------------------------
Aaron Brouwer is the co-creator of www.fantasyhockeycoach.com.  FHC is a free fantasy hockey service that developed a ranking system combining post-lockout statistics, current factors and hockey knowledge. Email: brouwer@fantasyhockeycoach.com.