St. Louis Cardinals: Top Award Recipients at the All-Star Break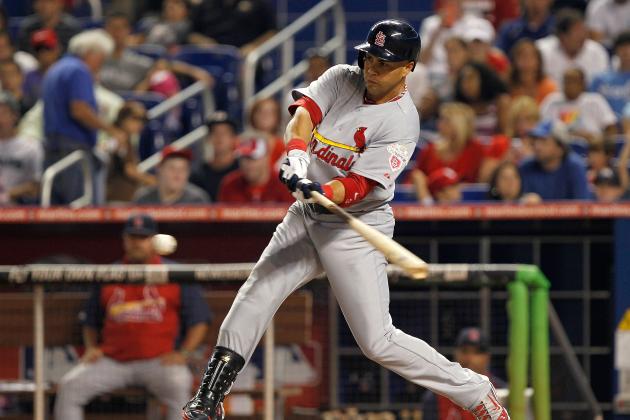 Mike Ehrmann/Getty Images

The St. Louis Cardinals have climbed back into striking distance in the NL Central, now sitting just 1.5 games back of the division-leading Cincinnati Reds.
With the All-Star break about a week away, let's take a look back at the previous three months and honor the most vital members of the 2012 St. Louis Cardinals' roster.
Unfortunately, all of our award-winners were unable to make today's ceremony, however, I would be more than happy to accept the honor on their behalf.
Without further ado, here are your St. Louis Cardinals award recipients.
Begin Slideshow

»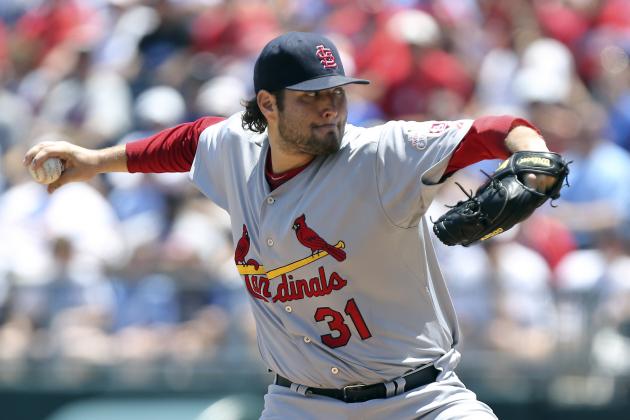 Ed Zurga/Getty Images

Lance Lynn has given up a combined 11 earned runs in his last two outings, but we're not about to let that overshadow three months of dominant pitching.
His name has been mentioned as an NL Cy Young candidate, and rightly so. Lynn is currently second in the NL in wins (10), 10th in strikeouts (92), and 19th in ERA (3.23)
Anytime you're in the running for baseball's top pitching accolade, you know you're among the most elite players to step foot on the rubber. But this early in a career? Now that's pretty darn special.
Lynn will look to become the second pitcher in MLB history to win the Cy Young in his rookie season, following the footsteps of Fernando Valenzuela in 1981.
As a young prospect in the MLB, the window of opportunity to display your talents is minuscule compared to the NBA or NFL. You have seven at-bats or maybe even fifty pitches to prove that you can hang with the big boys.
Lynn was first called up from AAA Memphis in October of last season, helping when he could as a relief pitcher in the bullpen. But when Chris Carpenter was placed on the DL in spring training this season, Lynn was assigned the task of replacing the 16-year veteran in the starting rotation.
And Lynn has replaced that vacant spot in every sense of the word. In fact, he's pitching better than Carp did in 2012, posting a higher K/9 ratio, a lower WHIP, and a lower ERA.
But here's what's most impressive. If Lynn wins one more game before the break, he will have tied Carpenter's win total for the entire 2011 season.
A rookie outperforming a three-time all-star? You better believe it.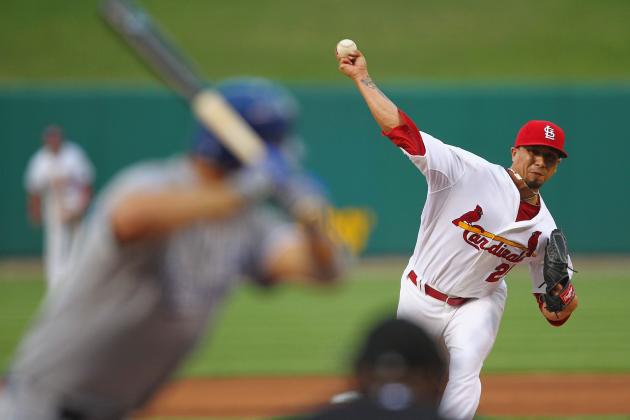 Dilip Vishwanat/Getty Images

When it comes to pitching, there are so many different categories that can measure a pitcher's success. ERA, WHIP, and quality starts are all true indications of a pitcher's genius. Wins, however, are more directly influenced by the entirety of a pitcher's team.
When it comes to earning a win or a loss, a pitcher can only do so much. Adam Wainwright could throw a complete game, allowing just one run; but if his team fails to score, an L is placed next to his name.
And what about blown saves? Surely fans in St. Louis know all about that aspect of the game. A pitcher's best performance of the season remains hidden in his win/loss record if that game is ruled a No-Decision.
Cy Young must go beyond a simple W or L.
Lance Lynn may have a 10-3 record, but the St. Louis Cardinal most worthy of the Cy Young award has to be Kyle Lohse.
Despite having thrown 10 more innings than Lynn, Lohse has a lower ERA (2.82), a lower WHIP (1.09), and less walks (17) than the rookie pitcher. Lohse has thrown two more quality starts than Lynn, and if you really want to compare their records (Lohse is 7-2), first take a look at the run support the two have had in 2012.
Lynn has the fourth highest run support in the MLB at 9.39 runs/game, while Lohse doesn't even rank in the top-50 with 6.09 runs/game. If Lohse were to receive three more runs each start, he would be the only undefeated starting pitcher in the MLB, and maybe even the wins leader (both his losses were by just one run).
Lynn has done a phenomenal job in his rookie campaign, but it's Lohse who is the true ace of the Cardinals' staff.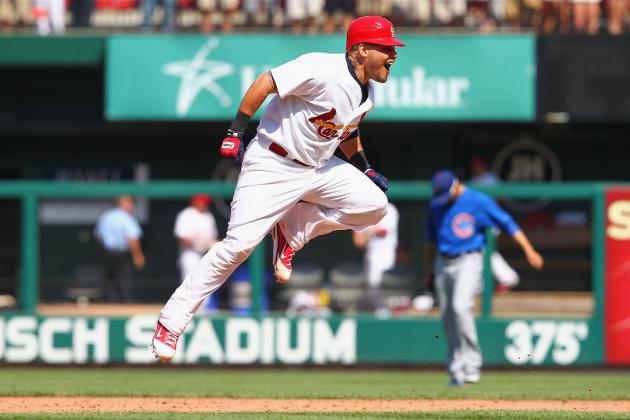 Dilip Vishwanat/Getty Images

This award is split because, honestly, I want to talk about both these guys.
Yadier Molina has never hit this well in the eight years he's been a professional. He's on pace to post career-highs in almost every single hitting category (as of now he'd be two doubles shy of his total in 2011), and he's even managed to steal seven bases this season (he's stolen 25 in his entire career).
Molina has always been known for his fielding abilities, but now he's making his case to be called the best all-around catcher in the game.
Matt Carpenter has also significantly improved in 2012.
Carpenter returned to the St. Louis lineup last week after missing a month with a strained right oblique. Carpenter played in seven games last year, recording just one hit in his fifteen at bats (a .067 avg).
In 2012, however, he has found his comfort zone, hitting .295 in 44 games with three home runs and 21 runs batted in. Since coming back, Carpenter has continued to show improvement, posting a .333 average in 18 at-bats.
Carpenter has been a great player to have around with Lance Berkman out and injury-prone Allen Craig at 1B. He will only continue to see more and more plate appearances if he keeps hitting with this kind of success.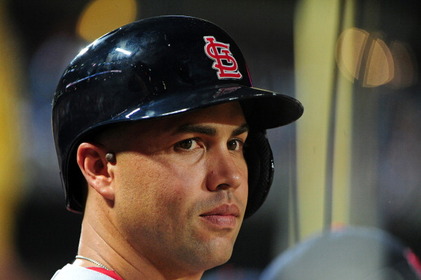 Scott Cunningham/Getty Images

This has been a monumental season for Carlos Beltran, but it's not just because he became the first switch hitter to hit 300 home runs and steal 300 bases.
Beltran ranks in the top-10 in the National League in seven different hitting categories. You know how many guys would kill to rank that high on their own team, let alone the entire National League?
He's first in HR (20), first in RBI (59), fourth in on-base percentage (.400), fifth in slugging percentage (.582), sixth in walks (38), ninth in batting-average (.312), and 10th in runs (47).
I hope you weren't holding your breath.
But seriously, has anyone tasted the water in St. Louis lately? In his first season with the Cardinals last year, then 35-year old Lance Berkman had one of his best seasons at the plate. And now, the 35-year old Beltran is reaping the benefits of wearing the new uniform.
Beltran can hit for average or he can hit the long ball. But he's never really done both in the same season. Only once has he hit more than 20 home runs while also hitting above .300, and 2012 looks to be another one of those sensational years for Beltran.